LAS VEGAS WILL FLICK THE SWITCH FOR EARTH HOUR 2009


No place on the planet is better lit than the Las Vegas Strip so on Saturday, March 28, at 8:30 p.m., Las Vegas will lead more than 240 cities in 70 countries as individuals, businesses, government buildings, schools and major landmarks turn off non-essential lighting in what will be the largest climate event in history. This global undertaking is in conjunction with the World Wildlife Fund (WWF), which is the world's largest conservation organization, working in 100 countries for nearly half a century.

During Earth Hour in Las Vegas, the iconic "Welcome to Fabulous Las Vegas" sign will go dark, exterior lights will be turned off at many on- and off-Strip hotel-casinos and residents throughout the Valley will dim and turn off the lights in their homes-in a highly visible symbolic gesture that will focus attention on climate change globally. In addition, some hotel-casinos will host viewing parties and special events.

Column Continues Below Advertisement



MAGICIANS STEVEN & CASSANDRA BEST DEBUT SHOW AT VEGAS CLUB

Last month, the Vegas Club downtown on Fremont Street opened a brand new showroom with a new Las Vegas show, "Steven & Cassandra Best: Superstars of Magic!" The show starring the award-winning duo features magic, grand illusion, dance and comedy at 7:30 and 9:30 p.m. nightly except Tuesday. Tickets are $39.95, call 702-386-2464.

The Bests have presented their illusions, including their feathered hallmark "Birds of Paradies" featuring Charlie the white Umbrella Cockatoo, around the world in such countries as Greece, Mexico, the Caribbean, Canada and the United States.

LAS VEGAS WILL GET 'NAKED' THIS VALENTINE'S DAY AT KRAVE

Performers from Las Vegas' biggest shows will be getting "naked" this Valentine's Day, Feb. 14, to raise money for the Las Vegas-based HIV/AIDS charity Golden Rainbow. The sexy, steamy, sultry event is the "4th Annual Naked Hearts," presented by KRAVE Nightclub where the event will be held. This year's bare-as-you-dare event takes place at 11 p.m. Tickets are $40, call 702-384-2899.

Dozens of dancers from many of the city's productions will perform throughout the night, in sexy interpretations of various fetishes. Shows represented include "American Storm," "Chippendales," "Jubilee!," "Le Reve," Studio 54 and many more. Top DJ Escape will keep the music pumping.

FALL OUT BOY DROPS IN AT THE PALMS

Fall Out Boy will make a Las Vegas performance stop at The Pearl Concert Theater inside the Palms on Sunday, April 5, as part of the Believers Never Die Part Deux' Tour presented by FriendsOrEnemies.com. Tickets are $41; call Ticketmaster at 702-474-4000.

Hailing from Chicago, the group has won three MTV Video Music Awards, received a Grammy nomination, appeared on the covers of "Rolling Stone," "Spin," "Blender," and "Alternative Press," and performed on NBC's "Saturday Night Live," "The Tonight Show" with Jay Leno, "Late Night" with Conan O'Brien, CBS's "The Late Show" with David Letterman, ABC's "Jimmy Kimmel Live," and more.

Fall Out Boy's fourth full-length CD, "FOLIE à DEUX," was released last December and its current single "America's Suitehearts" finds the song's music video being played on all MTV platforms and Fuse, as well as being played in more than 5,000 national movie theaters.

In addition, the band has released its new iPhone App, which allows fans to purchase tickets directly from their iPhone. Taking the App to the next level, the GPS-aware functionality allows fans to opt-in and display their location, share images and give show comments.

GOLDEN NUGGET HOSTS SPRING WINE & JAZZ FEST

The Golden Nugget will host a three-day wine and jazz festival, March 27-29. The entire three-day event will feature more than 250 wines from the California coast. Regular price is $275, discounted advance booking price is $249 for all three events, and each event can also be purchased separately.

The first day's event will be a poolside champagne and wine reception with jazz under the stars. Day two will be the Grand Tasting in the event center with samples from more than 60 wineries, live jazz, food from the property's chefs, and a Riedel stemware seminar. The third day's event will be a Sunday Champagne and Jazz Brunch that will conclude with a live auction.

In addition to the festival, the property for additional fees is also hosting two special events. First will be a Napa Valley Red Blend Showdown with a special tasting of featured Napa Valley wines. Secondly, guests will be able to test their wine tasting skills against the masters in the Blind Tasting, where they will be guided through a five-bottle tasting.

Pre-fixe wine dinners will be available at Vic & Anthony's Steakhouse and Grotto Ristorante. For information, call 800-634-3454 or visit www.goldennugget.com.

MICHAEL BOYCHUCK NAMED TOP STYLIST OFFERS SPRING TRENDS

Celebrity stylist Michael Boychuck, who first moved to Las Vegas nearly 10 years ago to open a branch of Laurent D's Beverly Hills salon Prive at Bellagio, has many super star clients such as the Hilton sisters, Jennifer Lopez and Eva Longoria.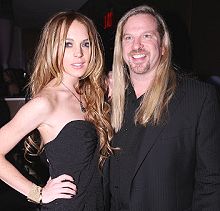 Palms owner George Maloof partnered with Boychuck to open AMP Salon at the Palms in 2001. COLOR opened late last year at Caesars Palace and is Boychuck's biggest salon. His newest salon, PRIMP opened in May at Palms Place. Recently, Boychuck was named one of the "Top 50 Hairstylists" in the book by Rick Morton and COLOR was named "Top Las Vegas Salon" by the Las Vegas Nightlife Network. Boychuck predicts the trends this spring are soft colors and long wavy tresses.
MADAME TUSSAUDS FOCUSES ON BLACK HISTORY MONTH
In honor of Black History Month, Madame Tussauds for the month of February is highlighting 12 wax figures including the newly created two time Oscarr winner Denzel Washington figure that is said to be one of the best examples ever. The 54 year-old Washington has starred in some 35 feature films including portraying Malcolm X in Spike Lee's movie, and performed on television shows such as "St. Elsewhere," on which he portrayed a medical intern.
Other wax figures include: Martin Luther King, Jr., Whoopi Goldberg, the recently debuted President Barack Obama, Sammy Davis, Jr., Oprah Winfrey, Louis Armstrong, Jamie Foxx, Michael Jordan, Muhammad Ali, James Brown and Jimi Hendrix. Madame Tussauds at The Venetian opens at 10 a.m. daily.
THE COWSILLS WILL PERFORM AT THE SUNCOAST
The real-life inspiration behind the hit television series "The Partridge Family," The Cowsills, will perform at the Suncoast Showroom at 7:30 p.m. on March 6, 7 and 8. Tickets are $19.95, call 702-636-7075.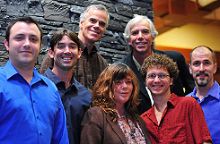 The Cowsills' origins lie with brothers Bill and Bob, who began their singing career as children and were given guitars by their father, Navy man William "Bud" Cowsill. The siblings soon recruited younger brothers Barry and John to play bass and drums, respectively.
After signing with MGM in 1967, The Cowsills had their first million-selling single, "The Rain, the Park and Other Things," which was featured most recently in the Jim Carrey movie "Dumb and Dumber." They performed on many notable TV shows and had their own NBC television special in 1968. "Indian Lake" and "We Can Fly" followed, and in 1969 they had their biggest hit, the multi-million selling title song for the musical "Hair."
Three of the 60's-era Cowsills lineup (Barry, Bill and Barbara) have passed away. John Cowsill is now a touring member of the Beach Boys. The current lineup is still a family affair featuring Bob, Susan and Paul Cowsill, plus Bob's son Ryan on keyboards, Paul's son Brendon on guitar, Susan's husband drummer Russ Broussard, and bassist Tad Armstrong. The Cowsills continue to record and tour constantly.
CLINTON JACKSON SET TO HEADLINE RIVIERA COMEDY CLUB
Clinton Jackson, best known as the science teacher Mezz Crosby on the Warner Brothers Network sitcom "Nick Freno: Licensed Teacher," will headline the Riviera Comedy Club with funny guys Jack Thomas and Paul Morrissey, Feb. 23-March 1. Tickets for the 8:30 and 10:30 p.m. nightly shows are $24.99, call 702-794-9433.
After training in San Francisco's comedy community, Jackson appeared on many major television specials. Following his 1996 HBO performance in the "Aspen Comedy Festival," he landed a guest-starring role on CBS' "Cybill," and was then cast as Mezz Crosby.
Thomas is an executive producer for Disney Channel's animated series "The Replacements," a former attorney and stand-up comedian. As an eclectic writer, he's written everything from introductions for "American Movie Classics" to sketches for the FOX NFL "Pre-game Show."
Sports fanatic Morrissey played college basketball and then in the NBA. His big comedy break came in 2006 when he made his network television debut on "The Late, Late Show with Craig Ferguson" on CBS.
SECOND BEST OSCAR PARTY IN THE COUNTRY TAKES PLACE AT RAIN
On Sunday, Feb. 22, Rain Nightclub at the Palms will host an Oscar night fundraising event for the Arthritis Foundation. This event is the only Oscar party in Las Vegas to be sanctioned by The Academy of Motion Pictures Arts and Sciences. "Oscar Night America" will include a 4 p.m. red carpet arrival, dining, cocktails, silent auction and the live telecast of the "81st Annual Academy Awards" ceremony. Interested parties may visit www.secondbestoscarparty.com to register for an invitation, or call 702-987-3177. Individual tickets are $300.
QUICK CLIPS
This past week, impressionist, singer and entertainer Gordie Brown opened his new headlining show "Gordie Brown Live" at the Golden Nugget downtown. Tickets to his 7:30 p.m., Tuesday through Saturday, shows with a live band are tiered and range from $39.95 to $99.95.
Hometown favorites, The Killers will be returning to Las Vegas to perform inside the Hard Rock's brand new Joint on April 17 in support of their third album, "Day & Age," which sold more than a million copies worldwide in its first week of release.
Bob Anderson, considered one of the best ever singing impressionists, will appear at the Cannery in North Las Vegas Feb. 13-14 for Valentine's weekend. His show is a tribute to the composers, arrangers, musicians and singers of "The Golden Years of Vegas." In 2002, Anderson was inducted into the Las Vegas Casino Legends Hall of Fame. Tickets for his 8 p.m. shows are $10 at the door.
Flamingo headliner and owner of America's doll line, Marie Osmond will host a public Valentine's Day themed doll-signing event featuring her Bridal, Valentine and Sweet Tots Collections on Friday, Feb. 13 from 2 to 5 p.m. in the Flamingo hotel's Promenade Gift Shop.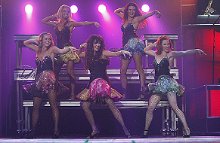 Tito Ortiz, one of the most popular mixed martial arts fighters, has opened a clothing store at Hooters Casino Hotel called Punishment MMA Las Vegas. Ortiz's clothing line called Punishment Athletics is featured at the store along with other top MMA clothing lines such as TapOut, Sinister, DeathClutch, Throwdown, Hitman and Warrior.
The international jewelry company TOUS represented by Grammy award-winning recording artist and actress Kylie Minogue has opened its first Las Vegas location inside the Miracle Mile Shops at Planet Hollywood. The brand features a full range of accessories designed for men, women, children, young adults and the home. A multitude of pieces feature the TOUS Bear, a brand emblem serving as a symbol of good luck and blissful childhood memories. Headquartered in Barcelona, TOUS boasts more than 350 stores in 35 countries. For information, visit www.tous.com.
Lou Ragland has e-mailed that The World Famous Ink Spots will be performing at the Black Label Bar & Lounge at Spring Mountain and Decatur on Tuesday, Feb. 17 at 7 p.m. Tickets are $10.
"A Date To Die For," an interactive Valentine's Mystery at Lawry's signature three-course dinner event, will be held at Lawry's The Prime Rib restaurant near the Strip on Thursday, Feb. 12 at 7 p.m. Cost is $99 and reservations are required, call A Touch of Mystery at 702-497-7936.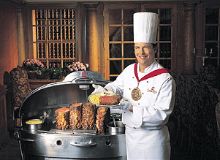 All month long in February, the Cannery in North Las Vegas is celebrating its 6th anniversary or "Canniversary."



CONTINUE ON TO...:
>THIS WEEK'S LAUGHLIN SEGMENT
>LAST WEEK'S LAS VEGAS SEGMENT
>VEGAS VIEW FULL ARCHIVES
>Return to "Heard Around Town"
>Return to Las Vegas Leisure Guide