SECOND WINGS AND WILDLIFE FESTIVAL PLANNED FOR MARCH
The Wings and Wildlife Festival, a celebration of all things wild in the Mojave Desert, will return to Laughlin, March 11-15. Bird and wildlife enthusiasts will gather for five days of exploring, fun and learning along the Colorado River.
Informative seminar topics will include falconry, bats, bighorn sheep, attracting hummingbirds, wildlife uses of plants and binocular use. Educational field trips will explore sites such as Big Bend of the Colorado River State Recreation Area, Colorado River Heritage Greenway Trail, Havasu National Wildlife Refuge, Henderson Bird Viewing Preserve, Hualapai Mountains, Lake Mead National Recreation Area and Wee Thump Joshua Tree Forest. Kayak trips will allow bird and wildlife viewing along the Black Canyon, Colorado River and Topock Gorge.
In addition to the outdoor adventures, a wine and cheese cocktail reception is planned for Friday, March 12, with renowned local photographer and artist Sharon Schafer and other nature artists displaying their work. On Saturday, March 13, the keynote speaker will be Ted Floyd, editor of "Birding," the flagship publication of the American Birding Association. Saturday will also include a special event just for kids called "Kid Fest."
On Friday and Saturday, March 12-13, attendees will be able to visit more than 20 exhibits set up by groups including U.S. Fish and Wildlife Service, Nevada Department of Wildlife, Red Rock Audubon Society and others.
Registration is $30 plus additional fees for the banquet and field trips. Pre-registration is required either online at www.snbwtp.org or on-site. Several tours are planned for Wednesday, March 10. Registration check-in starts at 9 a.m. on Thursday, March 11 at the Riverside in the Starview room.
B.J. THOMAS APPEARS AT TROPICANA EXPRESS
B.J. Thomas will appear at the Tropicana Express in the Pavilion Showroom on Feb. 13. Tickets for the 8 p.m. show are $25, $35 and $45, call 800-243-6846.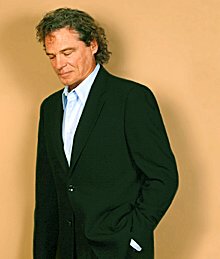 Thomas achieved mainstream success again in 1968, with the single "Hooked on a Feeling," which featured the sound of an electric sitar. The 1969 film "Butch Cassidy and the Sundance Kid," featured Thomas performing the (Burt Bacharach - Hal David) song "Raindrops Keep Fallin' on My Head," which became the No. 1 song on the Billboard Hot 100 in January 1970.
Thomas has also authored two books including "Home Where I Belong" and starred in the movie "Jory." Several commercial jingles including Coca-Cola, Pepsi, and Bell phone systems, featured his voice and music.
IMPRESSIONIST BETHANY OWEN WILL PERFORM AT THE EDGEWATER
Female impressionist Bethany Owen, known as "The Woman of 1,001 Voices and Faces," will bring her national touring one-woman stage show, "One Voice," to the 250-seat, cabaret-style Kokopelli's Showroom at the Edgewater for six weeks, Feb. 15 – March 25. A six-week, ongoing contract has been signed by the resort. Tickets for her 7 p.m. show are $15, call 702-298-2453.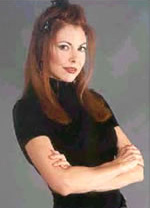 Owen and her one-woman show "One Voice" have been touring nationally for seven years as she celebrates the zany and fun side of celebrity personalities through the use of comedic parody and musical vocal tributes to some of the world's most legendary female superstars of our time. She also takes on their character look, body language and facial expressions through the use of quick costume and wig changes.
TOP OF NEXT COLUMN
WILLIAMS & REE RETURN TO THE AVI
Bruce Williams and Terry Ree, "The Indian and the White Guy," have sustained a career more than 30 years packing casinos, clubs, and arenas from Niagara Falls to Las Vegas with their ever-changing routine that --more times than not--steers away from the off-color Indian jokes that originally established the duo. They will perform at the Avi Convention Center Showroom on Feb. 13. Tickets for their 7 p .m. show are $17 and $22, call 800-430-0721.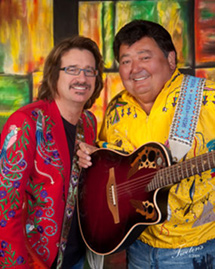 Williams and Ree met in 1968 at Black Hills State College in Spearfish, S.D., where they began playing together in a band and often filled time between their songs with their unique brand of humor. After realizing that the humor became a bigger draw than the music, the comedy team was born. Polishing their performances at venues such as the Comedy Store in Los Angeles during the 1970s and testing new material with the likes of Robin Williams and David Letterman, Williams and Ree discovered their natural ability to play off one another.
They have since shared the stage with acts such as Garth Brooks, The Oak Ridge Boys, and Tim McGraw in addition to hosting "Country Kitchen" with Florence Henderson, a show that entertained audiences for more than 10 years.
COMMUNITY EVENTS AND QUICK CLIPS
The Smothers Brothers with special guest, "The Yo Yo Man," will headline at Don's Celebrity Theatre at the Riverside, Feb. 9-14. Tickets for their 7 p.m. show are $35.50, call 800-227-3849, ext 616.
There will be Dinner and Dancing with Brian Evans at the Fiesta Showroom at Harrah's, Feb. 13 at 5 and 8 p.m. and Feb. 14 at 7 p.m. Tickets are $65 with two free cocktails with ticket stub included. For information, call 800-447-8700.
The ongoing "Comedy on the Edge" at the Edgewater features two stand-up comedians each Friday, Saturday, Sunday. Tickets for the 7 p.m. show are $10, call 702-298-2453. Upcoming acts include: Feb. 12-14-Russ Rivas and Debbie Lockhart; Feb. 19-21-Johnny Watson and Charles Sanchez; and Feb 26-28-Lowell Sanders and Angel "Ace" Guillen.
The Riverwalk between the Colorado Belle and Edgewater casinos will hold the "Mardi Gras Riverwalk Festival," Feb. 19-21, and highlight - beads, bands and booze in the Mardi Gras tradition. Admission is free and food/drink sold separately.
The Veterans of American Expo will have programs designed to advise Veterans of benefits, rights and employment; at the Avi's River Garden Pavilion on Saturday starting at 10 a.m. and admission is free.
The 16th annual Avi Kwa Ame Pow Wow will be held Feb. 20 and 21 at the event center located directly across the river from the Avi Casino. Admission is $5 a day or $8 for a two-day pass.
On Saturday, Feb. 20, Swing Dolls - The Ultimate USO Tour featuring music and dance plus a contest for prizes will be held at 7 p.m. Tickets range from $20 to $38 for two.
At the Avi Convention Center Showroom on Feb. 20 and Feb. 26-28, the Remember When Antiques & Collectibles Show will feature dolls, crystals, linens, Americana, military, and much more. Hours are Friday, noon-6 p.m.; Saturday, 9 a.m.-5 p.m.; and Sunday, 9 a.m.-3 p.m.
AQUARIUS HOSTS UFO CONVENTION AND FILM FESTIVAL
The International UFO Conference, Convention and Film Festival will be held at conference rooms in the Aquarius, Feb. 21-27. The annual congregation of UFO enthusiasts and experts will include seminars, conferences, film festival, and displays. For more information and registration, visit ufocongress.com.
The International UFO Congress was founded in 1991 with a primary goal is to research, document and disseminate UFO and related information worldwide. The organization has nine members on the Board of Directors, representing five different countries.
CONTINUE ON TO...:
>THIS WEEK'S LAS VEGAS NEWS
>LAST WEEK'S LAUGHLIN NEWS
>VEGAS VIEW FULL ARCHIVES
>Return to "Heard Around Town"
>Return to Las Vegas Leisure Guide