COLORADO BELLE OPENS PINTS BREWERY & SPORTS BAR
The Colorado Belle celebrated the grand opening of Pints Brewery & Sports Bar last month. Five excellent brews produced by Pints' Brewmaster, Marshall Redmond, are now a brewery staple. Guests can enjoy Golden Ale, Bodacious Blueberry Ale, Rehab Red (Amber) Ale, Jackass Stout and What the Puck Pale Ale on tap. Each of the brews has its own special label, and souvenir merchandise from glassware to t-shirts feature the labels.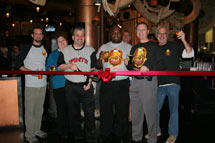 In addition, the restaurant offers a new menu, 20 flat screen televisions, pool, darts, shuffleboard and foosball.
REBA MCENTIRE HEADLINES IN LAUGHLIN
Country music superstar Reba McEntire will perform one night only at the Laughlin Event Center on Saturday, March 12 at 7 p.m. McEntire is the second best-selling female country artist of all time, having sold more than 55 million records worldwide. She's had 63 Top 10 hits and released her 34th studio album, "All the Women I Am," in 2010. Tickets are $45, $55 and $85.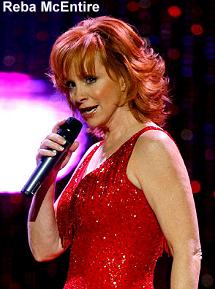 The Aquarius is offering a special online package for $239 (plus tax) that includes two Section C seats to see McEntire, and a two-night stay - March 11 and 12. For $299, you can have Section A floor seats; visit www.AquariusCasinoResort.com and click on "Special Offers." The package also includes 25 percent off at Windows on the River Buffet and 10 percent off Starbucks with your valid ace | PLAY™ card.
TONY ORLANDO ENERGIZES HARRAH SHOWROOM
Tony Orlando will perform 6:30 and 9 p.m. shows in the Fiesta Showroom at Harrah's on March 5 and 6. Tickets are $45, $50 and $55, call 702-298-8510.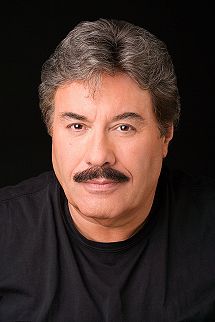 Multi-talented Orlando is the voice behind such hits as "Candida," "Knock Three Times," "He Don't Love You," and "Tie A Yellow Ribbon Round The Ole Oak Tree." For more than 25 years, he has appeared on the "Jerry Lewis Labor Day Telethon" and earned a star on the Hollywood Walk of Fame.
CHARO AND OAK RIDGE BOYS HEADLINE RIVERSIDE
Charo, the "Cuchi-Cuchi" lady, will headline Don's Celebrity Theatre at the Riverside, Feb. 8-12. Instantly recognizable for her humor, loveable accent and mastery of the flamenco guitar, the star in 1978, with her international hit, "Dance A Little Bit Closer," created and established the new bilingual salsa style. This new "Charo Rhythm" has since been emulated by many other Latin and American performers. Her new show adds a fresh twist with a Tango Challenge! Her "Salute to Tango" showcases professional tango dancers challenging Charo with a partner from the audience. Tickets are $35.50.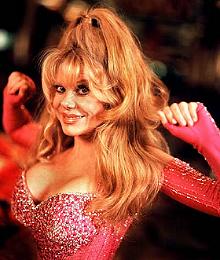 The Oak Ridge Boys follow, Feb. 14-20, with their three decades of hits including their platinum tune "Elvira." They are known for singing about love – not cheating or drinking – because their songs are meant to last. Tickets are $37.50.
TROPICANA FEATURES CORNELL GUNTER's COASTERS
The Original Cornell Gunter's Coasters will perform in concert at the Tropicana on Saturday, Feb. 26 at 8 p.m. in the Pavilion Theater. Tickets are $20.
Throughout the 1950s and 1960s, the Coasters had many hit songs that were especially catchy tunes like "Charlie Brown," "Poison Ivy," "Little Egypt," "Love Potion No. 9" and "Yakity Yak." This band, with Gunter as its head, was the first band to be inducted into the Rock and Roll Hall of Fame in 1987.
TOP OF NEXT COLUMN
EDGEWATER FEATURES COMEDIANS
The Edgewater sticks with its ongoing "Comedy on the Edge" in the showroom every Friday, Saturday and Sunday at 7 p.m. Each show features two stand-up comedians. Upcoming acts are: Feb. 11-13—Vargus Mason and Amy Snowden; Feb. 18-20—Tom Clark and Robbie Pickard; Feb 25-27—Bruce Jingles and Jason Love; March 4-6—Troy Thirdgill and Mary Kennedy; and March 11-13—Mike Wally Walter and Colleen Crabtree. Tickets are $10 at the Edgewater Casino Cage or the door.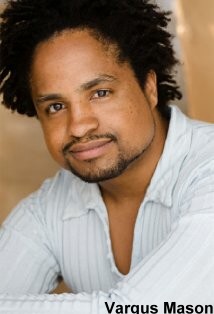 The media dubbed Mason "The Human Cartoon" at the 2002 San Francisco Comedy Competition. Using highly physical movement and an arsenal of animated voices, Mason took second place defeating 340 competitors worldwide. Other national comedy titles include: 2006 Top 10 Comics of MySpace; 2007 Finalist Purina Pet Comedy Competition; Semifinalist 2006 Boston International Comedy Festival; and HBO's Young Young Comedian Spotlight where performing for the first time at only 15, Mason became the Rocky Mountain Regional Champion.
Mason has appeared on many television comedy shows and traveled around the globe to 16 different countries as an entertainer for the U.S. Troops.
QUICK CLIPS
"Remember When" Antiques and Collectibles Show will be held in the Avi Grand Ballroom, Feb. 25-27. Hours are noon to 5 p.m. on Friday, 9 a.m. to 5 p.m. on Saturday, and 9 a.m. to 3 p.m. on Sunday. Admission is free admission.
The "Mardi Gras Riverwalk Festival" featuring the music of Mark St. Mary Zydeco Band, food booths with Cajun and Mardi Gras-influenced dishes will be held Feb. 18 and 19 on the Riverwalk between the Colorado Belle and Edgewater. Hours are 3-8 p.m. on Friday and noon to 8 p.m. on Saturday. Admission is free with food and beverages sold separately.
The "Irish Riverwalk Festival" featuring an Irish band, food booths and beverages will be held on the Riverwalk between the Colorado Belle and Edgewater, March 11-12.
The "Blues & Brews Festival" will be held in the Colorado Belle's parking lot event area, April 22-24. This annual event will feature blues bands including Alligator Records' Michael Burk, BBQ and other food, beverages at booths and vendors. Admission is free with food and beverages sold separately.
There will be Polka dancing at The Pavilion Theater in the Tropicana Feb. 28-March3. Twin Cities Soundz and The Hofbrau Boys will provide the music from 3-8 p.m. Tickets are $20 daily or $40 for all four days; locals discount is half price.
The River Palms has lined up tribute shows. Iron Maidens will pay tribute to Iron Maiden, Jan. 14 and 15; Danny D will present the music of Frank Sinatra and Dean Marin on Feb. 12; The Bluzmen will honor The Blues Brothers on Feb. 19; and Rio will present Duran Duran music on Feb. 26. All the shows in the 2700 Club are at 9 p.m. and tickets are $10.
The Vineyard Ristorante, a fine dining Italian eatery at Aquarius, is offering a February 14th Valentine's Day Sweetheart special dinner for two for $29.95 with an ace | PLAY card or $33.28 without; call 800-662-LUCK (5825).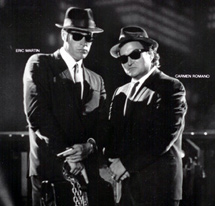 The 17th Annual Avi Kwa Ame Pow Wow, which is a congregation of Native American tribes from the U.S. and Canada, will take place Feb. 19 and 20 at the Mohave Crossing Event Center in Arizona across from the Avi Resort Casino. Open to the public, events include Bird Singing and Dancing. Admission is $5 a day or $8 for two-day pass.
Tom & Sharon's Ballroom, Dance Party at the Riverside is scheduled again on Feb. 12, 26, and March 12, 26 from 1:30 – 4 p.m. Admission is free. For more information about parties or dance classes, call 928-754-2097.
WILLIAMS & REE PERFORM AT THE AVI
Williams & Ree: The Indian and the White Guy will perform at the Avi Grand Ballroom on Saturday, Feb. 12 at 7 p.m. Tickets are $18 and $22.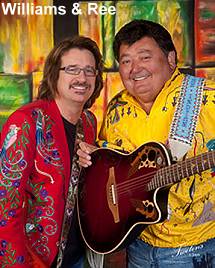 Bruce Williams and Terry Ree have sustained a 40-plus-year career. The two met in 1968 at Black Hills State College in Spearfish, S.D., when they began playing together in a band and often filled time between their songs with their unique brand of humor. After realizing that the humor became a bigger draw than the music, the comedy team was born.

CONTINUE ON TO...:

>THIS WEEK'S LAS VEGAS NEWS
>LAST WEEK'S LAUGHLIN NEWS
>VEGAS VIEW FULL ARCHIVES
>Return to "Heard Around Town"
>Return to Las Vegas Leisure Guide