ALABAMA WILL ROCK LAUGHLIN

The Laughlin Tourism Commission is sponsoring a concert by the southern country rock band Alabama on March 31 at the Laughlin Events Park. Tickets range from $45 to $100 and can be purchased at ticketforce.com.

The band Alabama from Fort Payne, Ala., and originally known as Wildcountry, was founded in 1969 by Randy Owen (lead vocals & rhythm guitar) and his cousin Teddy Gentry (bass guitar, background vocals). Soon after, they were joined by Jeff Cook (lead guitar, fiddle, keyboards).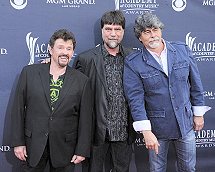 The band's blend of traditional country music and southern rock combined with elements of gospel music, and pop music gave it a crossover appeal that helped lead to their unprecedented success. They also toured extensively and incorporated production elements such as lighting and "sets" inspired by rock concerts into their shows. The band has more than 30 number one country records on the Billboard Magazine charts to their credit and has sold more than 73 million records to date. Alabama was inducted into the Country Music Hall of Fame in 2005.
Alabama returned to the studio in 2010 to record "Are You Sure Hank Done It That Way" as part of a Waylon Jennings tribute album.
THE OAK RIDGE BOYS BRING THEIR HITS TO THE RIVERSIDE
The Oak Ridge Boys with hits such as "Elvira" will perform three decades of classic tunes at the Riverside in Don's Celebrity Theatre, Feb. 13-19. In 2011, they rerecorded a 30th anniversary version of "Elvira" for a Cracker Barrel Old Country Store project. The group has scored 12 gold, three platinum, and one double platinum album - plus one double platinum single - and had more than a dozen national No. 1 singles and more than 30 Top Ten hits. The Oak Ridge Boys work more than 150 personal appearances each year. Tickets are $38.50.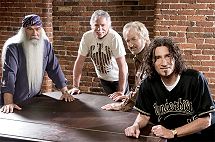 THE DIAMONDS PERFORM AT AQUARIUS PAVILION
The Diamonds, a favorite foursome of the '50s, will appear at the Aquarius Casino Resort with their tight vocal harmonies and timeless Rock 'n' Roll hits on Saturday, March 3 at 5 and 8 p.m., and Sunday, March 4 at 2 p.m. Tickets are $10 and $15.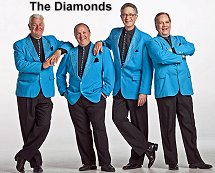 The Diamonds are best known for their song "Little Darlin'," which sold millions of copies in 1957 and has been described by many as the "National Anthem of Rock 'n' Roll." The trip down memory lane will include songs such as "Blue Moon," "At The Hop," "Sherry," "Day By Day," "Splish Splash," "Unchained Melody," and "Lovin' Feeling." The Diamonds travel to venues more than 200 days a year.
THREE COLLECTIBLES SHOWS VISIT
A new McMann's Roadrunner "Gun Collectibles Show" will be held at the E Center on Feb. 11-12 starting at 9 a.m. both days. This family owned and operated show will feature western collectibles, guns, ammo, fishing equipment, books, coins, antique firearms, and more. Admission is $9 for adults and free for children 12 and under.
The next show will be the "Laughlin Coin, Currency, Jewelry & Stamp Expo" in the Mardi Gras Room at the Colorado Belle, Feb. 17-19. This show will feature a wide variety of dealers in stamps, coins, etc., investment expert advice, free appraisals, hobbies, memorabilia and more. Hours are Friday 11 a.m. – 6 p.m., Saturday 10 a.m. – 6 p.m., and Sunday 10 a.m.-5 p.m. Admission is 3 adults, $2 seniors, and free for ages 13 and under. Admission is good for "come and go" all three days.
Later in the month, Feb. 24-26, the "Remember When - Antiques & Collectibles Show" will be held in the Avi Grand Ballroom. Vendors from all across the Western United States will display vintage antiques and collectibles including furniture, antique silver, jewelry, dolls and pottery. Hours are Friday noon – 5 p.m., Saturday 9 a.m. – 5 p.m., and Sunday 9 a.m. – 3 p.m. For vendor information, contact Penny at 928-768-4196 or pennycoburn@yahoo.com or Wendy at 928-788-1756 or moxienblue@yahoo.com. This event is supported by the non-profit River Valley Artist Guild.
AVI HOLDS RODEO AND BULL RIDING COMPETITIONS
The 3,000-seat Mojave Crossing Event Center will be the new home for two PRCA rodeo events: the River Stampede Rodeo March 1-4; and the Fort Mojave Classic PRCA Xtreme Bulls March 23 and 24. The center is located adjacent to the Avi Resort. The rodeo has been held for nearly 20 years in both Bullhead City and Laughlin.
More than 600 competitors will vie for more than $175,000 in prize money between the two events. The Bull Riding event will be broadcast to some 60 million homes on national television - Great American County.
SMOKEY ROBINSON WILL PERFORM AT THE E CENTER
Music legend Smokey Robinson will perform at the Edgewater's E Center on Feb. 18 at 8 p.m. The multiple Grammy® Award Winner and Rock & Roll Hall of Famer is celebrating his 50th anniversary in the music business and the 50th anniversary of Motown Records. This singer-songwriter has logged 37 Top 40 hits in his career. His mega-hits include "Tears of a Clown," "Shop Around," "Tracks of My Tears," "You've Really Got a Hold on Me," "I Second That Emotion" and "Cruisin'." Tickets start at $35.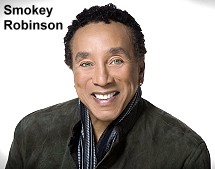 MICKEY GILLEY WILL HEADLINE AT THE RIVERSIDE
Mickey Gilley will visit the Riverside Feb. 21-26 and star in Don's Celebrity Theatre. He grew up alongside his two famous cousins Jerry Lee Lewis and Jimmy Swaggart. Gilley learned to play piano at an early age; however, his success unlike his cousin Lewis came later. In 1971, with a partner he opened Gilley's, which became the world's largest honky-tonk. It was here that Gilley started experiencing his first success when he released "Room Full of Roses." By the mid-70s, his songs were hitting the country charts with regularity. Tickets are $38.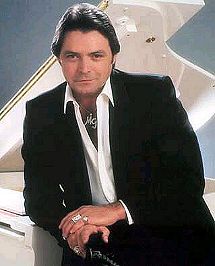 TOP OF NEXT COLUMN
EDGEWATER FEATURES NEW COMEDIANS WEEKLY
The ongoing "Comedy on the Edge" in the Inferno Nightclub/Edgewater Showroom highlights two stand-up comedians every Friday through Sunday at 7 p.m. Upcoming acts are; Feb. 10-Chris Alpine and Garet Webb; Feb 11-12-Frank Roche and Andy Beningo; Feb 17-Michael Worthington and Curtis Foster; Feb 18-19-Mark Poolos and Manny Llanez; Feb. 24 Brian McKim and Traci Skene; and Feb. 25-26 Howard G. and Roy Haber. Tickets are $10 at the Edgewater Casino Cage or the door.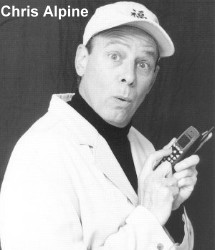 Chris Alpine along with Garet Webb will perform on Feb. 10. Alpine walks the line between goofy and genius and has appeared on TV and radio along with headlining corporate gatherings.
Dean Austin will follow on Feb. 11 and 12 with fellow comedian Andy Beningo. Austin resides in Los Angeles and has made TV appearances on such shows as "Comics Unleashed," BET's "Comic View," "Showtime at the Apollo," etc.
Michael Worthington has also appeared on TV with appearances on "Da Club" and "Four Quotas" and been featured at the 2010 Asheville Comedy Festival and the 2010 Boston Comedy Festival. Curtis Fortier will the co-headliner.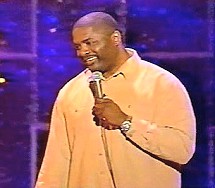 Mark Poolos comedy routine melds observational humor, one-liners, family humor, and humorous original songs with guitar accompaniment. He has been compared to Adam Sandler and Louie Anderson and will be sharing the stage with Manny Llanez.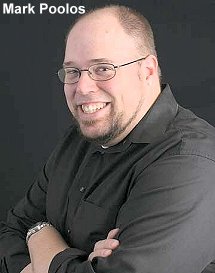 WILLIAMS & REE WILL VISIT THE AVI
Williams & Ree: The Indian and the White Guy will visit the Avi and perform in the Avi Grand Ballroom at 7 p.m. on Saturday, Feb. 11. Tickets are $20.
Bruce Williams and Terry Ree have sustained a career over 40 years packing casinos, clubs, and arenas from Niagara Falls to Las Vegas with their ever-changing routine that --more times than not--steers away from the off-color Indian jokes that originally established the duo.
'DEFENDING THE CAVEMAN' WILL VISIT HARRAH's
The longest running solo play in Broadway history, "Defending the Caveman," will be performed at Harrah's in the Fiesta Showroom March 15-29. The one-man play explores the husband and wife – male and female "gender gap" with humor and telling insight. It's a show that has everyone laughing at 8 p.m. nightly. Tickets are $25 and $35.
Caveman, which is hilarious, has won the hearts of millions. The play is about the ways men and women relate and appeal to both sexes. Couples are often seen affectionately nudging one other throughout the show.
"Defending the Caveman" was written by Rob Becker over a three-year period while he made an informational study of psychology, sociology and prehistory. Today more than 40 talented actors perform the record-breaking comedy worldwide.
LAUGHLIN QUICKIE NEWS
Johnny Tillotson will headline at the Aquarius on Feb. 25 and 26 and perform three shows. He has recorded in five languages English, Japanese, German, Spanish and Italian. With more than 200 chart entries internationally, he's had at least six No. 1 records including "Poetry in Motion." Tickets are $10 and $15.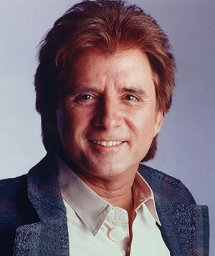 The Osmond Brothers will visit the Riverside Feb. 7-11 and perform 7 p.m. shows. Tickets are $32.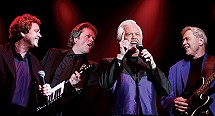 The Tropicana's first River Fund Slot Tournament held on Jan. 29 netted $570 in cash and more than 390 items of food. Proceeds from this tournament were donated to the River Fund and the Colorado River Food Bank. The Tropicana will be holding monthly River Fund Slot Tournaments on the last Sunday of each month between 10 a.m. and 4 p.m. Nevada time. The entrance fee is $10 or five cans of food. Top prize is $1,000 in Free Play.

A "St. Patrick's Day Festival" will be held March 16-18 on the Riverwalk between the Colorado Belle and Edgewater resorts. This event will feature Irish food, beverage booths and live music. Hours will be Friday from 4-9 p.m., Saturday noon- 9 p.m. and Sunday noon-6 p.m.

Rev up your motorcycles for the town-wide "30th Anniversary of the Laughlin River Run" taking place April. 25-29. The annual motorcycle run features day and evening events, shows, rides and much more. For official registration, visit laughlinriverrun.com.

The "3rd Annual Mardi Gras Riverwalk Festival" featuring Southern cuisine, beverage booths and Cajun music by The Bayou Brothers will be held at the Riverwalk between the Colorado Belle and Edgewater, Feb. 24-26. Hours for this free event with food and beverages sold separately will be Friday 4-9 p.m., Saturday noon – 9 p.m. and Sunday noon-6 p.m.

The Riverside features swing and country to ballroom and Latin dancing with the Tom & Sharon's Dance Party. Dancing takes place from 1:30 to 5 p.m. on certain Saturdays: Feb 11*, 25; and March 17*, 31. Dates with an asterisk mean Zumba parties are being held after the ballroom dance parties. Admission is free.


CONTINUE ON TO...:
>THIS WEEK'S LAS VEGAS NEWS
>LAST WEEK'S LAUGHLIN NEWS
>VEGAS VIEW FULL ARCHIVES
>Return to "Heard Around Town"
>Return to Las Vegas Leisure Guide