Comedian Gordie Brown will end his engagement in the 740-seat showroom at The Venetian after Feb. 13. Brown, whose show consists of comedy, music, parody and impressions, began performing at The Venetian in October 2006. Brown will turn his attention to other projects and performances throughout the country with eventual plans to return to The Venetian.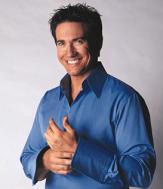 This weekend Pink Taco at the Hard Rock, which offers a dining experience putting a California spin on traditional Mexican dishes, had its grand re-opening and celebrated with a newly extended bar. The menu includes the trademark Pink Taco (Panuchos).

Column Continues Below Advertisement


The hip Mexican cantina, Pink Taco is a folk-art bedecked hotspot adorned with classic low-rider bicycles, tables that leave guests' feet dangling, and an assortment of authentic Mexican craftwork decorating the dining room. Dining out on the patio offers a more quiet setting. Pink Taco has weekday Happy Hour specials that include 2-for-1 beers and house margaritas as well as half-priced appetizers.
Also new will be the launch of a new monthly affair on Tuesday, Feb. 5, known as Cinco de Taco. The monthly occurrence will take place on the 5th of each month and offer $2 Coronas and Corona Lights, $3 Sauza Hornitos shots, $3.75 Sauza Hornitos margaritas as well as half-off appetizers from 4 p.m. until closing. Cinco de Taco will feature a live Mariachi band beginning at 6 p.m., and girls dressed in lingerie will be participating in three Pi¤ata bashings filled with Love Jones lingerie. In addition, Pink Taco will introduce its new sweet treat, pink fortune tacos. A rendition of the traditional fortune cookie, pink fortune tacos are shaped like tacos, are pink and contain words of taco wisdom and some will have special surprises such as free cocktails.
The Light Group, Las Vegas' premier hospitality and lifestyle development organization, will unveil its latest restaurant concept with the opening of BRAND Steakhouse, set to open in April at the Monte Carlo. One part steakhouse and one part lounge, BRAND with its open people-watching design will be centrally located on the casino floor and open nightly.
Designed by Graft Lab, the award-winning design firm behind FIX Restaurant & Bar at Bellagio and STACK Restaurant & Bar at The Mirage, BRAND will feature a 5,000-square-foot, 250-seat dining room with a dramatically lit ceiling canopy that will create a pixilated abstract cow-print pattern and adjacent lounge. A rich palette of earthy colors and unique textures combined with soft lighting and subtle sound system will add to BRAND's casually cool ambience. BRAND's fluid design, featuring low-level walls and retractable glass partitions from both the casino and inside the restaurant, will create seamless transitions into either environment. There will be a 50-seat private party room that can be divided into two smaller rooms.
Highlighting Brand's menu will be the Ultimate Steak: a mammoth 8.6-pound beef porterhouse for six served with choice of two house-made sauces and two sides.
Creator and owner, Michael Frey will open his contemporary, highly-stylized, 8,000-square-foot restaurant T&T (Tacos & Tequila) this summer above the hotel registration at the Luxor. It will be the first project under the formation of his new company, Drive This Entertainment! T&T will be open daily for lunch and dinner from 11 a.m. to 11 p.m. and offer late night dining from the taco bar until 3 a.m.
World-class designer, Adam Tihany, will feature five icons of Mexican culture, the sombrero, the shot glass, the bullfight, skeletons and seductive women in the design.
One of the main focal points will be a massive brushed aluminum cover, designed to pay tribute to the sombrero. Adorning the structure will be two 20-feet laser cutouts of dancing skeletons. The designers will use a bright color palette of yellows, reds, greens, oranges and blues for chair coverings and decorative lighting.
Another aesthetic focal point will be the bar that will be transformed into a bull fighting arena with the backdrop being stadium-style shelves with the liquor bottles arranged to resemble spectators overlooking a bullfight, which will be painted below onto a large mural.
Master Chef and savvy restaurant owner Richard Sandoval will serve as the consulting chef. In addition, T&T will be equipped with a freestanding frozen daiquiri bar and a clothing and small mementos boutique.
The always controversial comedian Margaret Cho will bring her satirical views on life to The Pearl at the Palms on Saturday, March 29, at 8 p.m. as part of her worldwide Beautiful tour. Tickets are $38, $48 and $58, call 702-474-4000.
Cho received her first big break when she entered and subsequently won a contest where the grand prize was opening up for comedian Jerry Seinfeld. In 1999, Cho wrote and starred in a one-woman show called I'm the One That I Want, which turned into a U.S. tour, concert film and book. She followed up with a tour called Notorious C.H.O. in 2001 and then Revolution in 2003. Revolution grossed more than $4 million and the CD version of Revolution was nominated for a Grammy award. In 2004, the tour was turned in to a concert film and released on DVD. Cho launched the State of Emergency tour during the 2004 presidential election, which emerged as a new tour Assassin.
In 2006, following an adventure into belly dancing, Cho launched The Sensuous Woman - a mix of burlesque, comedy and belly dancing in a variety show format. Last year, Cho received the first ever Best Comedy Performance award at the 2007 Asian Excellence Awards, the First Amendment Award from the ACLU of Southern California and the Intrepid Award from the National Organization for Women.
For the second straight year, the Hofbräuhaus Las Vegas is pouring a special Bavarian Double Bock draft beer imported fresh from Munich, Germany. The Hofbräuhaus was able to obtain 50 kegs of this rare brew with the powerful eight percent alcohol punch and ultra smooth taste. For information, call 702-921-5578.
Luxor headliner Carrot Top is filming a reality show pilot for A&E.
The Canyon Club Las Vegas at the Four Queens has started a new resident show, Marriage Can Be Murder. The longest running interactive dinner show in Southern Nevada is scheduled at 6 p.m. Monday through Saturday. The dinner show package is $54.95 and includes one non-alcoholic drink, tax and tip. A VIP package is available for $69.95 and features premium seating, a souvenir, one complimentary cocktail, tax and tip, call 702-387-5175.
Marriage Can Be Murder is a 4-dimensional theatre concept created by husband and wife team Eric and Jayne Post nearly 20 years ago. It has been running at The Egg and I restaurant for seven years.
Crazy Leroy's Race & Sports Book - Bar & Grill has opened its flagship operation, a 10,000-square-foot race and sports book just steps from the famous Strip with state-of-the-art amenities including 50 high-definition, flat screen TVs and 24 sit-down carrels with built-in monitors. Crazy Leroy's, located next to the Riv's poker room, also features its own bar and grille. Other changes include new ticket writing terminals, two new kiosks, an electronic board, and a 60-foot by 5-foot high-definition reader board. The renovation represents a $1 million investment and is part of an overall renovation of more than $25 million.
Peace Frog-Tribute to The Doors will return to the Cannery in North Las Vegas on Friday, Feb. 29. Admission to the tribute act's 8 p.m. concerts is $5 at the door.
The group pays tribute to Jim Morrison and The Doors with lead singer Tony Fernandez living out every Morrison move on stage. Peace Frog is the drama and rock theater that made The Doors famous.
The Divine Miss M. will open her new Las Vegas extravaganza, The Showgirl Must Go On at the Colosseum at Caesars Palace on Feb. 20. She will perform five nights a week at 7:30 p.m. and the show will be dark on Mondays and Thursdays. Tickets are $95, $140, $175, and $250.
The Amazing Johnathan has closed his show at the Sahara after performing there since May 2005. He plans to partner with hypnotist Anthony Cools and open a new theater this spring.
Popular online guide Citysearch and Zagat's Best of Las Vegas 2008 list Strip House as one of Las Vegas' top ten new restaurants.
For the fifth consecutive year, Tabú Ultra Lounge in the MGM Grand has been nominated for "Best Lounge" by the Club World Awards.
The Meridian Luxury Suites, an exclusive new 400 all-suite, non-gaming resort near the heart of the Las Vegas Strip at Flamingo and Koval Lane, has announced a new affiliation with Warwick International Hotels, a privately owned luxury hotel company.
The Frisco Market Buffet at the off-Strip Arizona Charlie's Decatur is now featuring the Hawaiian Night Luau on Wednesdays with free leis and servers in Hawaiian-themed attire and Prime Rib and Potato Bar Night on Sundays. The price is $12.99.
The Harlem Globetrotters will play their entertaining basketball game at The Orleans Arena on Feb. 13.
Author Dennis Griffin will present, Las Vegas and the Mob, a lecture on the life of Chicago mob enforcer Tony Spilotro, at 11 a.m. on Feb. 20 at the Winchester Cultural Center, 3130 S. McLeod Drive. This program is free but registration is required, call 702-455-7340.
In 2006, Griffin released The Battle for Las Vegas, the story of Spilotro's Vegas reign. His presentation will use clips from the Martin Scorsese film Casino to highlight similarities and differences in the movie version, starring Joe Pesci as Spilotro, and the real events included in Griffin's book.
Griffin began writing Policing Las Vegas, the history of law enforcement in Las Vegas and Clark County from 1905 to 2004, and it was released in 2005. The Battle for Las Vegas is his second foray into nonfiction and is the subject of a bus tour that leaves from the Greek Isles six nights a week. His most recent work, Cullotta - The Life of a Chicago Criminal, Las Vegas Mobster and Government Witness, was released in 2007.
Where else would you find a "pop the question" planning company? Your Hand in Marriage provides the guidance that men need when popping the big question and has the capacity to plan and implement proposals throughout the country, bringing marriage proposals from the ordinary to the extraordinary. For information, visit www.yourhandinmarriage.com.
The Hard Rock is promoting provocative Valentine's Day offers with Love Jones merchandise featuring a wide range of accessories and apparel including fishnet tights, leather, fur as well as some of the sexiest French and Italian intimate pieces found in Las Vegas.
Richie Jen, a popular Taiwanese singer and actor with hits from albums, If I Didn't Have You, Old Place and So Far So Close, and Ruby Lin, Taiwanese actress and singer with popular recordings, Possession and Eighteen Springs New + Best, will perform at MGM Grand Garden Arena on Saturday, Feb. 9 at 8 p.m. Ticket prices are $178, $128, $78 and $38, including a $7 handling fee. For information, call 800-929-1111 or 702-891-7777.
The Gold Coast will celebrate the Chinese New Year on Feb. 12 with one of the largest traditional Chinese Dragon Dances in Las Vegas. At 7 and 10 p.m. a traditional Chinese lion and a 62-foot Chinese dragon will dance through the casino to bring good luck to all in attendance.
Starlight Lion Dancing Group will perform traditional Chinese Lion Dances at Mandalay Bay at 3 p.m. and MGM Grand at 7 p.m. on Feb. 9, and The Mirage at 3 p.m. and Bellagio at 7 p.m. on Feb. 10. The 60-member dance troupe has performed in Asian countries, Australia and the United States. All performances take place in the main valet of the property.
This month from Feb. 6-12, for the first time in United States history, Diaoyutai State Guesthouse is partnering with the Pearl Restaurant at the MGM Grand to present the Diaoyutai State Guesthouse Culinary Festival. Echoing the storied history of Chinese Emperors, Diaoyutai State Guesthouse of Beijing has extended its traditional hospitality to more than 1,000 heads of state, presidents and prime ministers. Pearl at MGM Grand will host the entire culinary team from Diaoyutai State Guest House as they prepare traditional delicacies from the Imperial Court Banquet. For reservations and information, call 702-891-3701.
CONTINUE ON TO...:
>THIS WEEK'S LAUGHLIN SEGMENT
>LAST WEEK'S LAS VEGAS SEGMENT
>VEGAS VIEW FULL ARCHIVES
>Return to "Heard Around Town"
>Return to Las Vegas Leisure Guide