VENETIAN-PALAZZO HOSTS MASTER CHEFS OF FRANCE!

For the first time since its inception, the 59th General Assembly of French Master Chefs - "Maitres Cuisiners de France" - will bring their worldwide meetings to the United States, March 5-9. The event will also celebrate the 50th Anniversary of the American and Canadian delegations and the U.S. Chapter of "l'Academie Culinaire De France" (ACF).

The five-day event will be held at The Venetian and The Palazzo, which is home to more James Beard Award-winning chefs than any other destination and Executive Chef Olivier Dubreuil, who is also a Master Chef of France and responsible for bringing the organization meetings to America.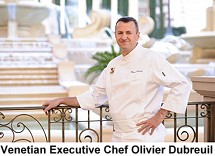 In March, nearly 150 Master Chefs will stay at The Venetian to review the previous year's accomplishments, look ahead to next year and find ways to help other communities promote upcoming events. In addition new members will be added to the Master Chef list with an induction ceremony.
The ACF will host a special dinner to elect the woman of the year, and reward one of their member with the "Fauteuil de l'Academie" for lifetime achievement. The Master Tour De France will be held Saturday, March 8 from 6-10 p.m. in Doge's Palace and be open to the public. The event features 12 chefs and 12 wineries. Tickets are $50, call 866-641-7469.
Column Continues Below Advertisement
AMERICAN SPORTS BAR TAP NOW OPEN AT MGM GRAND
The MGM Grand has unveiled TAP, a new 220-seat restaurant and sports bar surrounded by sports history. Every seat offers a prime view of the biggest games broadcast live on TAP's 60 HD flat-screen televisions. The menu features American sports bar favorites.
PIN-UP PIZZA OPENS AT PLANET HOLLYWOOD AND CELEBRATES PIZZA DAY
Serving up the largest slice on the Strip, Pin-Up Pizza is now open at Planet Hollywood. On Pizza Day, Sunday, Feb. 9 from 11 a.m.-2 a.m., guests at Pin-Up Pizza will receive one free beer with the purchase of a slice of pizza, limit one per customer. Each hand-tossed pizza pie measures 30 inches across and uses four pounds of dough, leaving each slice measuring 15" x 6".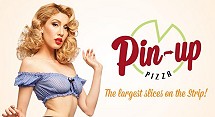 The modern New York-style pizza eatery is located along Las Vegas Blvd. next to Pink's Hot Dogs with an entrance from the street as well as inside of the casino. The indoor counter space has a full view of the giant gas oven and kitchen and there is an outdoor glass-enclosed patio. Continuing the Pin-Up theme of the 50s, Pin-Up Pizza girls are adorned in retro rockabilly uniforms emulating Bettie Page.
SMITH CENTER HOSTS WORLD PREMIERE NEW VERSION OF 'THE TEMPEST'
Due to popular ticket demand, The Smith Center has added an additional week of performances for the world premiere of a reimagined version of "The Tempest," which will now play April 6-20 in a 500-seat climate-controlled tent in Symphony Park.
The Smith Center's first ever co-production, "The Tempest" is produced by the American Repertory Theater (A.R.T.), adapted and directed by Aaron Posner and Teller from the play by William Shakespeare, with magic by Teller, music by Tom Waits and Kathleen Brennan and movement by Matt Kent of Pilobolus. Tickets begin at $35; call 702-749-2000.
Following the world premiere in Las Vegas, the show will move to Cambridge, Mass., to begin performances at A.R.T. and then Washington, D.C. and New York City.
'PAWN SHOP LIVE!' AT GOLDEN NUGGET IS TOTAL SPOOF
The approach for the new show "Pawn Shop Live!" at the Golden Nugget is a total spoof about History Channel's super hit real hit show "Pawn Stars" and the real-life TV characters. There's no question that it helps if you're a fan of the TV show. Right away the likeness of the real people is a great reference point. In the parody Rick Harrison is Slick Garrison, Cory "Big Hoss" Harrison is Lil' Boss, Austin "Chumlee" Russell is Chump and Richard "The Old Man" Harrison is a puppet with a giant head affectionately called Old Fart.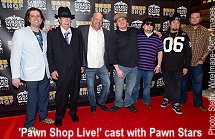 The "almost true story" explains the background on the four principals and how the world famous pawn shop came to be a reality. The show is set in a pawn shop and precariously placed in front of Gordie Brown's band set. Two cast members Enoch Scott and Anita Bean play an incredible amount of multiple roles and two showgirls float in an out of the show. The real "Pawn Starts" celebs are getting a kick out of the show and regularly drop by to do meet-and-greets. And a recognizable voice throughout the show is "Lifestyles" Robin Leach with some narrative. Tickets are $24.95, $29.95 and $39.95.
INSOMNIAC AND MARQUEE DAYCLUB CELEBRATE 'HALF WAY TO EDC'
Insomniac, producers of the largest music festival in North America, Electric Daisy Carnival (EDC), and Marquee Dayclub at The Cosmopolitan will present the 3rd Annual "Halfway to EDC" celebration on Sunday, Feb. 16, marking the six-month countdown to the popular summer music festival with a historic winter pool party under the new Marquee Dayclub Dome. Halfway to EDC will be from noon to sunset with a $30 cover charge for males and $20 for females.
For the first time, Las Vegas partygoers can don their summer swimsuits in February. Halfway to EDC will give a festival-type experience with multiple headliners including Dash Berlin, Candyland, Firebeatz, Paris Blohm, Kennedy Jones and Jason Lema. EDC will be held June 20-22 at the Las Vegas Motor Speedway.
THE D HOLDS SPEED-DATING EVENT TO BREAK WORLD RECORD
This Valentine's Day, the D Las Vegas is inviting singles to meet their perfect match while breaking the world record for the largest speed dating event at the D Date-a-Thon. From 6-9 p.m., 1,000 romantic hopefuls will have the opportunity to meet that special someone while enjoying $1 drinks, giveaways and more.
In an attempt to break the world record, the downtown property is partnering with SpyOn Vegas and X107.5 KXTE-FM and collaborating with speed dating organizations Pre-Dating and Lock and Key. The event will take place on the Fremont Street Experience in front of D Bar. Each participant will date 24 people for three minutes. Some lucky winners will win prizes.
The event is free but all participants must register. Interested singles can sign up at vegasspeeddate.com or theD.com prior to the event. Registration will also be available on-site beginning at 4 p.m.
LIFE IS BEAUTIFUL RETURNS TO DOWNTOWN IN OCTOBER
The second Life is Beautiful urban festival experience celebrating music, food and art will return to Downtown Las Vegas Oct. 24-26. More than 60,000 people enjoyed Life is Beautiful in its first year last October, exceeding original estimates. Attendees spent the weekend exploring 15-city blocks programmed with music, food, art, and learning experiences for all ages. Held over two days, the inaugural event consisted of five music stages, a culinary village, an alchemy garden, an eclectic street art program, a learning program with a range of notable speakers and much more.
MOB MUSEUM CELEBRATES SECOND ANNIVERSARY WITH SPECIALS
On Valentine's Day, Friday, Feb. 14, The Mob Museum downtown will celebrate its second anniversary with two-for-one admission for out-of-town visitors and free admission for Nevada residents. In addition at 9 a.m. that day, the museum will unveil a limited-time-only presentation of two Thompson machine guns used in the St. Valentine's Day Massacre in 1929. Lt. Mike Kline from the Berrien County Sheriff's office in Michigan will deliver public presentations about the artifacts on Feb. 14 at 11 a.m., 3 p.m. and 6 p.m. and on Feb. 15 at 11 a.m., 2 p.m. and 4 p.m.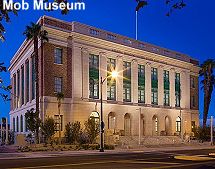 On Thursday, Feb. 13, the museum will hold its 2nd Anniversary Celebration Blood Drive in partnership with United Blood Services. Anyone donating blood in the United Blood Drive Bloodmobile behind the museum between 10 a.m. and 4 p.m. will receive one free ticket to the museum that is valid until Dec. 31. Appointments are encouraged online or by calling 877-827-4376. Sponsor code: MobMuseum.
The museum is now on the National Register of Historic Places and it occupies the former Federal courthouse and U.S. Post Office.
TICKETS ON SALE FOR 13TH MICHAEL JORDAN CELEBRITY INVITATIONAL
The 13th Annual Michael Jordan Celebrity Invitational (MJCI) hosted by ARIA at Shadow Creek returns to Las Vegas for the fourth consecutive year April 3-6. Tickets are now on sale giving spectators access to the acclaimed Shadow Creek Golf Course while raising money for several worthy charitable organizations. Since its inception in 2001, MJCI has raised nearly $7 million for charities.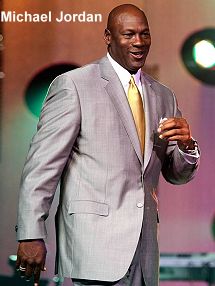 Sports stars Wayne Gretzky, Ken Griffey, Jr., Dara Torres and Brian Urlacher, along with actors Anthony Anderson, Brian Baumgartner and Jesse Metcalfe are scheduled to participate in this year's event. The two rounds of the Celebrity-Amateur Competition, which pairs one celebrity golfer with four amateur participants, will take place Thursday and Friday. Tickets range from a daily pass at $30 to a weekly VIP pass for $500 with numerous discounted ticket options available. For more information, call 877-253-5847.
TOP OF NEXT COLUMN
SLASH, SAMMY HAGAR, ALICE COOPER AND VINCE NEIL HELP FIGHT MSA
In December 2013, rock 'n' roll chef Kerry Simon announced he is battling Multiple System Atrophy (MSA), an incurable and rapidly progressive neurodegenerative disease that affects multiple parts of the body. An MSA fundraiser will be held on Thursday, Feb. 27 at Lou Ruvo's Keep Memory Alive Event Center. The event will feature world-renowned chefs preparing a rock 'n' roll dine-around and Simon's musician friends performing.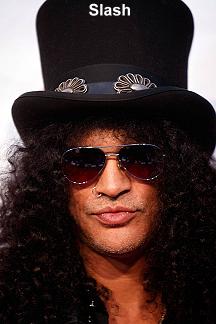 This cocktail party will feature chefs including Daniel Boulud, Kim Canteenwalla, Wylie DuFresne, Grant Macpherson, Michael Mina, Rick Moonen, Justin Nilson, Charlie Palmer, Megan Romano, Tony Schutz, Mark Tarbell and Jean-Georges Vongerichten. Rockers Alice Cooper, Slash, Sammy Hagar and Vince Neil will join house band Sin City Sinners to entertain as supporters dine and imbibe. Special guest Sabriel will also perform. Tickets are $500 and $1,000.
GOLDEN NUGGET HOSTS AMERICAN CRAFT DISTILLERS FESTIVAL
The Golden Nugget will host the American Craft Distillers Festival Feb. 7-9. This three-day event brings together consumers, whiskey masters and brand ambassadors with tasting experiences, mixology classes, dinner and more. The Grand Tasting Experience will be held in the Grand Event Center from 7-11 p.m. on Friday, Feb. 7 and from 2-6 p.m. on Saturday, Feb. 8. The "Turn of the Century Whiskey Dinner" will be Sunday, Feb. 9 at 6 p.m. Ticket options vary from a two-day pass for $79 to everything for $125. Tickets for each event can also be purchased separately, call 866-946-5336.
ALIANTE PLANS NASCAR WEEKEND SPECIALS
Aliante will welcome 2014 NASCAR fans with complimentary beer specials and exclusive spa treatments from Friday through Sunday, March 7-9. Race enthusiasts who present a valid ticket stub from the NASCAR Sprint Cup Series Kobalt 400 on March 8 or NASCAR Nationwide Series Boyd Gaming 300 on March 9 will receive a complimentary bucket of Bud Light mini bottles at the Race & Sports Book.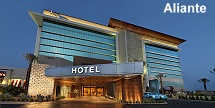 PBR ROCK BAR HOSTS 2014 WINTER BEERLYMPICS™
The Strip-side PBR Rock Bar & Grill inside Miracle Mile Shops at Planet Hollywood will host competitive drinking games, the 2014 Beerlympics, from Friday, Feb. 7 through Sunday, Feb. 23. Guests will participate in traditional games including beer pong, flip cup and Jenga. Partygoers will go shot-for-shot while playing competitive chess, checkers and battleshots; complete with eight shots per player.
Beer Pong tournaments are every Monday at 8 p.m. Pong players will compete for the chance to win a $500 cash grand prize. Tournament entry is $25 with complimentary open bar access for two until 2 a.m. included.
SHOWBIZ CLIPS
Blue Man Group will present a one-of-a-kind rendition of "The Star-Spangled Banner" at the Las Vegas Wranglers Hockey Game against the Bakersfield Condors inside the Orleans Arena on Sunday, Feb. 9 at 2 p.m.
Vinyl at the Hard Rock Hotel & Casino will feature "Rock Of Ages" star Mark Shunock hosting a night of entertainment to benefit the St. Therese Center on Monday, Feb. 17 at 9:30 p.m. On Monday, Feb. 24 at 9 p.m., the "Broadway Rocks Vegas Show" will feature Justin Mortelliti from "Rock Of Ages," Martin Kaye from "Million Dollar Quartet" and Graham Fenton of "Jersey Boys." Tickets are $20 for both shows, call 800-745-3000.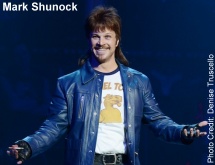 On Tuesday, Feb. 4 "Million Dollar Quartet" at Harrah's will welcome Golden Globe® winner and Broadway talent Pia Zadora for an encore performance. Serving as the fifth guest performer, Zadora will perform alongside the cast for one-night-only at the conclusion of the evening's 7 p.m. performance. On a regular basis, Zadora performs in "Pia's Place" at Piero's Italian Cuisine restaurant every Friday and Saturday at 9 p.m.
Lambus Dean is starring in "The Sammy Davis Jr. Story" at The Lakes Theater at 8200 W. Sahara Ave. on Sunday, Feb. 16 at 4 p.m. The musical takes audiences from Davis' humble beginnings to his triumphant time as a member of The Rat Pack. The show has singers and dancers backed by a 10-piece band. Tickets are $40, call 702-742-6109.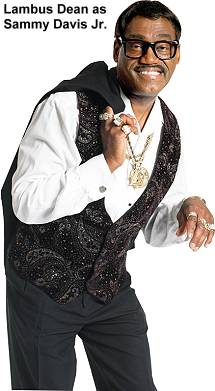 On Friday, Feb. 7, the Crossfire Concert at Fiesta Rancho in Club Tequila in North Las Vegas will benefit the Doberman Rescue of Nevada. Door open at 9 p.m. and tickets are $10 for three hours of classic-to-modern rock music.
NEWT AND CALLISTA GINGRICH HOLD BOOK SIGNING AT THE PALAZZO
Former U.S. Speaker of the House Newt Gingrich and author Callista Gingrich will hold a book signing meet-and-greet on Tuesday, Feb. 4 from 3-4:30 p.m. at The Waterfall Atrium & Gardens in The Palazzo. The influential couple will sign copies of their newest books: Newt's non-fiction "Breakout: Pioneers of the Future, Prison Guards of the Past, and the Epic Battle That Will Decide America's Fate" (Breakout) and Callista's latest children's book "Yankee Doodle Dandy."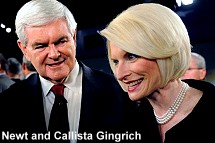 NOTABLE ITEMS
Southern Nevada Public Television's 25th Anniversary of Splendor in the Glass Wine & Beer Tasting Event will be held Saturday, Feb. 8 at the LVH from 3-7 p.m. Tickets for the fundraiser benefiting Vegas PBS are $85 in advance and $100 at the door, call 702-799-1010, ext. 5361.
Las Vegans' magician and entertainer Seth Grabel and Tammy Shaw, publisher of Las Vegas Woman magazine, were married among the 33 couples that got married live during the 56th Grammy Awards with Queen Latifah officiating the ceremony to the Grammy nominated song by the hip-hop duo Macklemore & Ryan Lewis "Same Love," winners of the Grammy for Best New Artist. After the ceremony, Grabel and Shaw were congratulated by Beyoncé, Jay Z, Paul McCartney and Katy Perry.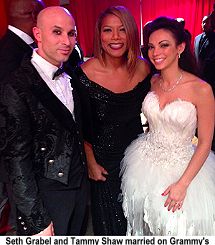 Effective Wednesday, Feb. 5 at the Palms, Moon Nightclub and The View will be open Friday and Saturday evenings only. Launching Friday, Feb. 14 The View will be hosting a weekly Friday "Latin Night" bash with a live broadcast from 99.3 FM La Kalle.
In celebration of the 50-year anniversary of Jerry's Nugget in North Las Vegas, the property has released a commemorative 50th anniversary $5 gaming chip displaying the newly-unveiled commemorative anniversary logo. The chips will be used on the casino floor in live table games and will be available for purchase at the casino's main cage.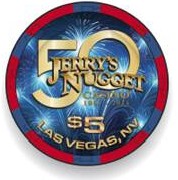 Established in 2006, Original Diva, Australia's popular full-service salon and market leading, custom-designed hair extensions retailer, will open its flagship 1,840-square-foot U.S. salon on in the Miracle Mile Shops at Planet Hollywood early this month.
TREVI Italian Restaurant inside The Forum Shops at Caesars will honor National Meatball Day on Sunday, March 9 by offering several specially-priced menu favorites including TREVI's signature spaghetti ice dessert, priced at $8.50. The unique spaghetti and meatballs presentation is made with vanilla and chocolate gelato and topped with a sweet strawberry sauce.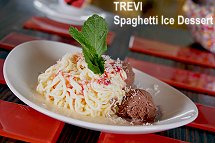 Life Time Athletic will host their Life Time Foundation Jam fundraiser beginning at 9 a.m. Saturday, Feb. 15. The Jam, presented in partnership with Toyota, will raise money for the Life Time Foundation's Back2Basics school lunch program. Toyota will donate $1 per participant at the Jam as Life Time instructors lead a spin class for the cause. The event is open to members and non-members of the gym and costs $30 for non-members.
Column Continues Below Advertisement
CONTINUE ON TO...:
THIS WEEK'S >LAUGHLIN NEWS
LAST WEEK'S >LAS VEGAS NEWS
>VEGAS VIEW FULL NEWS ARCHIVES
Return to >"Heard Around Town"
Return to >Las Vegas Leisure Guide