PAUL ANKA WILL BE CROONING AT THE E CENTER!

Singer-songwriter Paul Anka will regale audiences with his catalogue of hits at the Edgewater in The E Center on Saturday, Feb. 10 at 8 p.m. Ticket range is $45-$105.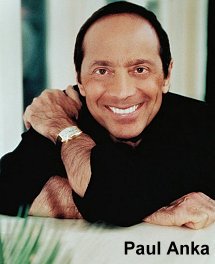 Anka has recorded 125 albums to date including more than 10 albums in Japanese, German, Spanish, French and Italian, composing songs culturally tailored to each country. His new album "Rock Swings" featuring songs originally created and recorded by some of rock music's raunchiest bad boys is performed with big-band, crooner-style interpretations of songs by Nirvana, Van Halen, the Cure, and Oasis.Starting as a teen idol, Anka has since sold close to 15 million albums worldwide. He's garnered three No. 1 songs "Diana," "Lonely Boy," and "You're Having My Baby," as well as 22 Top 20 hits. Anka also has a staggering 900 songs to his credit with 130 being recorded by other artists including Elvis Presley, Barbra Streisand, Linda Ronstadt, and Robbie Williams. He is particularly well-known for penning signature songs for others including: "It Doesn't Matter Anymore" (Buddy Holly); "She's a Lady" (Tom Jones); "Puppy Love" (Donny Osmond); and most notably "My Way" (Frank Sinatra).
ALABAMA WILL ROCK LAUGHLIN EVENT CENTER
American country/southern rock band Alabama will bring their string of hits to the Laughlin Event Center on Saturday, Feb. 24 at 8 p.m. Tickets start at $50.
Alabama, formed 40 years ago in Fort Payne, Ala., by Randy Owen, his cousin Teddy Gentry and another cousin, Jeff Cook, began performing in local bars blending country and southern rock with gospel and pop under the name Wildcountry. The trio's unorthodox appearance for country musicians at the time made them renegades in sneakers and T-shirts with long hair and playing loudly. They began writing original tunes and in 1977 changed their name to Alabama. The rest is history. The band has more than 30 number one country records on Billboard charts and have sold more than 75 million records, making them the most successful band in country music history.
OAK RIDGE BOYS MAKE TOUR STOP AT THE RIVERSIDE
The Oak Ridge Boys will visit Don's Celebrity Theatre at the Riverside with their "Shine The Light Tour" Feb. 5-11 with 7 p.m. shows and 3 p.m. matinees on Feb. 6, 7, 8 and 10. Tickets are $38.50.
The Oak Ridge Boys with their distinctive and recognizable sounds, four-part harmonies and upbeat songs have spawned dozens of country hits. Their talent earned them Grammy, Dove, CMA, and ACM awards, along with other industry accolades. Never letting audiences down, the four singers deliver their unforgettable hit songs such as "Bobbie Sue," "Ain't No Short Way Home," and their platinum hit, "Elvira."
IT'S MAGIC AT HARRAH'S WITH RICK THOMAS
"The Magic of Rick Thomas" will take over the Fiesta Showroom at Harrah's, Wednesday-Sunday, Feb. 14-25 at 8 p.m. Standard tickets are $32.11 and platinum seats $100.83.
Vegas headliner and highly awarded illusionist Rick Thomas has fascinated audiences for decades with five world tours in more than 50 countries plus a decade-and-a-half run on the Las Vegas Strip. The seasoned headliner blends magic, dance and music into his show with the support of his beautiful and talented assistant Tara.
At age 5, Thomas, whose family was already active in ballroom dancing, began teaming with his sister Tamara in ballroom dance competitions. In their teens, they won the title Amateur United States Ballroom Dancing Champions.
Thomas embarked on his magic career at age 7. By 18, he was performing his own production at Disneyland Hotel for two years. Since then, he's performed on more than 300 cruises and at more than 50 major expositions. Thomas also continues to design and produce magic productions for the largest corporations in the world.
OLIVIA NEWTON-JOHN PERFORMS AT EDGEWATER
Olivia Newton-John is set to appear at The E Center at the Edgewater on Saturday, March 3 at 8 p.m.
Newton-John's career spans more than five decades with her co-starring role with John Travolta in "Grease" catapulting her into super-stardom in 1978. The film's best-selling soundtrack featured the duets "You're The One That I Want" and "Summer Nights" with Travolta, as well as her mega-hit, "Hopelessly Devoted To You." Her other movie credits include "Funny Things Happen Down Under," "Toomorrow," "Xanadu," "Two Of A Kind," "It's My Party," "Sordid Lives," "Score: A Hockey Musical," and "A Few Best Men."
Musically, by age 15, she had formed an all-girl group called Sol Four and, in 1963, Newton-John was appearing on TV and pop music programs in Australia. Her U.S. album debut, "Let Me Be There," produced her first top ten single. With more than 100 million albums sold, her successes include four Grammy Awards and the enduring hit "Physical."
CRYSTAL GAYLE WILL CHARM RIVERSIDE AUDIENCES
Crystal Gayle with her trademark dark long flowing hair will appear at the Riverside in Don's Celebrity Theater Feb. 15-18 at 7 p.m. Tickets are $35.
Gayle, whose older sister is country songstress Loretta Lynn, made her own indelible mark on country music and in 1977 delivered the worldwide smash hit, "Don't It Make My Brown Eyes Blue." Gayle has had 20 number one country hits such as, "If You Ever Change Your Mind," "Too Many Lovers," "The Woman in Me," "Til I Gain Control Again" and "The Sound of Goodbye." In 1982, she recorded a duet with Eddie Rabbitt "You and I," which became a really popular wedding song. Gayle is also the first female country artist to reach platinum sales with her album "We Must Believe in Magic!" She is the recipient of three American Music Awards, voted by the nation as America's "Favorite Female Artist," and was CMA's "Female Vocalist of the Year," for two consecutive years.
RIVERWALK FESTIVALS ARE THEMED CELEBRATIONS
The Colorado Belle features free Riverwalk Festivals with live music and food and beverages for sale. The Mardi Gras Festival will be held Saturday-Sunday, Feb. 17-18 with southern style food and live music by the Mark St. Mary Band and Zydeco Mud Bugs. The Down Home Country Festival with country style cuisine will happen Friday-Sunday, Feb. 23-25 with live music by the Do Wah Riders and Walker Williams.
TOP OF NEXT COLUMN
EVERLY BROTHERS EXPERIENCE FEATURED AT TROPICANA
The Everly Brothers Experience" featuring the Zmed Brothers is booked at the Tropicana in the Pavilion Theater on Saturday, Feb. 10 at 8 p.m. Tickets are $20.
In January 2016, the brothers Zachary and Dylan Zmed on acoustic guitars and vocals, along with drumming partner Burleigh Drummond began developing The Everly Brothers Experience show celebrating the pivotal sounds of famous duo's music. From 1957 to 1962, The Everly Brothers sold more than 35 million records and had 35 Billboard top-100 singles, 26 in the top 40, and still to this day, carry the record for most Billboard charting hits of any American duo.
The Zmeds stress they are not impersonators and only aim to honor the aesthetics of the original twosomes' iconic sounds and honor their place in music history. They are joined on stage by Drummond and two more band members.
COMEDIANS FILL WEEKENDS AT THE EDGEWATER
The place to laugh every Friday-Sunday in Laughlin is at the Edgewater in the Edge Lounge with "Comedy on the Edge." Every weekend, two different comedians take center stage at 7 p.m. Tickets are $15 with a $2 discount available on Sundays for U.S. veterans.
Comedians lined up in February include: Feb. 2-4 David Nickerson - Gali Kroup; Feb. 9-11 Chris Cope - Sean Green; Feb. 16-18; Sean Tweedley - Keith Lyle; and Feb. 23-25 Murray Valeriano - Jay Mandyam.
David Nickerson is paired with Gali Kroup. Nickerson, who stands 6'5" tall, is a 13-year veteran of the comedy business, performing at major comedy clubs all around the world. He's been recognized throughout the comedy scene as an elaborate storyteller with a sharp edge. Nickerson's writing credits include Spike TV and Comedy Central's Roast. He has appeared on a number of radio shows including Howard Radio and All Comedy Radio and can be heard on Pandora and other internet radio outlets. His first album "Who Ate All The Pizza" can be found on iTunes and Amazon.
Chris Cope will share the stage with Sean Green. Cope has been working as a comic for 11 years and performed with many major comedians including Billy Gardell, Tom Rhoades, Pauly Shore and Rob Schneider, among others. The Florida transplant has worked in nearly every state in the union and is a regular at the Improv and Comedy Store in Los Angeles where he now resides. Cope has appeared on the Jimmy Kimmel Show in sketches, appeared in the movie, "Give Until It Hurts," and has been in smaller TV roles. He won the 2015 Big Sky Comedy Festival and his first full-length comedy album is "White Trash Super Computer."
Sean Tweedley will appear with Keith Lyle. Tweedley, who has performed comedy for more than 15 years, is an observational comedian. He's appeared with major comedians including Brad Garrett, Harland Williams and Drew Carey. He has worked major comedy clubs across the country. Tweedley is also an actor often heard in commercials for McDonald's, Mazda and Guinness and has been writing for television including "The Mike Bullard Show" and "Alf's Hit Talk Show."
Murray Valeriano will co-star with Jay Mandyam. Valeriano's comedy material is mostly about being a first-time father and growing up a preacher's kid. The 15-year comedy veteran has worked with many major comedians and co-hosted Bill Engvall's radio show. He's written for many TV shows "The Tonight Show" and Bill Engvall's shows including "Here's Your Sign Awards."
WILLIAMS AND REE VISIT THE AVI
The music-comedy team, Williams and Ree, often billed as The Indian and the White Guy, are from the Dakotas and have for decades been delivering their message of love and harmony, with an underlying note of deceit and debauchery. They will headline the Avi Grand Ballroom on Saturday, Feb. 10 at 6 p.m. Tickets start at $20.
American comedians Bruce Williams and Terry Ree have performed around the United States since the 1960s. The two men first met in 1968 at Black Hills State University in Spearfish, S.D., as members of a band and between songs they filled with comedy sketches. The duo's humor became more popular than their music with much of their banter playing upon the stereotypes held of Native Americans.
RIVERSIDE HIGHLIGHTS COUNTRY AND ROCK 'N' ROLL TRIBUTE SHOWS
Tribute shows are a great way to honor music superstars of the past and to keep their music alive. The Riverside will feature "Man in Black, A Tribute to Johnny Cash" Feb. 21-25 followed by Winter Dance Party Feb. 28-March 4 with performances at 7 p.m.
Portraying the famous "Man in Black" is Shawn Barker. In 2004, Barker auditioned for the part of Elvis Presley in the Broadway production of, "Million Dollar Quartet." The director recognized Barker's talent and requested he submit an audition for the part of Johnny Cash and he was instantly cast in the part. Since then, Barker has performed his unmatchable tribute to Cash all over the world touring in Australia, Europe, Canada and the United States. Tickets are $33.
John Mueller's "Winter Dance Party" is the live and authentic re-creation of Buddy Holly, Ritchie Valens and the Big Bopper's final tour. This show allows audiences to experience a couple hours of high-voltage entertainment, featuring all hit songs of the 50s such as "That'll be the Day," "Peggy Sue," "Oh Boy," "Rave On," "La Bamba," "Chantilly Lace," and many more. Tickets are $30.
FAST TIPS
Future acts at the Laughlin Event Center will be Chris Stapleton on Saturday, March 24 and Luke Bryan on Saturday, April 7.
It was with great sadness that Willie Nelson and Family had a sudden cancellation of their engagements in Las Vegas and at the Edgewater's E Center in Laughlin last month.
Dal Con Productions' 36th Annual Laughlin River Run is a citywide special event April 25-28 attracting thousands of motorcycle enthusiasts to the area with vendors, music events, bike riding, etc.
The bull riding event Xtreme Bulls will be held at the Mojave Crossing Event Center located across the Colorado River from the Avi on Friday-Saturday, March 2-3 at 7:30 p.m. Tickets start at $10.
The 7th Annual Smokey Hayes BBQ Competition will take place in the parking lot at the Laughlin River Lodge Friday-Saturday, March 2-3 from 10 a.m. to 5 p.m. The prize pool is $5,000 with the Grand Champion taking home $1,500 and rib and pork categories paying out through eighth place. The registration deadline is Feb. 10, visit the website.
The 5th Annual Connie Davis 5K Walk and Roll for Cancer will be held Saturday, March 3 from 9 a.m. to noon. Location will be Pyramid Canyon Day Use Area at North Reach, take Hwy 163 to Davis Damn Road. Registration is $25, which includes t-shirt, goodie bag while supplies last, live music, interactive stops, prizes and picnic lunch. Kids, pets, wheelchairs, strollers, etc. are welcome and monies benefit the River Fund Inc.'s Cancer Connection. Early registration is at the Laughlin Chamber of Commerce, call 702-298-2214, ext. 0 for information.
The local "Taste of Bullhead" dinner presented by the Bullhead Area Chamber Ambassadors will be held at the Avi Grand Ballroom on Saturday, Feb. 24 with doors opening at 5:30 p.m. Arizona time. Tickets are $40 and $75 per couple, call 928-754-4121.
CONTINUE ON TO...:

THIS WEEK'S >LAS VEGAS NEWS
LAST MONTH'S >LAUGHLIN NEWS
>VEGAS VIEW FULL ARCHIVES
Return to >"Heard Around Town"
Return to >Las Vegas Leisure Guide