CHARO WILL BRING HER EXUBERANT SHOW TO THE RIVERSIDE

The flamboyant actress, singer, comedienne, musician Charo will headline at Don's Celebrity Theatre, Feb. 10-15. Tickets are $35.50, call 702-298-2535 ext 616 or 800-227-3849, ext 616.

Born María del Rosario Pilar Martínez Molina Baeza in Spain, everyone worldwide knows her as Charo and her trademark phrase, which is "cuchi-cuchi." She came to American as a teenager and married band leader Xavier Cugat, who discovered her and was in his 60s. Meanwhile Charo completely mesmerized audiences and proved herself to be a major entertainment force.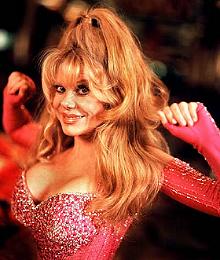 Her first TV appearance in the United States was on "The Today Show" in the mid-1960s. She later appeared on "Laugh-In" in 1968 and did short chatfests near the end of the TV show with Dan Rowan and Dick Martin. Her almost complete lack of fluency in the English language was played as a comic focus. This is also the time that the "cuchi cuchi" line passed into the public arena.
Throughout the 1970s, Charo was a highly visible personality, appearing on many talk shows and variety shows including eight appearances on "The Love Boat." During much of the late 1980s to late 1990s Charo had limited visibility because she moved to Hawaii, and opened and performed at her own dinner theater while she and her husband/manager Rasten raised their son.
In this new century, she returned to television in commercials for Sprint wireless phone service and GEICO insurance, made guest appearances on "Hollywood Squares," appeared on a season-three stint on the celebreality series "The Surreal Life," as a one off guest in Fox Network's "That '70s Show" and made appearances in VH1's "I Love the '70s" retrospectives. Most recently on May 11, 2008, she made a guest appearance on the Latin-themed VH1 reality show "Viva Hollywood."
She's constantly touring and also returned to the dance music scene in June 2008 with the single "Espana Cani." The biggest surprise people get when they see her show is the fact that she is one of the best flamenco guitarists in the world.
JACK JONES WILL PERFORM AT THE TROPICANA EXPRESS
Grammy Award-winning singer Jack Jones, who was one of the most popular singers in the 1960s, will headline at the Pavilion Showroom at the Tropicana Express on Feb. 21 at 8 p.m. Tickets are $30, $35 and $45, call 800-243-6846.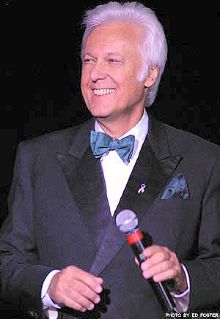 TOP OF NEXT COLUMN
Some of Jones best-known recordings are "Wives and Lovers," "Lollipops and Roses" and "The Love Boat Theme." He even recorded "Strangers in the Night" before Sinatra. Jones father was Allan Jones, whose signature song is "Donkey Serenade."
Since 1980, Jones has recorded only a handful of albums, and now performs in various concert arenas and occasionally appears on the supper-club circuit. In these last two decades, Jones has been active in the musical theater, acting in "Guys and Dolls," "South Pacific" and other shows. He went on national tour performing Don Quixote in "Man Of La Mancha."
---
HARRAH'S WILL PRESENT DINNER & DANCING WITH BRIAN EVANS
Harrah's is promoting romance over Valentine's Day weekend by offering "Dinner & Dancing with Brian Evans" in the Fiesta Showroom, Feb. 13-15. Tickets are $65 for the 7 p.m. shows on Feb. 13 and 15, and $75 on Feb. 14, call 702-298-8510.
Crooner Brian Evans and his band will be featured while guests enjoy an evening of dining on a three-course meal consisting of a salad, steak entr'e and chocolate black cherry torte for dessert.
Evans has opened for legendary artists such as Dionne Warwick, Lou Rawls, Frankie Valli and comedian Jay Leno and been covered in "People" magazine, "USA Today," and "Grammy Magazine."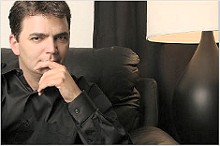 Evans was born in Haverhill, Mass. At age 11, he knew there was something different about him. While most kids were spending their adolescence listening to rock stations and rap, he was listening to old-time crooners like Frank Sinatra and Dean Martin.
His long journey began as an actor, appearing on TV commercials for candy bars such as Twix and for McDonalds. He quickly moved into making movies such as "Death Wish 4: The Crackdown" (1987) with Charles Bronson and "Book of Love" (1990) playing the role of Schank.
Evans went on to make a guest appearance on a new TV series called "Beverly Hills Brats." He appeared on the pilot episode, which was a 90-minute TV movie special that was later renamed "Beverly Hills, 90210." While waiting to see what happened with "90210," Evans took a guest spot on "Full House" (1987) playing the role of Keanu, the boyfriend of Kimmy, played by Andrea Barber.
Evans; however, wanted to be a crooner rather than an actor. He made a CD and released the album in Canada so he could leave his acting career open. The CD was released to rave reviews and climbed to No. 1 on the HMV Music Chain charts for independent musicians, and the funny thing was that reviewers raved about how great the band was on this new CD, when the "band" was actually karaoke tracks. That CD led to Evans being asked to perform at the Desert Inn in Las Vegas, where his idol Sinatra had performed for years. He has since performed at Bally's, the MGM Grand and the Tropicana.
While performing at the Desert Inn, Evans signed a record deal to record and license his albums, now more than 17 CDs, to countries throughout Asia. His records are released in Singapore, Malaysia, Hong Kong, Thailand, The Republic of China and The Philippines, and he just released a new CD in the United States to rave reviews, featuring his remakes of such classic 80s hits as Van Halen's "Jump" and The Fine Young Cannibals' "She Drives Me Crazy," along with his original song "You."


CONTINUE ON TO...:
>THIS WEEK'S LAS VEGAS NEWS
>LAST WEEK'S LAUGHLIN NEWS
>VEGAS VIEW FULL ARCHIVES
>Return to "Heard Around Town"
>Return to Las Vegas Leisure Guide