LAS VEGAS NATURAL HISTORY MUSEUM OPENS EGYPTIAN PAVILION
On Jan. 30, the Las Vegas Natural History Museum downtown opened a new permanent exhibit called The Treasures of Egypt, which features nearly 500 reproduced artifacts including the tomb of the young Pharaoh Tutankhamen. The exhibit, located in the museum's new 4000-square-foot Egyptian Pavilion expansion, provides a glimpse into the ancient past of Egyptian civilization. It features replicas generously donated by MGM Mirage that were formerly on display in the King Tut Museum & Tomb inside the Luxor, including the world-famous guardian statues, King Tut's sarcophagus and an array of statues, vases, baskets and pottery. The museum was able to recreate the tomb of King Tut as discovered by Howard Carter in the Valley of the Kings in Egypt in 1922. This replica of the actual tomb is the only known exhibit of its kind outside of Egypt.
Column Continues Below Advertisement
Admission is $10 for adults; $8 for students, seniors and military; and $5 for children ages 3-11. Children age 2 and under are free. Hours are 9 a.m. to 4 p.m. daily. Visit www.lvnhm.org for information and a two-for-one coupon.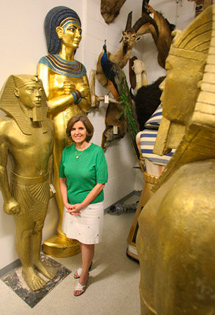 COMEDIANS JO KOY AND DANIEL TOSH HEADLINE THE MIRAGE IN MARCH
Jo Koy will perform Saturday, March 20 at the Terry Fator Theatre inside The Mirage. Named as one of the "10 comics to watch" by "Daily Variety," comedian Koy can be seen regularly on "Chelsea Lately" on E!. His fans are hailing him as "a comic for the people."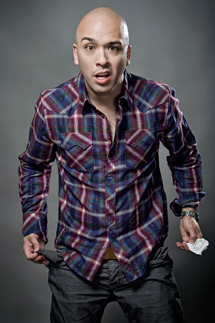 Daniel Tosh will perform March 26 – 27. Also named as one of the "10 comics to watch" by "Daily Variety," Tosh's premiere album, "True Stories I Made Up," was released in November '05 on Comedy Central Records and his hour special, "Completely Serious," premiered on Comedy Central in June '07. He was featured in Mike Myers' latest film, "The Love Guru," and has hosted "Live At Gotham" for Comedy Central. Tosh can currently be seen starring in "TOSH.0," a series he created for Comedy Central.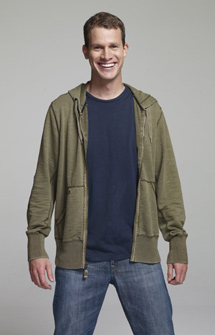 Koy and Tosh will each perform at 10 p.m. Tickets are $59, $49 and $39, call 702-792-7777.
BLUES GUITARIST KENNY WAYNE SHEPHERD VISITS THE ORLEANS
Grammy-nominated and chart-topping guitarist Kenny Wayne Shepherd will return to The Orleans Showroom Feb. 26 and 27, starting at 8 p.m. each evening. Tickets are priced from $24.95, call 702-365-7075.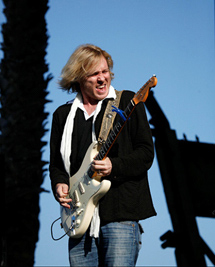 No stranger to the spotlight, Shepherd was signed to a major record label at age 16. His debut album "Ledbetter Heights" in 1995 reached platinum status. His follow-up album, 1997's "Trouble Is," featured the record-breaking No. 1 hit "Blue on Black," which remained at the top of the rock charts for 17 consecutive weeks. "Live On" was released two years later, and brought Shepherd his second Grammy nomination.
In 2007, Shepherd released a full-length documentary with an accompanying album entitled "10 Days Out: Blues From The Backroads." The film follows Shepherd and his friends on a 10-day trek into the heart of America visiting blues veterans at their homes.
SINGER-PIANIST GEORGE BUGATTI WILL OPEN FOR DON RICKLES
Singer-pianist George Bugatti will be Don Rickles opening act when he headlines at The Orleans Showroom on Feb. 20 and 21. Bugatti started studying music at age 5 and attended the prestigious High School of Performing Arts in New York and Julliard College followed.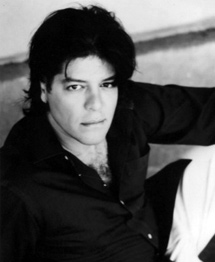 Bugatti performed for seven years at the Peninsula Hotel in Beverly Hills, from the opening in 1991 to 1998. It was there that he met Steve Allen, who produced Bugatti's first CD "Oh, What A Night For Love." He then appeared in the stage version of the original "Tonight Show" with cast members Jonathan Winters, Louis Nye, and Bill Dana.
In 1998, Steve Wynn invited Bugatti along with Michael Feinstein and John Pizzerelli to open Wynn's Bellagio Resort. After two years there, he recorded "Bugatti Live on the Strip," which was released in 2000 on Paul Anka Productions.
In 2002, Bugatti made his debut at Carnegie Hall where he appeared twice. His current release, "A Night for Romance," is in stores now. In addition, he is starring in "WIZARD: The Musical Story of Oz Composer Harold Arlen," which is touring Performing Arts Centers across America. His business partner Sam Arlen, the composer's son, also stars in the Broadway-bound show.
REGIONAL CHILI COOK-OFF PLANNED AT LAKE LAS VEGAS
The Village Las Vegas and Sonrisa Grill will host chili makers in the 2nd Silver State Regional Chili Cook-Off, sanctioned by the International Chili Society (ICS). Cooks will produce their best Red Chili and Chili Verde starting at 10 a.m. on Saturday, Feb. 13. Tasting, which costs $5 per person, and judging will follow from noon to 4 p.m. The public can vote for the People's Choice Award for creativity and can partake in a raffle while a DJ provides music.
ETHEL's CACTUS GARDEN WILL BECOME A LOVERs' LANE
This Valentine's Day, for the first time, Ethel's Cactus Garden in Henderson will be transformed into an illuminated Lovers' Lane. From Feb. 12 – 14, visitors will be able to stroll down a romantically lit walkway through the three-acre Cactus Garden leading to a picturesque gazebo. The Chocolate Factory and store will remain open till 8 p.m. while Lover's Lane, which is free, will stay lit until 10 p.m.
SUPER CHEVY SHOW RETURNS TO LAS VEGAS MOTOR SPEEDWAY
The Super Chevy Show, now in its 30th year, will return to The Strip at Las Vegas Motor Speedway (LVMS) March 20-21 for a weekend of all-Chevrolet drag racing, a car show and swap meet. For information, visit www.SuperChevyShow.com or call 800-692-6230.
The Super Chevy Show will kick off its 30th year with a cruise from Los Angeles to the season opener at LVMS on March 19. As many as 100 hot rods and specialty vehicles are expected to participate in the I-15 north-bound caravan that will depart Seal Beach at 10 a.m. and arrive at the speedway at approximately 4:30 p.m.
TOP OF NEXT COLUMN
THE ONYX WILL OPEN A SECOND SHOW
Located at the off-Strip Commercial Center, The Onyx is a small 96-seat theater in the back of The Rack, a fetish clothing store. Since last June, a musical called "Naked Boys Singing" has been performed more than 100 times since it opened for what was expected to only be a two-week engagement. Now another all-boy show "Altar Boyz" will open on Feb. 4 and play every Thursday, Friday and Saturday at 7 p.m., and at 1 p.m. on Sunday. Tickets are $30, call 702-732-7225.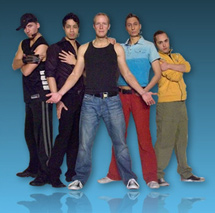 "Altar Boyz" ended a run in New York after 2,032 performances, making it the 9th longest running off-Broadway musical. The original musical comedy is a parody about a heavenly guy-group. This show introduces a struggling Christian boy band from Greenville, Ohio, that is on the last night of a "Raise the Praise" U.S. tour and determined to make the big time. Three of the fellows in this show are also in "Naked Boys."
KARAOKE WITH A SEXY EDGE
For karaoke fans, Brando's Bar & Grill on Industrial Road behind Circus Circus offers a new twist. On Tuesday nights from 9 p.m. to 3 a.m., it's Karaoke XXX aka porn star karaoke. The sing-a-long with a sexy edge has a different porn star hosting. Each host usually brings 8x10 pictures, movies, and/or posters of their work and these items are used as giveaway prizes every half hour beginning at 10:30 p.m. As the prizes are given away the porn star greets the patron, signs the item, and takes a picture with them. Each half hour, there is also a free shot or drink for the patron with the best fake orgasm, best body, best abs, best performance of the night, etc.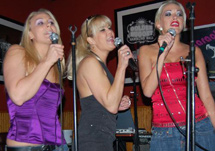 MUSICAL REVIEW 'OH WHAT A NIGHT!' PLAYS AT THE SUNCOAST
The extensive hit songbook of Rock 'n' Roll Hall of Famers Frankie Valli and The Four Seasons will come to life in "Oh What A Night!" at the Suncoast Showroom, Feb. 27 and 28. Tickets start from $19.95, call 702-636-7075. Shows are 7:30 p.m. on Saturday and 4 p.m. on Sunday.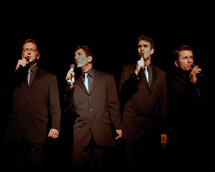 "Oh What A Night!," written and directed by independent Motown producer and creative consultant George Solomon and award-winning producer and director Michael Chapman, is an tribute show taking audiences on a musical journey through the hits of the famed group that formed in 1960.
QUICK CLIPS
Bette Midler's show at Caesars Palace closed on Jan. 31, but not before Pink could surprise Midler by walking on stage and singing an impromptu duet of "The Rose." Bette was speechless.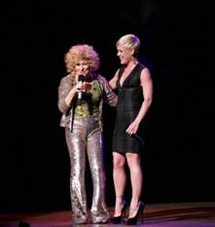 The "Vegas show shuffle" has comedian Andrew Dice Clay moving to the Shimmer Cabaret at the Las Vegas Hilton; "Rockstar, The Tribute" moving back into the Harmon Theater; and "Masters of Rock" opening in February.
Rao's Caesars Palace, the East Harlem icon that now call Las Vegas home, has launched a lunch menu, "Pizza In The Park," Wednesday through Sunday from 11 a.m. to 3 p.m. Rao's indoor patio is modeled after New York's Jefferson Park. Chef Carla Pellegrino's menu showcases an array of dishes including antipasti, pizza and desserts. Prices range from $7 to $17.
Jayde Nicole, Playboy's 2008 "Playmate of the Year" and recent star of the MTV hit series "The Hills," will kick off Super Sunday Weekend at Eva Longoria Parker's new nightclub, Eve, on Friday, Feb. 5 and be joined by a few of her Playmate friends. Eve is located inside Crystals at CityCenter.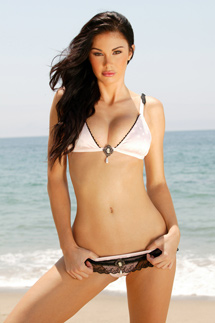 Kendra Wilkinson Baskett, star of the E! hit series "The Girls Next Door," and star of her self-titled reality show "Kendra," will host a Valentine's Day celebration with her husband, NFL Star Hank Baskett, at the Eve nightclub, on Saturday, Feb. 13.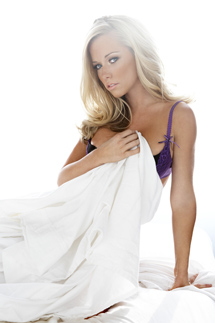 On March 13 and 14, in honor of the restaurant's two-year anniversary an interactive cocktail and cooking class will be held at Dos Caminos in the Palazzo. It will be led by master mixologist Eben Klemm, Corporate Executive Chef Scott Linquist, and Roberto Hernandez, executive chef of Dos Caminos Las Vegas. Class is $65 and includes: coffee and Mexican hot chocolate on arrival; signed copy of "The Cocktail Primer" by Eben Klemm; cocktail and cooking demo with question and answer session; and a lunch tasting of demonstrated food items plus two cocktails. For reservations, call 702-577-9600.
Beginning Feb. 1 and for the whole month, Rhumbar will introduce its s'mooches and s'mores cocktail and invite couples to smooch and snuggle on the outdoor patio under the warmth of a Snuggie®. In addition, a promotional package that can be purchased will include a Rhumbar embroidered Snuggie and a signature s'moches and s'mores cocktail for $35.
The United States Air Force Band of the Golden West's Concert Band will perform, Thursday, Feb. 18 at 7 p.m. inside the Henderson Convention Center. The concert will focus on a variety of styles as well as Broadway scores, patriotic music, marches and soloists. The band comprised of 45 musicians has performed for gubernatorial inaugurations, presidential visits, football fans and with guest artists. Admission is free.
The North American Body Painting Championship will be held at the Flamingo, Feb. 12-14. The canvas choice will make this an interesting event.
Spiritual teacher and psychic Sylvia Browne will visit Planet Hollywood and make an appearance on Saturday, Feb. 6 at 8 p.m. Tickets are $44.
Bonkerz Comedy Club at Palace Station started a four-week Bonkerz Comedy School class on Jan. 23. The cost is $275 and includes two tickets to each Saturday night show and on Feb. 14, students will be able to perform their stand-up material in front of an audience. For information, call 866-414-2665.
The Las Vegas Convention and Visitors Authority has approved monies to develop a new special event that will bring bagpipers and drummers, Celtic dancing, athletic competitions, a pub crawl and street party to Las Vegas, April 7-10, 2011.
The Splendor in the Glass free preview party hosted by Whole Foods Market in Henderson will offers guests with a complimentary wine and appetizer tasting experience on Thursday, Feb. 4 from 6-7 p.m. Guests may also enter a drawing to receive two complimentary tickets to the Splendor in the Glass event presented by Southern Nevada Public Television at the Las Vegas Hilton on Saturday, Feb. 13 from 3 p.m. to 7 p.m. Tickets are $65, if purchased in advance, and $80 at the door. For information, call 702-799-1010, ext. 5429.
Column Continues Below Advertisement
CONTINUE ON TO...:
>THIS WEEK'S LAUGHLIN NEWS
>LAST WEEK'S LAS VEGAS NEWS
>VEGAS VIEWS FULL NEWS ARCHIVES
>Return to "Heard Around Town"
>Return to Las Vegas Leisure Guide