'DEFENDING THE CAVEMAN' HAS NEW CAVE
"Defending the Caveman," the Broadway hit one-man show about the differences between the sexes, has a new home at The Improv at Harrah's. Comedian Kevin Burke, who has starred in the Las Vegas run of the show for more than four years, has starred in the Broadway tour of "Defending the Caveman" since 2003. Tickets for the nightly 7 p.m. show are 39.95, $49.95 and $59.95, call 702-369-5223.
Column Continues Below Advertisement
EXPERIENCED LA CAVE AT WYNN
A couple of us experienced firsthand the new cozy La Cave Wine and Food Hideaway tucked away inside Wynn. The restaurant is a partnership between N9NE Group impresario Michael Morton and Steve Wynn. Designed with 555 International, La Cave is comprised of three distinct spaces—"the cave" inside the entrance with a low ceiling, main dining room with the floor to ceiling exposed wine storage, and an outside garden lounge.
Like the dining areas, the menu is divided into categories based on the dishes' origins: From the Sea, Farm, Oven, Garden, Grill, Butcher, and cheeses From The Cow, Sheep or Goat. At La Cave you can enjoy a modern American small plates-menu from Executive Chef William DeMarco. Especially tasty are the flavorful flatbread selections. Inspired by the Latin phrase "in vino veritas" (in wine there is truth), global wines are selected by Danielle Price, award-winning executive wine director of Wynn Resorts, and Rober Wright, La Cave wine director.
Open for lunch, dinner and late-night indulgences, La Cave opens daily at 11:30 a.m.
BACK-TO-BACK COMEDY EVENTS
Go figure! The media got to see Rita Rudner in her new home at the Venetian one night followed by Bobby Slayton's return as a headliner at Hooters. The two comedians couldn't be more different, but they both make you laugh.
Rudner's new showroom couldn't be more perfect for her intimate style. She mesmerizes you with her charm and clean heartwarming humor. It's best to think about seeing her this time around because the Venetian will probably be her last full-time gig in Las Vegas by her own choosing. She is definitely in a class all her own.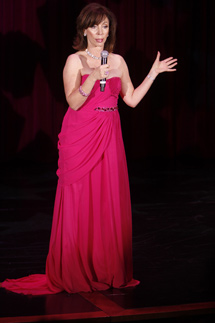 Slayton earns his nickname "The Pitbull of Comedy" many times over; however, you can't help but laugh. At his opening night, Sammy Shore and David Brenner were in attendance and you know it has to be out of respect. Slayton's opening video has top comedian's vouching for him. Welcome back to Vegas Bobby Slayton!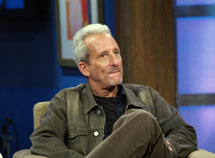 IMAGINATION MOVERS VISIT ORLEANS ARENA
Disney's Emmy Award®-winning Imagination Movers will bring their "In a Big Warehouse" concert tour to Orleans Arena on Tuesday, Feb. 22 at 6 p.m. Tickets range from $20 to $120, call 702-284-7777.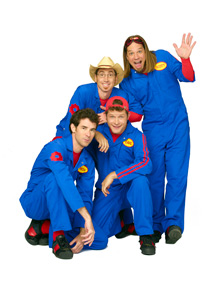 The New Orleans-based rock band will play their popular songs and bring the magic of the "Imagination Movers" television series' "Idea Warehouse" to life. There will be guest appearances from Nina, Warehouse Mouse and other characters from the TV series that airs in more than 55 countries/territories. The Movers are currently filming the third season of the series and recently filmed a concert in their hometown of New Orleans.
Since signing to Walt Disney Records, the Imagination Movers have sold more than 100,000 albums and received multiple awards. Their newest release, "In a Big Warehouse,"the soundtrack for the second season of the television series, hit the charts this past fall.
'PIANO! LAS VEGAs' STARS RYAN AHERN
The new 2:30 p.m. afternoon show "Piano! Las Vegas" at the V Theater inside the Miracle Mile Shops at Planet Hollywood features Ryan Ahern, who is backed by six musicians. Tickets start at $29.99 for general admission, $39.99 for VIP seating plus a special gift, and $12.99 for children 12 and under, call 866-932-1818.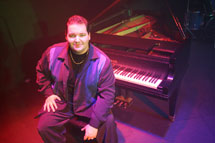 Ahern, who grew up in Las Vegas, is a graduate of the Las Vegas Academy of Performing Arts and the Musician's Institute in Los Angeles. He is also a South Bay Music Awards Adult Contemporary Artist of the Year and a two-time recipient of the Crystal Piano Award, which is the First Place winner of the International Liberace Piano Competition produced by the Liberace Foundation and Museum. Ahern had a three and half year run at the Fremont Street Experience, and has Ryan's headlined showrooms, large corporate events and on eight different major cruise lines.
MADAME TUSSAUDS HAS CHINESE NEW YEAR's EXHIBIT
This year, celebrate the "Year of the Rabbit" by attending a special Chinese New Year's Exhibit at Madame Tussauds Las Vegas, from Jan. 28 through Feb. 22, featuring the addition of a life-size Jackie Chan wax figure for this special exhibit only. You'll be able to find out which celebrities at Madame Tussauds Las Vegas were born in the "Year of the Rabbit." The Chinese zodiac follows a 12 year cycle with each year being named after an animal.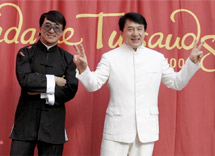 Chan was born in Hong Kong and began his international movie career as an actor and director in the early 1970s. He worked as a stunt coordinator for the legendary Bruce Lee prior to becoming a worldwide star and appearing in more than 100 films.
HARLEM GLOBETROTTERS INVADE ORLEANS ARENA
The always innovative Harlem Globetrotters will implement the first-ever 4-point shot as part of their games on the team's 2011 "4 Times the Fun" American tour, stopping at the Orleans Arena on Wednesday, Feb. 23 at 7 p.m. They will take on the Washington Generals. Tickets range from $21 to $115, call 702-284-7777 or visit www.orleansarena.com.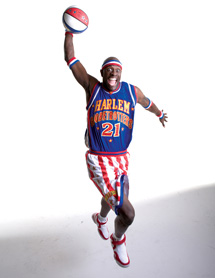 Along with the world famous tradition of ball handling wizardry. the Globetrotters game will now feature two designated 4-point shooting spots on each side of midcourt, each located 35 feet from the basket (the spots are 12 feet beyond the NBA's official 3-point line).
GOLDEN NUGGET HOLDS FIRST MASQUERADE BALL
The Golden Nugget downtown in conjunction with Southern Wine and Spirits will hold their first Mardi Gras themed Masquerade Ball in Gold Diggers, March 5, from 8 p.m. to midnight. Partygoers are can dance to the beats of DJ Big Easy while sampling Cajun-Creole inspired cuisine and there will be stilt walkers and face painters. Guests are encouraged to dress in their favorite club chic attire. Advance cover charge is $15 per person, $25 per couple, call 866-946-5336 or go online at www.goldennugget.com; and $20 per person at the door. VIP table reservations are a $175 bottle minimum.
TOP OF NEXT COLUMN
RED ROCK HOLDS PARTY ON THE ROCKS CONCERT SERIES.
Beginning Feb. 5 with Grammy-nominated alternative rock band Gin Blossoms and concluding May 7 five-time blues Grammy Award winner Robert Cray, Red Rock Resort will bring back their weekly Saturday night concert series, Party on the Rocks, starting at 9 p.m. in the Rocks Lounge. Other guest artists include well-known Grammy Award winner Bruce Hornsby on April 16 and country rock legend Leon Russell on April 30. Tickets are $20, call 702-547-5300 or log onto www.stationcasinos.com.
KELLIE PICKLER PERFORMS AT SILVERTON
Kellie Pickler from Albemarle, N.C., who rose to fame in 2004 on "American Idol," will visit the Silverton on Saturday, Feb. 19. Country singer Pickler used her small town roots as inspiration for her 2006 debut album, "Small Town Girl" with the hit single, "Red High Heels." In 2008, she released her second album, self-titled, "Kellie Pickler." Pickler has since been awarded by the Country Music Awards, the ASCAP, and the ACM Awards for her singing and songwriting talents. Tickets are $30, call 866-866-6868.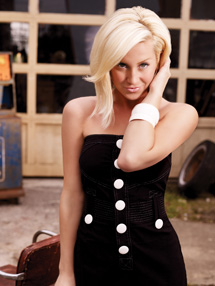 BODIES… THE EXHIBITION ADDS 'THE THINKER'
BODIES…The Exhibition at the Luxor has added its first new addition, a full-body specimen appropriately named "The Thinker," since opening its doors more than two years ago. The seated figure, installed in the nervous system gallery, gives a look into the brain by completely exposing two prominent features; the meninges and gray matter. In addition, the specimen's protective vertebrae have been removed to expose the spinal cord, the main conduit between the brain and the body.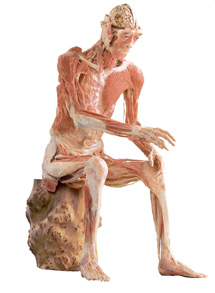 At BODIES you can learn facts such as the spinal cord transmits millions of nerve impulses per second at speeds exceeding 270 miles per hour and the left hemisphere of the brain controls verbal and analytical thought, while the right hemisphere controls non-verbal and intuitive thought.
PROJECT DINNER TABLE ANNOUNCES 2011 DATES
Project Dinner Table marks its momentous return, announcing dates for its 2011 season. Project Dinner Table is uber-popular dinner series that showcases local chefs' one-night-only menus created almost entirely with ingredients from local purveyors, suppliers and farmers. The signature long, white table is the centerpiece of every dinner seating approximately 130 people.
The dates for its second season are: Saturdays, April 16, May 14, June 25, Sept .10, Oct. 15 and Sunday, Nov. 13.
The community dinner series has every dinner hosted in a unique location, unavailable typically to the public for dinner, and with a one-night-only menu. A percentage of the proceeds go to charity.
NOVE ITALIANO OFFERS 'AMORE MIO' COOKING CLASS
In celebration of Valentine's Day, Executive Chef Geno Bernardo will host a cooking class at Nove Italiano inside the Palms at noon on Feb. 5. Titled "Amore Mio," which means 'my love' in Italian. Chef Bernardo will show how to prepare a home-cooked, six-course meal full of seductive foods and aphrodisiacs. In addition, you can participate in Nove's Facebook contest to name Executive Pastry Chef Victor Solano's Valentine's Day themed dessert and win class passes. After the cooking demonstration, guests will be served the meal paired with wines to enhance each dish. Cost is $75, call 702-942-6856.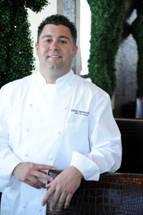 MAC KING PROMOTES LITERACY
Harrah's afternoon headliner Mac King is teaming up with the Las Vegas Wranglers hockey team to kick-off the Las Vegas literacy initiative and to launch a book drive that will take place at the Orleans Arena on Feb. 4 and 5 at 7:05 p.m. Anyone who donates a minimum of three new or slightly used elementary school aged books will receive two complimentary tickets to see "The Mac King Comedy Magic Show" at Harrah's, and one ticket to a future Wranglers game of their choice. Proceeds and book donations will benefit Clark County Reads an initiative of The Public Education Foundation.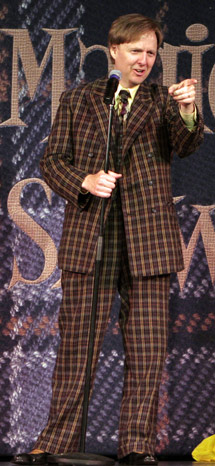 Additionally, for the Feb. 11 Wrangler home game, anyone purchasing a ticket with a Mac King discount flyer will receive $7.50 off a $17.50 ticket with $3.50 going to Clark County READS.
QUICK CLIPS
The Big Game will be featured in the Grande Ballroom at the Riviera on Feb. 6 with doors opening at 2:30. An $89 package includes an all you can eat menu and open.
The Rampart Casino will host the Big Game Super Partyon Sunday, Feb. 6 at 3 p.m. There will be all-you-can-eat food stations, and drink specials for $30.
The Silverton will hold the Bud Bowl on Feb. 6 in two themed lounges: the Mermaid Lounge for the National Football League champions; and the Shady Grove Lounge for the American Football League champions. Both lounges will provide free snacks, reasonably priced meals, $1 Bud and Bud Light drafts and have giveaways.
The 22nd Annual Wine & Beer Tasting with 65 wineries and breweries, live wine auction, silent auction and live music will take place at the Las Vegas Hilton Center on Saturday, Feb. 12 from 3-7 p.m. with a guest appearance by Chef Hubert Keller. Tickets in advance are $65, call 702-799-1010, ext. 5361.
"PEEPSHOW" at Planet Hollywood is offering showgoers the chance to meet Las Vegas local and "Holly's World" co-star, Angel Porrino, as she takes over the role of "Bo Peep" and fills in for Holly Madison. The Porrino meet and greet will take place in the show'slobby following her Jan. 31 – Feb. 4 and 6 performances.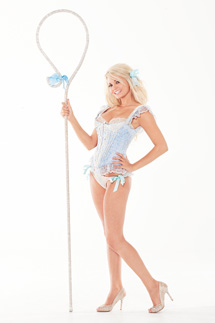 "PEEPSHOW" burlesque star Holly Madison will host a Valentine's Day affair, Saturday, Feb. 12, at Tryst Nightclub at Wynn.
Spin: The Science of Rotation, which allows museum visitors to explore the fun of science through 15 different hands-on exhibit areas, is now on display at Lied Discovery Children's Museum through May 15.
Interior designer, furniture historian and author Florence de Dampierre will share her discussion, "French Chic Demystified: How to Do It," on Feb. 4, at the Las Vegas Design Center at World Market Center Las Vegas at 10 a.m. as part of the monthly First Friday design series. To R.S.V.P. e-mail RSVP@LVDesignCenter.com or call (702) 599-3093.
Column Continues Below Advertisement
CONTINUE ON TO...:
>THIS WEEK'S LAUGHLIN NEWS
>LAST WEEK'S LAS VEGAS NEWS
>VEGAS VIEWS FULL NEWS ARCHIVES
>Return to "Heard Around Town"
>Return to Las Vegas Leisure Guide