'THE AUSTRALIAN BEE GEES SHOW' STAYS AT EXCALIBUR!

"The Australian Bee Gees Show" tribute show will continue another two years at the Excalibur through 2015. Formed in Melbourne, Australia, in 1996, this tribute band has performed more than 4,000 shows in more than 40 countries.

ANDIAMO ITALIAN STEAKHOUSE WILL OPEN AT THE D

An upscale Detroit restaurant for more than 20 years, Joe Vicari's Andiamo Italian Steakhouse with nine locations will open its first out-of-state dining experience at the D downtown on Feb. 1. Andiamo is the largest independently owned and operated restaurant group in Detroit serving homemade Italian breads, handmade pasta and fine meats and steaks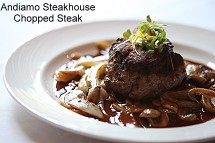 Column Continues Below Advertisement
RON WHITE AND FELLOW COMEDIANS PERFORM BENEFIT SHOW
Comedian Ron White with his comedic friends Kathleen Madigan, Brian Regan, Josh Blue, Ralphie May and John Caparulo will perform a one-night show "Ron White's Comedy Salute from Vegas" to benefit the Armed Forces Foundation at The Mirage on Wednesday, Feb. 6 at 7:30 p.m. Tickets range from $79.99 to $99.99.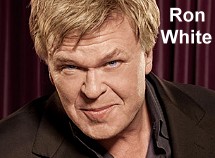 White, a multi-Grammy nominated comedy artist, has been a touring comedian since 1986 and gained national fame in 2000 when he joined the Blue Collar Comedy Tour.
Madigan is best known for appearing on NBC's "Last Comic Standing" and recently launched her Showtime special "Gone Madigan."
DIRTY SOUTH SIGNS FOR EXCLUSIVE RESIDENCY AT WYNN
Multi-Grammy Award-nominated producer Dirty South has established an exclusive residency through 2013 with Wynn Las Vegas daylife and nightlife venues Encore Beach Club and XS nightclub. The celebrated DJ, also known as Dragan Roganovic, will debut at XS on Friday, Feb. 1.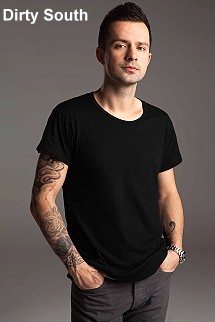 From launching his musical career at the age of 13 in Australia, he progressed to his first official production in 2004, where Dirty South was born.
'NIGHT SCHOOL 4 GIRLS' OPENS AT HARD ROCK CAFÉ
The Hard Rock Cafe on the Strip is opening "Night School 4 Girls," a 70-minute class teaching students sexy moves, pole dancing tricks and a burlesque routine, complete with chairs, feather boas and diploma. Instructors are real Vegas showgirls and students receive tickets to "Thunder From Down Under," a souvenir photograph and t-shirt. Tickets start at $39.
The frisky class will be featured on Bravo's "Real Housewives of Beverly Hills," Jan. 28 and Feb. 4.
AMBULANCES WILL PARADE GIANT HEART TO THE LUXOR
During American Heart Month, BODIES… The Exhibition at the Luxor will provide guests with a huge, 12-foot-high anatomically correct heart. The 600-pound heart will be escorted down the Strip by four ambulances Friday, Feb. 1, and delivered to the lobby of Luxor where it will stay all month long.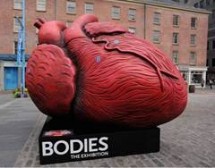 For Valentine's Day, BODIES… The Exhibition will make a donation based on the day's ticket sales to the American Heart Association. The casts of "FANTASY" and "Thunder From Down Under" will give away a Hershey Kiss for every ticket presented to them from 2 to 5 p.m. at the "kissing" booth and recipients will have a chance to win a pair of tickets to one of the two shows. In addition, complimentary Blood Pressure and Blood Glucose screenings will be available to exhibition guests from 11 a.m. to 1 p.m.
FOOTBALL-SHAPED DOUGHNUTS
Krispy Kreme Doughnuts and Cinnabon at Castle Walk Food Court inside the Excalibur will offer football-shaped doughnuts decorated in purple and black for die-hard Baltimore Ravens fans and in red, gold and white for loyal San Francisco 49er supporters, Feb. 1- 3. They are $1.90 each. If you present non-winning tickets from Excalibur's Sports Book, you will receive a free Minibon from Cinnabon or doughnut from Krispy Kreme.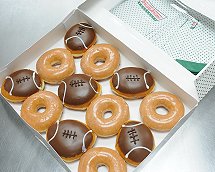 VENETIAN® AND PALAZZO® CELEBRATE CHINESE NEW YEAR
The Venetian and The Palazzo are celebrating Chinese New Year and the Year of the Snake in a number of ways. Through Feb. 25, guests will be greeted with opulent holiday-inspired art and décor, restaurant offerings, and incentive cards that will be offered Feb. 7-10.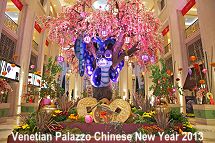 A ceremonial dragon dance will officially kick off Chinese New Year on Feb. 9, at 3:30 p.m. and will begin with an eye painting ceremony at The Venetian porte cochere. The dragon dance and parade will follow and travel through both properties.
On Feb. 10 at 1 p.m., there will be a traditional Chinese fan dance in the Chloé rotunda inside The Shoppes at The Palazzo. More than 500 red envelopes with prizes inside will be distributed to guests.
The resort's floral and horticulture department worked with a team of 77 global artists to produce a massive animated art installation. The colossal structure towers nearly 40 feet above The Waterfall & Atrium Gardens of The Palazzo, and features a giant peach tree and 98-foot-long animated blue snake called Sophie Chow.
THE COSMOPOLITAN Celebrates Chinese New Year
The Cosmopolitan is celebrating Chinese New Year with limited-time cocktails and menu items at China Poblano all month, in addition to hosting a "Dotting of the Eyes" ceremony and street parade at 4 p.m. on Sunday, Feb. 10. Special décor honoring the holiday will also be visible throughout the resort from Feb. 4–17.
TERRY FATOR'S FIRST DVD REACHES QUADRUPLE PLATINUM
Mirage headliner Terry Fator is celebrating another milestone. His first DVD, "Terry Fator: Live From Las Vegas," has been certified by the Recording Industry Association of America (RIAA) as having gone quadruple platinum. His follow-up DVD, "Terry Fator: All Hits, No Lips," was filmed in late October and will be released nationwide later this year. In addition, Fator has signed a deal to continue headlining at The Mirage until at least 2016.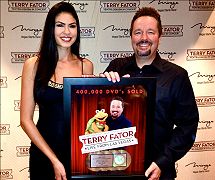 GUITARIST ESTEBAN WILL PERFORM AT FIRST FRIDAY
First Friday on Feb. 1 from 5 to 10 p.m. has the theme "Art of Romance." The Arts District will showcase 75-plus artists, 15 live bands and DJs on four stages, 25-plus food trucks and more. There will be a massive Hop-Scotch Party at Casino Center. Another highlight will be an appearance at The Hub by LVH headliner and classical guitar legend Esteban with his daughter Teresa Joy on violin from 6–7 p.m. The KidZone with many activities will be presented by The Chuck Jones Experience and feature animator John Rowe.
LUXOR OFFERS 'GET A HEART ON' SHOW AND DINNER PACKAGES
The "FANTASY" show will team up with Tacos & Tequila (T&T) and Rice & Company at the Luxor with "Get a Heart On" dinner and show packages, Feb. 1-28. Packages include two "FANTASY" show tickets, a "Barely Bejeweled" calendar and a three-course prix fixe dinner for two. Cost is $140 with dinner at Tacos & Tequila and $175 for Rice & Company.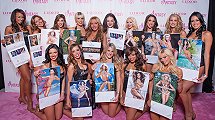 HEADLINERS DRAW AUDIENCES TO PRIMM
For a 35-minute car ride from Las Vegas, you can catch many top headliners at the Star of the Desert Arena at Buffalo Bill's in Primm, Nev., at the California state line. Upcoming headliners include: BB King - Feb. 16; Intocable –Feb. 17; Sawyer Brown – Feb. 23; Paul Anka – March 9; Gladys Knight – March 23; Ramon Ayala – April 6; and Randy Travis – April 20.
Also at the Primm Valley Resort, there's the Bonkerz Comedy Club with different comedians every week. Tickets are $10 with two drinks included.
TOP OF NEXT COLUMN
GROUP ALL-4-ONE WILL BRING POPULAR HITS TO THE SUNCOAST
Pop music group All-4-One, best-known for its smash hit "I Swear" in 1994, will perform at the Suncoast Showroom Feb. 16 and 17. Currently, "I Swear" holds a spot on "Billboard's" list of the most successful singles of all time and has been named by ASCAP as one of the greatest love songs of the 20th century. The song garnered All-4-One a Grammy® Award in 1995 for "Best Pop Performance by a Duo or Group with Vocal."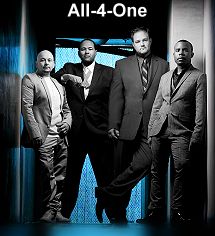 In 2009 All-4-One released "No Regrets," which charted in the top 50 on the R&B charts. Tickets are available from $15.95.
RAO'S CAESARS PALACE RELEASES THIRD YOUTUBE VIDEO
Rao's New York Chef Dino Gatto's cooking demonstration "Rao's Family Traditions: Penne Vodka" is the third installment of the Rao's Caesars Palace special video series being uploaded to YouTube.
FAST LANE NEWS
Reminder: "Jersey Boys" star and recording artist, Travis Cloer, will perform his show "Setting the Standard" at The Smith Center on Monday, Feb. 4 at 7 p.m. Tickets are $25 and $35.
Last week, Extra TV's Adrianna Costa unveiled the first wax figure of Sandra Bullock at Madame Tussauds. Bullock is a vision in a red knee-length dress.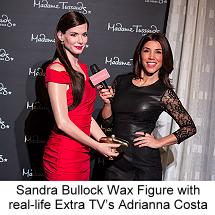 The Golden Nugget is holding its third annual Mardi Gras themed Masquerade Ball in Gold Diggers, Saturday, Feb. 9 at 8 p.m.
Public House Las Vegas at the Luxor is making Thursday nights all about the ladies with cocktails and food specials for girls' night out from 9 p.m. to midnight.
A juried collection of handmade and one-of-a-kind works by more than 15 Las Vegas artists and designers will be showcased, and offered for sale, in a special "18b" temporary installation at the winter GIFT+HOME at Las Vegas Market, Jan. 28 – Feb. 1.
Matches for Mickey Bey Jr. vs. Robert Rodriguez, 2012 U.S. Olympian Joseph "Jo Jo" Diaz Jr. vs. Jose Ruiz, and main event Frankie "Pitbull" Gomez vs. Lanard Lane are set for Saturday, Feb. 2 and will be televised live on FOX Sports Networks at 7 p.m. from the Cosmopolitan. Tickets range from $30 to $80.
Rí Rá Las Vegas inside The Shoppes at Mandalay Place will hold viewing parties for all RBS Six Nations Rugby matches live starting Saturday, Feb. 2. Charge is $20 and covers a full Irish breakfast.
The 10th Annual Walk with the Heart of a Child presented by Paragon Gaming attracts more than 1,400 people and is set for Saturday, Feb. 23, at the Fashion Show Mall. The event supports the Nevada-based Children's Heart Foundation, visit www.chfn.org. Fees are $25 and $15.
As part of the center's Caring, Giving, Changing campaign, Miracle Mile Shops at Planet Hollywood collects donations in its fountain for different charities each month and the Goodie Two Shoes Foundation is February's charity. All month long, change tossed in the popular water feature as well as the retail center's indoor rainstorm will be donated.
LIFE IS BEAUTIFUL FESTIVAL SEARCHES FOR LOCAL TALENT
Launching its search for the best musicians in the valley, Life is Beautiful will present a series of free local concerts designed to showcase homegrown talent. Local and regional bands, DJs and solo musicians will be on display starting Wednesday, Feb. 6 in varying Downtown Las Vegas venues, playing for a spot during the new two-day music, food and arts festival planned for this fall.
At the first of these monthly showcases will be six local bands on Wednesday, Feb. 6 starting at 8 p.m. at Artifice at 1025 First Street. The public is welcome and admission is free.
MANOLIN AND ANTOLIN EL PICHON PERFORM AT SAM'S TOWN
World-renowned recording artist "El Medico de la Salsa" ("The Doctor of Salsa") Manolin and his orchestra will bring Latin sounds to Sam's Town Live! In 1992, Manolin released his debut album, diving into the lively Cuban music scene, including timba – a genre of Cuban music based on popular Cuban music along with salsa, American funk/R&B and the strong influence of Afro-Cuban folk music. Sharing the bill is Antolin El Pichon, a beloved Cuban comedic character made famous by performer Angel Garcia. Tickets are $31.50.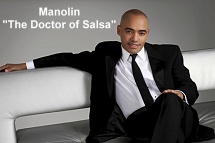 JW MARRIOTT AND RAMPART CASINO SCHEDULE ENTERTAINMENT
Magician and illusionist Michael Turco will headline in the Rampart Casino's Grand Ballroom at 7:30 p.m. on Friday, Feb. 15. Turco made his national debut on "America's Got Talent." Tickets are $15.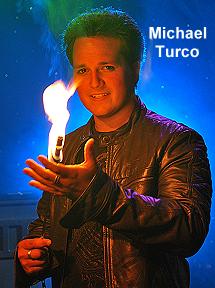 "Oh What A Night!," a musical tribute to Frankie Valli and The Four Seasons," will follow on Feb. 16 and 17. Tickets are $15.
Popular local entertainers perform free shows in Addison's Lounge. Wes Winters will appear on Valentine's Day from 6-9 p.m. and Mark OToole sings every Wednesday from 7 to 11 p.m.
MIRACLE MILE SHOPS LINE UP SPORTS FIGURES FOR SIGNINGS
The Las Vegas Fight Shop has lined up the following fighters for signings and/or meet and greets: British mixed martial arts (MMA) fighter Dan "The Outlaw" Hardy Feb. 1 – noon to 2 p.m.; >UFC® heavyweight fighter Cain Velasquez Feb. 2 - noon to 2 p.m.; bantamweight and featherweight fighter Urijah "The California Kid" Faber Feb. 2 – 2 to 4 p.m.; MMA fighter Frankie "The Answer" Edgar Feb. 3 - noon to 2 p.m.; and UFC® light heavyweight fighter Rashad Evans and Dutch mixed martial artist Alistair Overeem Feb. 3 - 1 to 3 p.m.
On Feb. 1 from 1 – 3 p.m. at the Las Vegas Fight Shop, MMA star, successful businessman, bestselling author and actor, Randy "The Natural" Duane Couture will launch his new fragrance Xtreme Couture. The first 50 people to purchase "Xtreme Couture" will receive a complimentary gift. UFC® Octagon Girl Arianny Celeste will meet fans and sign autographs from 6-8 p.m.
Ric Flair, also known as "The Nature Boy," will visit TRISTAR Sports Memorabilia from 1 to 2 p.m. on Jan. 31 and Feb. 1. He will return on Feb. 2 from 2 to 3:30 p.m. Fees apply.
PBR ROCK BAR IS OFFICIAL HEADQUARTERS FOR USA SEVENS
PBR Rock Bar & Grill inside Miracle Mile Shops at Planet Hollywood will serve as official headquarters for USA Sevens, the largest rugby tournament in North America, Feb. 6 - 10.
There will be a Tailgate After Party from 1 until 6 p.m. on Feb. 6. On Feb. 7, guests will have open bar access for the USA Sevens Official After Party, priced at $40 from 9 p.m. until 1 a.m. PBR Rock Bar will host a Championship Sunday open bar celebration on Feb. 10 from 9 p.m. until 1 a.m. priced at $40.
Also, fans and players will enjoy 10 percent off their bills during the tournament with USA Sevens ticket stubs or team credentials. The USA Sevens Tournament is the fifth of nine stops on the international HSBC Sevens World Series tour.
WINNING NAME FOR WAVE POOL IS RED ROCK BAY
Red Rock Bay received the most votes for the recent Wet 'n' Wild Las Vegas' Wave Pool Naming Contest, and is now the name of the giant wave pool at the $50 million, 41-acre water park opening Memorial Day weekend. More than 2,300 people voted on the five name finalists that were selected from more than 1,400 names submitted.
MOB MUSEUM HOLDS BLOOD DRIVE
To mark its first anniversary this February, The Mob Museum downtown is teaming with United Blood Services to encourage guests to take the blood oath… by donating on Saturday, Feb. 9 from 10 a.m. to 4 p.m. Donors are encouraged to make an appointment online at https://www.bloodhero.com/index.cfm?group=op&step=2&opid=533493 or by calling 877-827-4376. Sponsor code: MobMuseum.
People who donate will receive two complimentary tickets to the museum.
CHAPMAN DODGE CHRYSLER JEEP RAM HOLDS BLOOD DRIVE
On Jan. 31, Chapman Dodge Chrysler Jeep Ram at 3175 E. Sahara Ave. will host a blood drive with vendor booths, snacks, etc., to cap off National Volunteer Blood Donor Month. Guests who test drive a Dodge Dart will have the opportunity to win special prizes and giveaways. The winner of the 2013 Dodge Dart will be announced at a 7 p.m. drawing. In addition, donors who give blood in January can enter to win a 12-month lease for a 2013 Dodge Dart. United Blood Services will hold more than 60 blood drives at various locations throughout the Las Vegas Valley in January.
AMERICAN GEM SOCIETY OFFERS PERFECT PROPOSAL TOOLKIT
American Gem Society (AGS), the country's jewelry trade organization dedicated to consumer protection, will launch the AGS Perfect Proposal Toolkit in time for Valentine's Day. The Toolkit, available Feb. 1-15, offers a quirky collection of tips and suggestions for planning the perfect proposal, as well as a contest to win a trip to Las Vegas. Check out americangemsociety.org/Groom2B.
Column Continues Below Advertisement
CONTINUE ON TO...:

THIS WEEK'S >LAUGHLIN NEWS
LAST WEEK'S >LAS VEGAS NEWS
>VEGAS VIEW FULL NEWS ARCHIVES
Return to >"Heard Around Town"
Return to >Las Vegas Leisure Guide