SAMMY'S COMEDY CLUB OPENS AT RIVER PALMS
The grand opening of the new comedy room, Sammy's Comedy By The Shore, at the River Palms will be Feb. 24 and feature Pauly Shore and his dad Sammy Shore.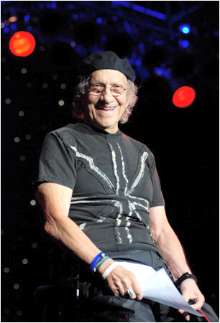 Sammy Shore is currently performing his standup comedy routine in nightclubs and casinos across America, including most recently, Las Vegas, Reno, and the Tropicana in Laughlin earlier this month with Sonny Turner and The Platters. He'll be at the Tropicana again, Feb. 12-16, with his 8 p.m. Valentine's dinner and show "Two Gals and a Geezer," which he'll be performing there regularly throughout 2009 while he also shares his comedy skills regularly at the comedy room named in his honor at the River Palms.
Sammy Shore's new book, "The Man Who Made Elvis Laugh," can be purchased at amazon.com and book retailers. For details, visit elvislaugh.com. As an American comedy legend, who founded the Comedy Store on the Sunset Strip, he was hand-picked by Colonel Parker to be Elvis' opening act during the King's infamous 1969-1972 "Comeback Tour" in Las Vegas.
Currently, Paul Shore continues to tour and finish his latest movie, "Adopted," as producer, director and star. In this movie, he satirizes the phenomenon of celebrity adoption as he travels to Africa to adopt and African baby. He is also preparing to produce and direct his next movie, "Pauly Shore's Hollywood Boot Camp - Bimbo to Bombshell in 30 Days."
'DRINKIN'-SINGIN'-SWINGIN'' SHOW VISITS HARRAH'S
Harrah's Laughlin will present "Drinkin'-Singin'-Swingin' a Salute to Sinatra-Davis-Martin" in the Fiesta Showroom, Feb. 28 - March 12.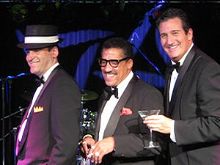 The tribute show transports the audience to days when song, dance and comedy ruled the stage and features the talents of Ryan Baker as Frank Sinatra, Bryan Clark as Sammy Davis Jr., and Rick Michel as Dean Martin. This trio of talented performers captures the essence of the original Rat Pack as they perform legendary hits such as "Candy Man," "New York, New York," "Mr. Bojangles," and "Volare." Ticket prices are $16, $21 and $26.

AQUARIUS PAYS TRIBUTE TO THE BEATLES ON FEB. 7

"When We Were Fab" - a tribute show to the Beatles will take place at the Aquarius Pavilion on Saturday, Feb. 7 at 7 p.m. Tickets are $20, call 800-435-8469.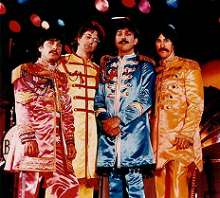 This showcase highlights the talents of the stars of Broadway's "Beatlemania" and offers a chance to re-live history. Through Beatles songs, plus media clips and still shots projected on the screens, the audience is taken back in time as they experience the evolution of their music and their times. From the innocence of "I Want To Hold Your Hand," "Eight Days A Week," and "Twist and Shout" to the psychedelics of Sergeant Pepper's Lonely Hearts Club Band, the Beatles were the flag bearers of a generation.

TOP OF NEXT COLUMN
WINGS & WILDLIFE FESTIVAL COMING IN MARCH
You can take a walk on the "wild side" of Laughlin, March 12-15, during the Wings and Wildlife Festival of Southern Nevada. Registered festival participants will enjoy complimentary tours to area habitats to view the various birds and wildlife that make their home in the region of the Mohave Desert. Optional tours, for more in-depth exploration, will be offered for additional fees. In addition to area tours, registrants will be treated to various educational seminars, a vendor tradeshow and a wine and cheese art vendor event. For information, visit www.laughlinbirds.com.
DIAMOND RIO VISITS LAUGHLIN FOR THE FIRST TIME
The award-winning country band Diamond Rio will be headlining at Don Laughlin's Riverside, Feb. 3-8. Tickets are $35.50 for their 8 p.m. shows.
Diamond Rio has long been one of country music's most successful groups. The band released its platinum-selling debut disc in 1991. The following year, they won the Country Music Association's Vocal Group of the Year award for the first time and in total they've been so honored six times. They've scored nine No. 1 hits, placed 15 singles in the Top Five, and sold more than 10 million records.
HARRAH'S WILL PRESENT DINNER & DANCING WITH BRIAN EVANS
Harrah's is promoting romance over Valentine's Day weekend by offering "Dinner & Dancing with Brian Evans" in the Fiesta Showroom, Feb. 13-15. Tickets are $65 for the 7 p.m. shows on Feb. 13 and 15, and $75 on Feb. 14, call 702-298-8510.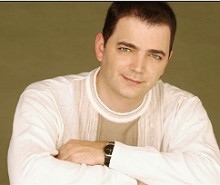 Crooner Brian Evans and his band will be featured while guests enjoy an evening of dining on a three-course meal consisting of a salad, steak entr'e and chocolate black cherry torte for dessert.
THE GRASS ROOTS SET TO HEADLINE AT TROPICANA EXPRESS
The Grass Roots starring Rob Grill will headline at the Tropicana Express in the Pavilion Showroom on Feb. 7 at 8 p.m. Tickets are $20, 25 and $35, call 800-243-6846.
The Grass Roots are a highly successful rock and roll group that consistently produced quality music in their heyday from 1966 to 1975. From 1967 to 1972, The Grass Roots set a record for being on the Billboard charts 307 straight weeks. They are one of only nine bands that have charted 29 or more Top 100 Billboard singles. They have sold more than 20 million records worldwide.
QUICK CLIPS
The Blue Grass Festival will be held Feb. 13-15 at the Bullhead Area Chamber of Commerce and City Park at 1251 Highway 95 in Bullhead City, Ariz.
Admission prices are $15 for adults, $5 for ages 7-17, and free for children 6 and under. There will be a Sunday morning service and gospel hour and free shuttle to the Aquarius Casino Resort across the river in Laughlin.
It's Date Night at the Avi where a couple can dine for $30. The offer runs Tuesday-Thursday from 4 to 9 p.m. and Friday and Saturday from 4 to 10 p.m. The meal in the Ristorante Aviano includes appetizer, entr'e, and dessert and wine selections.
That world of gems and stones gets its time in the spotlight each January in Laughlin in the form of Cloud's Jamboree, which is a confab of lapidary experts and vendors and jewelry makers of all types, even those with the A-List stones of diamonds and sapphires. This year, Cloud's Jamboree is centered at the Avi. Now through Jan. 31, vendors are set up adjacent to the KOA RV Park.
A River of Life Blood Drive will be held at the Aquarius on Feb. 16. You can get a free gift when you donate.
CONTINUE ON TO...:
>THIS WEEK'S LAS VEGAS NEWS
>LAST WEEK'S LAUGHLIN NEWS
>VEGAS VIEW FULL ARCHIVES
>Return to "Heard Around Town"
>Return to Las Vegas Leisure Guide