MARIAH CAREY TO WRAP UP TOUR AT CAESARS PALACE
International superstar Mariah Carey will make the final stop of her "Angels Advocate" Tour in Las Vegas at The Colosseum at Caesars Palace on Saturday, Feb. 27. The 8-week, 19-city tour is the first major tour by Mariah Carey since the "Adventures of Mimi: The Voice, The Hits, The Tour" in 2006. The opening act on the "Angels Advocate" Tour will be RydazNrtist, a new R&B group signed to Nick Cannon's NCredible Entertainment. Tickets range from $75 to $250, call 800-745-3000.
Column Continues Below Advertisement
"Memoirs of an Imperfect Angel" is Mariah Carey's 12th studio album. She is now positioned as the only active recording artist in the 50 years of the Hot 100, which began in 1958, with the potential to surpass the Beatles' all-time high of 20 No. 1 hits. The success of "E=MC2" brought total sales of Carey's albums, singles and videos to more than 175 million worldwide, distancing her even further from the pack as the top-selling female recording artist in history.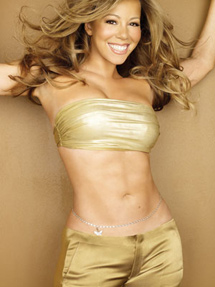 PALMS WILL MAKE 'PLAYBOY COMEDY' ITS NEW RESIDENT SHOW
The Palms has announced that "Playboy Comedy" will be the feature entertainment in The Lounge three nights a week beginning Feb. 18. This comedy club will be hosted each week by Cort McCown and Paul Hughes and kick off its residency with East Coast comic Nick Di Paolo, Feb. 18-20 followed by Sebastian Maniscalco, Feb. 25-27. Show times will be 10 p.m. Thursday and Friday, and 8 and 10 p.m. on Saturday. Tickets are $39.99 with entry into the legendary Playboy Club included following the show and can be purchased at www.palms.com or the box office.
Nick Di Paolo has twice been nominated for an Emmy for his writing on "The Chris Rock Show" and has also had three half-hour stand-up specials of his own on Comedy Central. Di Paolo was one of the stars on "Tough Crowd with Colin Quinn" and a stand out on many Comedy Central roasts. He also had guest starring roles on "Lucky Louie" and "The Sopranos" as well as films including Artie Lange's "Beer League." He is a favorite on both Howard Stern and Opie and Anthony and hosted his own show on New York's 92.3 Free FM.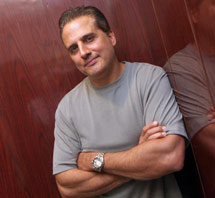 Most recently, Los Angeles-based Sebastian Maniscalco has starred in the film "Vince Vaughn's Wild West Comedy Show" and his "Comedy Central Presents" special is the highest rated comedy special on On Demand. He's made memorable visits to network shows and worked with prestigious acts such as B.B. King, Al Green, Anita Baker, Gladys Knight and Dennis Miller. His DVD "Sebastian Live" is currently available for purchase on iTunes and Amazon.com.
M RESORT UNVEILS NEW SHOW – 'MARTINI TIME WITH CHEF TINA MARTINI'
On Jan. 26, the M Resort is introducing a new type of live show mixing cooking with nutrition, fitness and wellness for an entertaining and educational experience. "Martini Time with Chef Tina Martini" will debut inside the custom-built cooking studio within the M Resort's buffet.

Similar to a network television cooking show, the 60-minute "Martini Time with Chef Tina Martini" treats a live audience to demonstrations, complimentary food/beverage samplings and a special "handy hints" and "tasty tips" handout – a Chef Martini signature. The five-day-a-week show covers a variety of topics centering on three key areas of living healthy: nutrition, fitness and mind/body. Chef Martini is widely known as the "naturopathic chef" and wellness consultant, who makes healthy living fun.
Tickets will go on sale at the end of the month and include a Studio B Buffet lunch or dinner (depending on show times) as well as reserved seating at the buffet immediately following the show. The resort also plans to launch a dedicated Web portal for Chef Martini with recipes, video and updates and tips.
NORM CROSBY HEADLINES NEW LAS VEGAS ROCKS SHOWROOM
Veteran comedian Norm Crosby will be the first legendary headliner to star at the new downtown Las Vegas Rocks Showroom on Saturday, Jan. 30 at 7 p.m. The show will also introduce singer John Garafalo paying tribute to the great tenors. Tickets are $50, call 702-227-5872 (LVRC).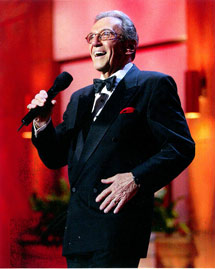 Veteran comedian Crosby was often seen on television in the 1970s and has earned the title "The Master of Malaprops." As a stand-up comedian, he often opened for top Vegas entertainers such as Tom Jones and Robert Goulet, who he toured with for three years. Crosby ended up with a long-term deal with the Sahara replacing Don Rickles, who was the headliner in the Sahara lounge for years, and later Crosby moved into the big showrooms as a headliner.
Since 1983, Crosby has co-hosted and contributed to the annual "Jerry Lewis MDA Labor Day Telethon" and he has a star on the Hollywood Walk of Fame.
TWO NEW LAS VEGAS RESTAURANTS EARN AAA FOUR DIAMOND AWARD
Two new restaurants in Las Vegas, CUT by Wolfgang Puck and Daniel Boulud Brasserie, have surfaced on the highly coveted AAA Four Diamond list. The additions give Nevada 31 AAA Four Diamond Award winners, ranking the Silver State sixth in North America among states and provinces with the most AAA Four Diamond rated restaurants.

All of the hotel recipients are repeat winners including The Mirage in Las Vegas which has now won for the 20th time, a state record. There are now 16 Four Diamond rated lodging properties in Nevada. AAA Four Diamond rated properties make up just 3.5 percent of the 58,000 lodgings and restaurants AAA inspects.
SIN SITY SISTERS HOST 4TH ANNUAL RED DRESS EVENTS
The Sin Sity Sisters, a group devoted to promoting freedom of expression, and diversity, will hold two Red Dress Events on Friday, Feb. 26 to benefit Sisters AIDS Drug Assistance Program (SADAP). For information, visit www.sinsitysisters.org. The VIP Red Event featuring a live DJ, dancing, silent auction, art display by the Erotic Heritage Museum, Sister SINtinis and more will be held at the Downtown Cocktail Room at 7:30 p.m. and guests must wear red.
Rough, Tough and Red All Over featuring DJ Axis, stage dancers and other Sister activities begins at 10 p.m. at the Beauty Bar on Fremont Street. This event requires all attendees to wear a red "dress." A costume contest will recognize the most creative and inspired outfits of the evening with cash and prizes awarded. This event is $20 in advance and $25 at the door.
TOP OF NEXT COLUMN
LEGENDARY COMEDIAN DON RICKLES PERFORMS AT THE ORLEANS
The much-honored comedian will launch his 51st consecutive year as a Las Vegas headliner when he brings his insult humor to The Orleans Showroom Feb. 20 and 21, marking his third consecutive year of performances at The Orleans. Tickets start from $74.95, call 702-365-7075.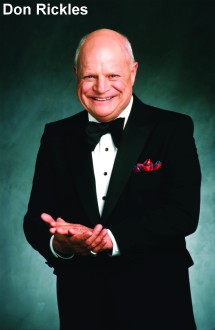 Rickles took his first step toward national fame in 1957 when Frank Sinatra wandered into the small Hollywood nightclub where Rickles was performing. The still-unknown Rickles eyed Sinatra and said, "I just saw your movie, "The Pride and the Passion," and I want to tell you, the cannon's acting was great. And, make yourself at home, Frank. Hit somebody." Sinatra doubled up laughing and became one of Rickles' biggest boosters among Hollywood celebrities. Rickles soon became the "in" comic among Hollywood stars, who flocked to his nightclub engagements to become the targets of his insults. From there his career soared.
QUICK CLIPS
The 2010 Miss America pageant is taking place at the Theatre for the Performing Arts at Planet Hollywood for the fifth consecutive year. The events will culminate in a live telecast on TLC, Saturday, Jan. 30 at 5 p.m. (PST)/ 8 p.m. (EST). With the return of Miss Puerto Rico after nearly 50 years, there will be 53 contestants competing this year. For more information, visit www.MissAmerica.org.
Fountains Brunch at Jasmine at Bellagio is now offering a brunch experience featuring a bevy of gourmet and traditional cuisine and sweeping views of the resort's lake and world-renowned fountains. The premier brunch served every Sunday from 11 a.m. to 2:30 p.m. is $55 per person excluding tax, call 866-259-7111 or 702-693-7223 for information.
Barry Manilow will headline the Keep Memory Alive fundraising gala at Bellagio on Feb. 27, just days before he opens his new show at Paris Las Vegas. Manilow's new album, "The Greatest Love Songs of All Time," will be released on Jan. 29.
Earlier this month, pop songstress Olivia Newton John and Bob Mackie, "the sultan of sequins" took in Bette Midler's "The Showgirl Must Go On" at The Colosseum at Caesars. Midler's final performance will be Jan. 31.
Smith & Wollensky's was the site of Bookitinvegas.com's recent launch party. This is an all-female destination management company. Among the 160 attendees were comedian Robert Schimmel and Smokin' Joe Frazier, who also sang and got the crowd pumped up.
Simon at Palms Place is welcoming winery owner Francesco Kovarich and inviting guests to a wine dinner event featuring two organic Italian producers, Poggio Foco from Tuscany and Fattorie Azzolino from Sicily. This special pairing will be held on Thursday, Jan. 28 at 7 p.m. for $85 per person. For reservations, call 702-944-3292.
Actor and former star of the hit series, "That '70s Show," Wilmer Valderrama will host his 30th birthday celebration at Eve, Eva Longoria Parker's nightclub in Crystals at CityCenter on Saturday, Jan. 30. The red carpet will be from 11 p.m. to midnight.
Tony V will headline the Riviera Comedy Club, Jan. 25 – 31 with John Pizzi and Joe Carroll. Tony V has appeared on Showtime's "Brotherhood and in films "World's Greatest Dad" and "My Best Friend's Girl." Pizzi has performed with Kenny Logins, Dionne Warwick, Peggy Lee, Steven Wright, The Platters, Dom Irrera and many others. Carroll's comedy has taken him around the world and most recently he was a stand out act at the Boston Comedy Festival.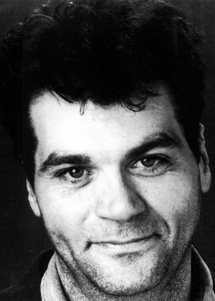 Marshall Rousso at the Miracle Mile Shops will host a trunk show featuring Joseph Ribkoff, official designer for Miss America, on Jan. 28 and 29, from 10 a.m. to 7 p.m. Visitors can register to win a $350 Joseph Ribkoff shopping spree. For information, call Marshall Rousso at 702-733-0611.
Ethel's Chocolate has unveiled its Ethel's Valentine's Day Collection that is offered in three different lock-box hearts. One heart holds 20 pieces of chocolate for $28, the second 33 pieces for $40, and a 53-piece collection at $55. These along with other holiday options can be purchased at any of the eight Ethel's locations throughout Las Vegas and online at www.ethelschocolate.com. Ethel's Valentine's Collection is made locally at Ethel's chocolate factory in Henderson and contains no preservatives.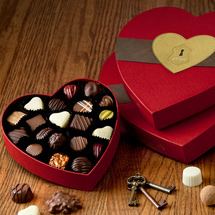 "Fight Night With De La Hoya and Hopkins: Campillo vs. Shumenov II" will provide an evening of world championship boxing at The Joint at the Hard Rock on Jan. 29. In the 12-round main event, Spain's Gabriel Campillo will defend his WBA Light Heavyweight World Title against Las Vegas resident Beibut Shumenov. Tickets start at $44.
The recording Studio at the Palms is considered first rate. Grammy nominations for the 2010 awards ceremony taking place in Los Angeles on Sunday, Jan. 31 came out of the Studio at the Palms. Albums by both Jamie Foxx and Eminem were worked on at the hip recording studio, which has seen the likes of past Grammy winners such as Maroon 5, Tony Bennett and Mary J. Blige.
Barbara Yoerg will have an artist opening on Feb. 11 from 6 to 9 p.m. at Centra Point Business Complex inside the Ticor Title Building at 215 and Durango. Her watercolors and sketches are her recollections of sites and experiences that she enhances through her explosive creativity. You'll also see Yoerg's "discovery" technique, which views the subject from three different vantage points. RSVP to Carin Kwon at carin@brandltd.com or 702-257-2345.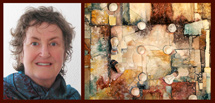 Column Continues Below Advertisement
CONTINUE ON TO...:
>THIS WEEK'S LAUGHLIN NEWS
>LAST WEEK'S LAS VEGAS NEWS
>VEGAS VIEWS FULL NEWS ARCHIVES
>Return to "Heard Around Town"
>Return to Las Vegas Leisure Guide