CHEF GORDON RAMSAY WILL OPEN RESTAURANT AT PARIS
Internationally-renowned Chef Gordon Ramsay will open his first Las Vegas restaurant, Gordon Ramsay Steak, this spring at Paris. The new 274-seat restaurant will replace Les Artistes Steakhouse and have a large bar area, chef's table and private dining room in addition to the main room.
The restaurant's design will celebrate Chef Ramsay and the city of London, where he lives, and be created by the design company that did Rao's and Bradley Ogden restaurants at Caesars Palace. Michelin Star Chef Gordon Ramsay is a TV personality from several hit programs including "Hell's Kitchen," "MasterChef" and "Kitchen Nightmares."
Column Continues Below Advertisement
RARE LEONARDO DA VINCI SCULPTURE UNVEILED IN LAS VEGAS
A never before seen sculpture by famed Renaissance artist Leonardo da Vinci was revealed at a recent unveiling ceremony and can now be seen at the Renaissance Galleries at The Shoppes at The Palazzo. The sculpture, a bronze cast from the mold of the original wax model, was named "Horse and Rider" by world renowned Leonardo expert Carlo Pedretti, who has authored more than 50 books and 700 essays on the works of Leonardo Pedretti and stated in his letter of authentication that "…this wax model is by Leonardo himself." The sculpture has been documented in several books and articles on the works of the original "Renaissance Man."
Dr. Pedretti has also stated that the sculpture was "possibly an equestrian portrait of Charles d'Amboise.," who was the French Governor of Milan. The resemblance between the sculpted rider and Andrea Solario's portrait of Charles d'Amboise, housed in the Louvre and the same period, is remarkable.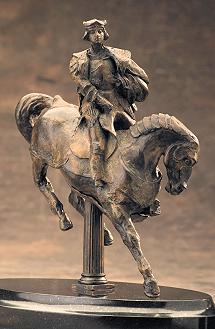 The bronze reproductions in four patinas are available for purchase with a portion of the proceeds going to the Salvation Army. You can see a video presentation and learn more at www.davincihorseandrider.com .
CHUCK JONES EXPERIENCE OPENS AT CIRCUS CIRCUS
The Chuck Jones Experience is a new 10,000-square-foot attraction at Circus Circus honoring the life and work of the man who created loveable cartoon characters such as Bugs Bunny, Daffy Duck, Yosemite Sam, the Tasmanian Devil and many more Looney Tunes and Merrie Melody animated personalities.
Jones' animation career spanned 70 years. The experience houses hundreds of his original drawings and paintings including the one he was working on when he passed away in 2002 and is home to the largest collection of original Chuck Jones animation and fine are in the world.
The attraction also has many rooms including a screening room with a 120-inch screen and one that shows his wood office desk and chair and bookshelves displaying a tiny fraction of the thousands of books he owned. There are interactive displays that enable visitors to do a variety of activities, from drawing cartoons to recording their own sound effects.Naturally there's a large retail area but there's also a learning center where kids can go without touring the museum. You can't miss the place because the exterior is designed to make you feel like you came upon the Acme warehouse where Wile E. Coyote got the dynamite to try and kill The Road Runner. The box of fireworks with a string and sign stating "Do Not Pull" is a natural for people to do just the opposite. Admission is $19.95. Hours are daily from 10 a.m. to 10 p.m. For more information, visit chuckjonesexperience.com.
IMPRESSIONIST BETHANY OWEN OPENS AT THE RIO
Celebrity voice impressionist Bethany Owen, who has just completed a 20-month run in Lake Tahoe, will open on Jan. 27 at the Rio in the new cabaret-style showroom called The Kings Room with her one-woman show "One Voice." She'll be performing at 2:30 p.m. Tuesday-Sunday.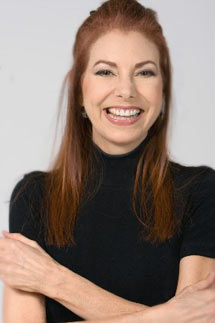 A few of Owens credits include starring on the Las Vegas Strip as the female headline voice for a two-year run of "Comedy Kings" for the Sid and Marty Krofft Puppets, Lorenzo Doumani casting her as Marilyn Monroe in two of his films, and her portraying Marilyn, as well, in the "Alvin and the Chipmunks" music video titled "The Macarena."
CHINESE NEW YEAR DÉCOR INCLUDES GIANT DRAGON
The beautiful Chinese New Year décor at The Palazzo and The Venetian is highlighted by a 128-foot hand-crafted, 8,000-pound, fire-breathing dragon in the 65-foot-high space of The Waterfall & Atrium Gardens of The Palazzo. The scene also includes fresh bamboo, citrus trees and 15-foot floral arrangements of tangerines, bromeliads and orchids. Nine traditional I-Ching coins, representing an abundance of wealth, surround the dragon and Lalique statues of The Palazzo. Six-foot-tall, hand-loomed brocade silk and jade gold and red lanterns are suspended from the atrium ceilings. The dragon breathes fire daily at 1 and 5 p.m. through Feb. 5 and the décor will remain through Feb. 28.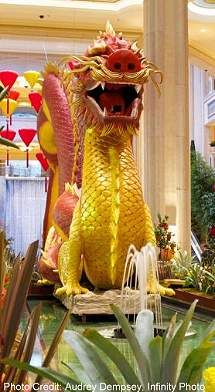 DOWNTOWN HOLDS INAUGURAL CHINESE NEW YEAR EVENT
Downtown Las Vegas is holding its first "Chinese New Year – Dragon In The Desert" celebration for the Year of the Dragon from Jan. 24 – 28 with a five-day festival beginning on Jan. 24 at 6 p.m. with the Opening Ceremonies. There will be an authentic dragon dance performed by the Las Vegas Lohan School of Shaolin complete with virtual firecrackers on Viva Vision, the largest video screen in the world. The ribbon cutting will consist of 888 people for extra luck.
The dragon dance will be nightly at 6 p.m. and the festival will also feature a Vendor Village with Asian food and arts and crafts, and a virtual dragon dance on Viva Vision. Live entertainment will include cultural presentations on the 3rd Street Stage and a Karaoke competition hosted by Las Vegas Thai Elvis Prasith on the 1st Street Stage.
RIVIERA LINES UP COMEDIANS
The Riviera is bringing the Icons of Comedy Series to the Starlite Theater. The lineup for the first half of 2012 includes: Hal Sparks - Jan. 26-29 and Feb. 16-19; Elayne Boosler - Feb. 23-26; Amy Schumer - March 2-4, April 6-8, May 11-13 and June 22-24; and Gilbert Gottfried - Mar. 28-April 1, April 25-29, May 30-June 3 and June 27-July 1. Shows are at 10:30 p.m.

The "Heavyweight King of Comedy," Andrew Dice Clay, is returning to the Riviera two weeks per month throughout the year. He joins the Icons of Comedy in the Starlite Theatre on the following dates: Jan. 19-22; Feb. 2-5 and 9-12; and March 8-11 and 15-18.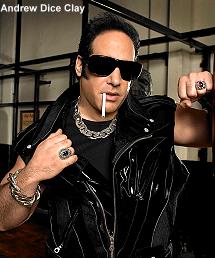 Additionally, the Riviera is the new home for British impressionist Jonathan Clark, who along with his band is performing in the Starlite Theatre, Thursday-Sunday at 9 p.m.
'DREW CAREY'S IMPROV-A-GANZA' RETURNS TO MGM
Drew Carey, stand-up comic, producer, writer and host of "The Price is Right," will bring "Drew Carey's Improv-A-Ganza" back to the Hollywood Theatre at MGM Grand during Super Bowl Weekend Feb. 2 – 5, at 9 p.m. The dynamic Improv All-Stars cast joins Carey onstage for a lively, unrehearsed, no-holds-barred show with audience participation.
TOP OF NEXT COLUMN
NEW CHINESE KJ KITCHEN RESTAURANT TO OPEN AT RIO
The new restaurant at the Rio, KJ Dim Sum & Seafood Chinese Restaurant, should be opening this month in time for the Lunar New Year. This eatery is a sister restaurant to a popular Las Vegas establishment, KJ Kitchen, known for its chefs trained in the tradition of authentic Chinese cuisine. It is located across from the Rio's buffet and occupying the space formerly inhabited by Lucky Strike bowling lanes.
The restaurant will feature dim sum, seat about 350 people, and be open from 10 a.m. to 5 a.m.
HARLEM GLOBETROTTERS BRING ROOKIE CLASS TO ORLEANS ARENA
On the heels of signing one of the most extraordinary rookie classes in team history, the Harlem Globetrotters will bring their 2012 World Tour to the Orleans Arena on Wednesday, Feb. 15 at 7 p.m. Tickets start at $22.
The outstanding rookies include Paul "Tin" Sturgess, the world's tallest pro basketball player at 7 feet, 8 inches; Jonte "Too Tall" Hall, the shortest Globetrotter ever at 5 feet, 2 inches; and Fatima "TNT" Maddox of Temple University, the team's first female player in nearly 20 years. The new team also features the top three finishers from the 2011 College Slam Dunk Contest and a total of three seven-footers.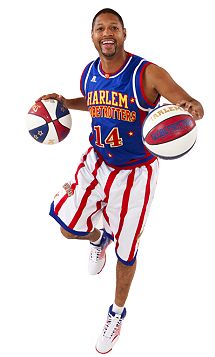 Throughout their more than eight decade history, the Globetrotters have showcased their iconic talents in 120 countries and territories on six continents.
NEWS IN THE FAST LANE
Muhammad Ali's 70th birthday celebration, a $1,500-a-plate gala will be held on Feb. 18 at the MGM Grand Garden Arena. It will be an ABC television tribute event hosted by the 16th annual Keep Memory Alive Power of Love benefit for the Cleveland Clinic Lou Ruvo Center for Brain Health. Some of the boxing icons will include Sugar Ray Leonard, Ken Norton, Thomas "Hitman" Hearns, Roberto Duran, Angelo Dundee and Leon Spinks. Many stars will also be present for the show that will air on Feb. 25. For tickets, call 702-263-9797.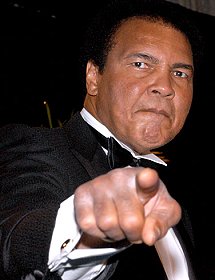 The lavish "Phantom – the Las Vegas Spectacular" at the Venetian with the famous break-away chandelier will close on Sept. 2.
Gameworks, which has operated for about 15 years on the Strip, will move to a new location after its lease expires on March 31.
XS, the sophisticated nightclub at Encore at Wynn Las Vegas, will celebrate its third anniversary with a special set by electronic dance music's breakout star of the year, Skrillex, on Monday, Feb. 6.
Marché Bacchus French Bistro & Wine Shop will host a very special four- course wine dinner executed by James Beard Award-winning Chef Alex Stratta and featuring wines from Chateau Montelena, Napa Valley's most historic and heralded winery, on Wednesday, Feb. 1. Cost is $89.
"Tony n' Tina's Wedding," the world's No.1 dinner comedy show, is celebrating its 10-year anniversary performing in Las Vegas on Jan. 31. The show runs Friday through Wednesday at 7:30 p.m. on the Mezzanine level of the V Theater.
"Blue Man Group" gets in on the excitement of the Big Game by offering a $46 ticket in celebration of 46 years of Super Sunday. Blue Man Group's Super Sunday ticket special is available for the 10 p.m. shows from Monday, Jan. 30 through Monday, Feb. 6. To take advantage of the deal, you must wear logoed merchandise for one of the two teams playing and mention the code "Game46" at any box office location inside The Venetian® or Palazzo®.
UFC® Octagon Girl Brittney Palmer will visit the Las Vegas Fight Shop inside Miracle Mile Shops at Planet Hollywood for an autograph signing on Friday, Feb. 3 from 6:30 to 8:30 p.m. On Saturday, Feb. 4, UFC® Welterweight Champion Georges St-Pierre will do an autograph signing from noon to 2 p.m. Both sessions are free and open to the public.
A movie "Burt Wonderstone" with Steve Carell, Steve Buscemi and Olivia Wilde has been filming in Las Vegas. It's a comedy about dueling magicians.
Emmy Award-winning comedian Louie Anderson is offering active military members up to four free tickets to "Louie LOL" at Palace Station for the month of February, as well as a voucher for the "Beach Party" appetizer platter at the hotel's Cabo Mexican Restaurant.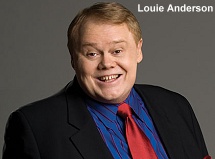 You have to love Las Vegas with its unusual promotions celebrating almost anything. On Thursday, Feb. 2, the Rockhouse Bar & Nightclub on the Strip will celebrate Groundhog Day with one of two parties dedicated to lady partygoers. If the Groundhog sees his shadow, ladies will enjoy an open bar from 10:30 p.m. to midnight. If Punxsutawney Phil does not see his shadow, ladies get to celebrate with an extra hour of open bar beginning at 9:30 p.m.
Les Kincaid is holding a special luncheon with Bridlewood's Winemaker David Hopkins at 11:30 a.m. on Friday, Jan. 27. The three-course $59 lunch will be held at The Barrymore restaurant at 99 Convention center Drive. To RSVP email: les@leskincaid.com.
"An Evening With Jerry Tiffe" dinner show will be held at the Italian American Club on Saturday, Jan. 28 at 8 p.m. Tickets are $40, call 702-457-3866.
The little known Blair House Suites on Desert Inn Road near the Las Vegas Convention Center has undergone a $250,000 renovation in the common areas and 60 units at the extended-stay property. Improvements include a new business center, concierge desk, dining room with complementary continental breakfasts, and library addition to the lounge area.
The gentlemen's club Sapphire has remodeled one of its 10 Skyboxes to honor Perrier-Jouët's fine champagnes. The room is painted "Perrier-Jouët" green and has contemporary black leather couches, chrome and silver accent pieces and photographs of Perrier-Jouët's Champagne.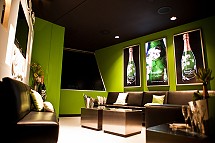 Posh Boutique Nightclub will hold a Sinful Lingerie Bash on Jan. 28 with a complimentary open bar for ladies from 1 to 3 a.m. and a chance to win prizes and $1,000.
The newest and 38th PT's location is the newly renovated and former Rosie's Saloon bar on Desert Inn Road, just west of Eastern Avenue and near the Strip. It offers 2,820 square feet of entertainment, dining, lounge, and gaming space with seven 50 inch and eight 32 inch high-definition plasma televisions, 15 video poker machines, eight different types of beers on draft, a pool table, a PT's Sport Bet Live! kiosk, and seating for 98 guests. The daily Happy Hour is from 4 to 7 p.m. and midnight to 3 a.m. with 50 percent off all drinks and pizzas.
VENETIAN AND PALAZZO AMONG TOP 500 HOTELS
The Venetian and The Palazzo for the third consecutive year have been named one of the World's Best 500 Hotels in 2012 in Travel + Leisure's tenth annual T+L 500 list, based on data collected in the most recent World's Best Awards readers' survey. The T+L 500 awards are featured in the magazine's January 2012 issue and on TravelandLeisure.com/tl500.
NATIONAL STATUS BESTOWED UPON ATOMIC TESTING MUSEUM
Nevada finally has its first "national" museum designation with the National Atomic Testing Museum at 755. E. Flamingo Road near the Strip.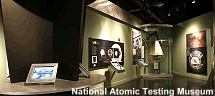 The museum opened in 2005 to recognize the role that the test site played in defining the United States during the Cold War and it now joins 36 museums to have this designation as a national museum of the United States.
Column Continues Below Advertisement
CONTINUE ON TO...:

>THIS WEEK'S LAUGHLIN NEWS
>LAST WEEK'S LAS VEGAS NEWS
>VEGAS VIEWS FULL NEWS ARCHIVES
>Return to "Heard Around Town"
>Return to Las Vegas Leisure Guide