For over six decades, our lives have been enriched by the talents of singer, dancer and actress Debbie Reynolds. She will be headlining at the Riverside, Feb. 6-10 in 7 p.m. shows. Tickets are $34.
Born Mary Frances Reynolds on April 1, 1932, in El Paso, Texas, she won the "Miss Burbank" beauty pageant sponsored by Lockheed Aircraft in 1948 when she was 16. Two of the judges of the pageant were talent scouts from Warner Bros. and MGM. Both scouts perceived the young girl's potential. The Warner Bros. scout won a coin toss which gave him first chance to offer Reynolds a screen test. The result was so impressive, that she was signed to a contract which paid $65 a week. Jack Warner changed her name to Debbie.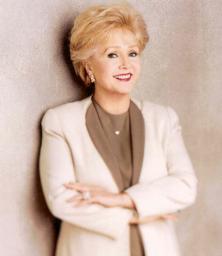 Reynolds went on to have an incredible film career with memorable hilts like "Singin' In The Rain" in 1951, "The Unsinkable Molly Brown" in 1964, and playing Albert Brooks' "Mother" in 1996 for which she earned a Golden Globe nomination.
Presently, Reynolds' primary focus is on her nightclub act, which includes lots of comedy, some dancing, singing and impressions.
The Colorado Bell has planned seven golf tournaments at area championship golf courses between this month and December. The set dates are Jan. 21-23, March 11-13, April 22-24, June 3-5, Sept. 9-11, Oct. 21-23 and Nov. 29-Dec. 1. Tournaments feature cash team prizes each day as well as prizes for winners of closest-to-the-hole contests, longest putt contests, and hole-in-one shoots offering $500, $1,000 or $5,000 for the first hole-in-one. Entry fee for the events are $550 or less, depending on the tournament. Fees may be adjusted based on rated casino play.
The entry fee for each tournament includes accommodations for four days and three nights; 36 holes of golf; food and beverages at the golf course; welcome dinner and two cocktail awards parties. Format of all tournaments is four-man scramble. Teams are assigned by handicap; different teams are created each day. For information and to enter, call 877-480-2747.
The courses being used include: Mojave Resort Golf Course; Desert Lakes Golf Course; and Laughlin Ranch Golf Course.
Las Vegas builders the Olympus Group have plans for a new 260-unit development of high-end, luxlury condomiusm to be built on the river off Casino Drive, next to the former golf course in the Emearld River Project. This project will join five other developments currently under way in Laughlin. Altogether the six new developments will bring 2,256 new units to Laughlin, a town that had a 7,076 population in the 2000 census.

TOP OF NEXT COLUMN
Harrah's has brought back one of its most popular customer promotions - this time with a $1 million twist. Harrah's Hidden Jackpots was an instant favorite when the casino company introduced it in 2005, giving customers a chance to win up to $25,000 each promotional day. Now, Harrah's has brought the promotion back - and this time, customers have a chance to win $1 million every day. One customer from the 33 casinos hosting Hidden Jackpots-themed promotions around the country is guaranteed to win $1 million+ on the promotion's final day, but there is also be a "floating" $1 million prize available at each participating casino.
The $1 million prize "floats" from one Total Rewards account to another throughout the promotion. Players who swipe their Total Rewards card at Harrah's Laughlin have a chance to win the floating $1 million on any given day during the promotion. If the $1 million is assigned to a player's account when the customer swipes his or her Total Rewards card at a designated casino, the player wins the floating $1 million.
As if that isn't enough, Harrah's Laughlin customers who swipe their Total Rewards cards on promotional days also have a one-in-five chance to win cash and prizes. The Hidden Jackpots promotion runs through March 11.
On Sundays between noon and 5 p.m., the first 1,000 Harrah's Laughlin customers to swipe their Total Rewards card receive a free disposable instant camera and a WinFinder key chain for a chance to win cash and prizes. Customers who stay and play to see if their WinFinder lights up may redeem their lighted WinFinder at the Total Rewards Center. One in 10 WinFinders illuminates during the day, awarding customers a chance to win cash valued anywhere from $5 to $100, bonus Total Reward credits valued from 500 to 10,000 credits, or an entry into the $1 million giveaway drawing.
Harrah's Laughlin guests may earn entries for the Hidden Jackpots 5 p.m. daily drawing through March 11. Three daily drawing winners have a chance to select a Harrah's wrapped gift box. One gift box contains $100 cash; the second $50; the third $25. In addition, each gift box also contains 1,000 Bonus Reward Credits and an invitation to return for the final drawing on Mar. 25, for a chance to win the $1 million.
The invitation includes three complimentary nights from March 23 to 25; 50 entries for the Harrah's Laughlin Finalist drawing and one entry into the Harrah's Laughlin Daily Drawing Winner final drawing. Only daily drawing winners are eligible for the daily drawing final drawing on March 25.
Qualifying has begun for players wanting to participate in the Colorado Belle's 3-Card Poker Tournament, Feb. 25-27, in the property's Mardi Gras Room. It will feature an Early Bird Tournament on Feb. 25, followed by regular tournament play on Feb. 26 and 27. Offering more than $17,000 in total prize money, the event is a satellite tournament for the Shuffle Master Three Card Poker World Championship in Las Vegas scheduled for November 2007. At the end of Colorado Belle's tournament, one player will be selected by drawing to play in the Las Vegas tournament. The final outcome of Colorado Belle's tournament will not be the deciding factor on who will win a seat at the Shuffle Master event.
Entry fee for Belle's event is $130 and includes a room for three nights and a cocktail party, call 877-480-2747.
CONTINUE ON TO...:
>THIS WEEK'S LAS VEGAS NEWS
>LAST WEEK'S LAUGHLIN NEWS
>VEGAS VIEW FULL ARCHIVES
>Return to "Heard Around Town"
>Return to Las Vegas Leisure Guide