HARRAH'S WILL PRESENT DINNER & DANCING WITH BRIAN EVANS
Harrah's is promoting romance over Valentine's Day weekend by offering "Dinner & Dancing with Brian Evans" in the Fiesta Showroom, Feb. 13-15. Tickets are $65 for the 7 p.m. shows on Feb. 13 and 15, and $75 on Feb. 14, call 702-298-8510.
Crooner Brian Evans and his band will be featured while guests enjoy an evening of dining on a three-course meal consisting of a salad, steak entr'e and chocolate black cherry torte for dessert.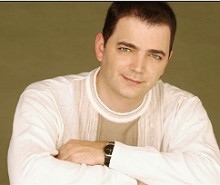 Evans has opened for legendary artists such as Dionne Warwick, Lou Rawls, Frankie Valli and comedian Jay Leno and been covered in "People" magazine, "USA Today," and "Grammy Magazine."
Evans was born in Haverhill, Mass. At age 11, he knew there was something different about him. While most kids were spending their adolescence listening to rock stations and rap, he was listening to old-time crooners like Frank Sinatra and Dean Martin.
His long journey began as an actor, appearing on TV commercials for candy bars such as Twix and for McDonalds. He quickly moved into making movies such as "Death Wish 4: The Crackdown" (1987) with Charles Bronson and "Book of Love" (1990) playing the role of Schank.
Evans went on to make a guest appearance on a new TV series called "Beverly Hills Brats." He appeared on the pilot episode, which was a 90-minute TV movie special that was later renamed "Beverly Hills, 90210." While waiting to see what happened with "90210," Evans took a guest spot on "Full House" (1987) playing the role of Keanu, the boyfriend of Kimmy, played by Andrea Barber.
Evans, however, wanted to be a crooner rather than an actor. He made a CD and released the album in Canada so he could leave his acting career open. The CD was released to rave reviews and climbed to No. 1 on the HMV Music Chain charts for independent musicians, and the funny thing was that reviewers raved about how great the band was on this new CD, when the "band" was actually karaoke tracks. That CD led to Evans being asked to perform at the Desert Inn in Las Vegas, where his idol Sinatra had performed for years. He has since performed at Bally's, the MGM Grand and the Tropicana.
While performing at the Desert Inn, Evans signed a record deal to record and license his albums, now more than 17 CDs, to countries throughout Asia. His records are released in Singapore, Malaysia, Hong Kong, Thailand, The Republic of China and The Philippines, and he just released a new CD in the United States to rave reviews, featuring his remakes of such classic 80s hits as Van Halen's "Jump" and The Fine Young Cannibals' "She Drives Me Crazy," along with his original song "You."
SAMMY'S BY THE SHORE
On Feb. 24, The River Palms will bring back comedy when it opens Sammy's by the Shore, like in Sammy Shore the comedian's comedy club.

TOP OF NEXT COLUMN
DIAMOND RIO VISITS LAUGHLIN FOR THE FIRST TIME
The award-winning country band Diamond Rio will be headlining at Don Laughlin's Riverside, Feb. 3-8. Tickets are $35.50 for their 8 p.m. shows.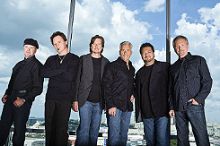 Diamond Rio has long been one of country music's most successful groups. The band released its platinum-selling debut disc in 1991. The following year, they won the Country Music Association's Vocal Group of the Year award for the first time and in tota,l they've been so honored six times. They've scored nine No. 1 hits, placed 15 singles in the Top Five, and sold more than 10 million records. The group has always been known for songs that convey hope and celebrate faith such as the No. 1 hit "I Believe," "Mama Don't Forget to Pray for Me" and the poignant "God Only Cries."
For more than two decades, the members of Diamond Rio have been making music together. In a competitive industry where band members come and go, there have been no personnel changes and they attribute that stability to being friends on and off stage.
THE GRASS ROOTS SET TO HEADLINE AT TROPICANA EXPRESS
The Grass Roots starring Rob Grill will headline at the Tropicana Express in the Pavilion Showroom on Feb. 7 at 8 p.m. Tickets are $20, 25 and $35, call 800-243-6846.
The Grass Roots are a highly successful rock and roll group that consistently produced quality music in their heyday from 1966 to 1975. Although they never attained a No. 1 hit on the charts, they were consistently in the top end of popular music in the turbulent rock music scene. Radio play was a big factor in their history. They managed to be one of the top picks of disc jockeys and enjoyed frequent requests from listeners.
From 1967 to 1972, The Grass Roots set a record for being on the Billboard charts 307 straight weeks. They are one of only nine bands that have charted 29 or more Top 100 Billboard singles. They have sold more than 20 million records worldwide. They hold the all time attendance record for a one act, the US concert of 600,000 people on July 4, 1982, in Washington, DC.
They have appeared on more than 50 national television shows. Many of their hits are still seeing heavy rotation on oldies stations. They achieved one platinum album, two gold albums, 13 gold singles and charted singles a total of 29 times. In their home state of California, they were rock and roll legends and enjoyed heavy rotation of their songs as local heroes.
QUICK CLIPS
"The Rat Pack" is headlining at Don Laughlin's Riverside through Jan. 31. Tickets are $30 for the 7 p.m. shows.
That world of gems and stones gets its time in the spotlight each January in Laughlin in the form of Cloud's Jamboree, which is a confab of lapidary experts and vendors and jewelry makers of all types, even those with the A-List stones of diamonds and sapphires. This year, Cloud's Jamboree is centered at the Avi. Now through Jan. 31, vendors are set up adjacent to the KOA RV Park and through Jan. 26 at the Avi's River Garden Pavilion.
CONTINUE ON TO...:
>THIS WEEK'S LAS VEGAS NEWS
>LAST WEEK'S LAUGHLIN NEWS
>VEGAS VIEW FULL ARCHIVES
>Return to "Heard Around Town"
>Return to Las Vegas Leisure Guide