NE-YO TO PERFORM AT THE PALMS


Grammy-award winner Ne-Yo is set to perform at The Pearl Concert Theater inside the Palms on Thursday, Feb. 5, as part of the Year of the Gentleman Tour with special guest Jazmine Sullivan. Tickets are $69, $59 and $49, call 702-474-4000,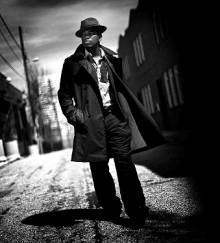 In 2006, Ne-Yo hit the R&B scene with a style all his own - a mix of classic sounds with a modern twist. His debut album, "In My Own Words" hit No. 1 on the Billboard 200 and solidified his role as an artist to watch. The Las Vegas native's sophomore album, "Because of You," also peaked at No. 1 on the Billboard 200 and brought Ne-Yo much acclaim when we won Best Contemporary R&B Album at the 2007 Grammy Awards. His most recent album in 2008 is "Year of the Gentleman."

Column Continues Below Advertisement


BOBBY SLAYTON ENDS HOOTERS RUN
"The Pitbull of Comedy" aka Bobby Slayton will end his rein of biting comedy at Hooters on March 8. The last performance will mark Slayton's 500th show in the Night Owl Showroom, where he opened in the spring of 2007.
This spring, Slayton will be shooting a TV pilot and taping a DVD. He will once again host the "Nasty Show" in Canada and hopes in the future to return to Las Vegas. Before his Hooters gig, he was voted "Funniest Male Stand-up Comic of the Year" by The American Comedy Awards. He also appeared in movies such as "Get Shorty," "Ed Wood," "Bandits" and most recently "Dreamgirls."
Over the next few months, Hooters will be announcing a new line-up in the Night Owl Showroom.
BONKERZ COMEDY CLUB OPENS AT PALACE STATION
On Jan. 15, the Bonkerz Comedy Club national chain opened its first West Coast location at Palace Station. The showroom, formerly known as Sound Trax, features different comedians every week with five show times are offered Thursday, Friday and Saturday evenings. Tickets are $29.95.
Bonkerz Comedy Club was founded in 1984 by Joe Sanfellipo, who still owns and operates nearly 20 locations. After first opening in Milwaukee, Sanfellipo later moved the headquarters to Orlando, Fla. Carrot Top and Larry the Cable Guy got their start at Bonkerz.
The acts this month are Dean Napolitano with Kathleen Dunbar - Jan. 15-17 and 22-24, and Big Tony Esposito with Aaron Bowden - Jan. 29-31.
Napolitano was born in New York and raised in the South. His TV credits include guest appearances on ABC's "What About Brian," NBC's "Heroes" and CBS's "Good Morning America," among others. Lee is a most outrageous grandmother with unorthodox views on family and life. She has made appearances on the HBO network and on the NBC show "Last Comic Standing."
CITYCENTER SCOPE CHANGES
CityCenter Holdings, LLC, a joint venture between MGM MIRAGE (NYSE: MGM) and Infinity World Development Corp, recently announced certain scope changes related to The Harmon Hotel & Spa, which include postponing the opening of the hotel to late 2010 and canceling The Harmon's approximately 200 residential condominium component. CityCenter will be a 67-acre vertical city on the Las Vegas Strip and The Harmon, which will have approximately 400 rooms and suites, is just one component of the whole complex.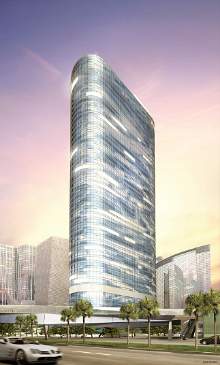 All other components of CityCenter remain on schedule for a December 2009 grand opening. Other properties will include: the centerpiece 4,000-room Aria Resort & Casino; The Mandarin Oriental Hotel & Residences with 400 hotel rooms and 227 residential units; Veer Towers with 670 residential units in two towers surrounded by retail, restaurants and entertainment; and Vdara a 1,495 hotel-condominium tower. Crystals retail and entertainment complex will offer approximately 76 high-end fashion, boutiques along with dining and entertainment venues.
GOLDEN NUGGET EARNS AAA FOUR DIAMOND AWARD FOR 32ND YEAR
The Automobile Association of America (AAA) has named the Golden Nugget downtown as one of its coveted 2009 Four Diamond award winners for the 32nd consecutive year. Only 14 hotel establishments in the United States have earned the revered Four Diamond rating for 32 consecutive years or longer, and the Golden Nugget remains the only Four Diamond award winner on the historic Fremont Street Experience.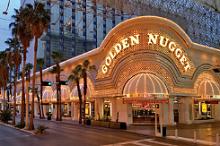 Nevada hotels claimed 19 AAA 2009 Four Diamond awards and 17 award winners are located in Las Vegas and Henderson. The AAA awarded 1,224 hotel Four Diamond awards throughout the United States for 2009. AAA Four Diamond hotels and restaurants represent just 3.4 percent of the 58,000 AAA Approved and Diamond Rated properties.
Since 2005, the Golden Nugget has undergone a $170+ million property-wide renovation and expansion project which added new restaurants, upgraded hotel rooms, new nightlife venues and a world-renowned $30-million pool and shark aquarium called The Tank. Later this year, the property will complete its new $150 million, 500-room hotel tower that will add more gaming, dining, accommodations and entertainment options.
WAYNE COTTER TO HEADLINE RIVIERA COMEDY CLUB
Wayne Cotter will headline the Riviera Comedy Club with fellow comedians Bruce Clark and Johnny Pizzi, Jan. 26-Feb. 1. Tickets for the 8:30 and 10:30 p.m. shows are $24.99, call 702-794-9433.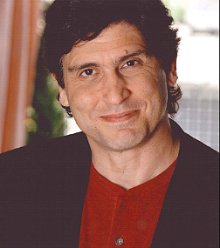 Cotter has appeared many times on David Letterman's show, and with Jay Leno, he has a recurring role as a roving reporter on "The Tonight Show."
He's hosted the Fox Television Network series "Comic Strip Live" for many years, and was seen in the feature film "Spy Hard." He also served as host of the long-running Discovery series "Amazing America."
ANNUAL CANON CELEB FUNDRAISER HELD AT BELLAGIO
The 10th annual Canon U.S.A. fundraiser for missing and exploited children was held a week ago in the Bellagio Grand Ballroom with more than 800 guests and a big silent auction. The event raised $454,000 and was followed the next day by a Celebrity Gold Tournament at TPC.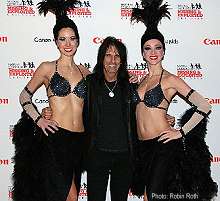 Among the impressive Red Carpet celebrity lineup hosted by Jaki Baskow and Las Vegas headliner Clint Holmes were: rocker Alice Cooper, Davy Jones (The Monkees), Domenick Allen (Foreigner), actors Alan Thicke (Growing Pains, How I Met Your Mother), Steven Weber (Brothers & Sisters), Chris Rich (Boston Legal), Joel Gretsch (4400, National Treasure 2) Bryan Cranston (Emmy winner for Breaking Bad), Kevin Sorbo (Hercules, Andromeda), Bailey Chase (Saving Grace, Ugly Betty), Ed Marinaro (Urban Legend, Hill Street Blues), soap stars Kevin Dobson, Michael Storm, actresses Rasheda Ali (Mohammed Ali's daughter), Paula Trickey (The O.C., Pacific Blue), Shawnie Costello (The Man Show, WWF), Richard Karn (Home Improvement, Family Feud), and many more actors plus NFL and other sports figures, entertainers, and even an astronaut.
"CINEVEGAS FROM THE VAULT" SCREENING SERIES CONTINUES
The "CineVegas From the Vault" screening series will start up again next month and continue to showcase films that CineVegas has either premiered or shown throughout its history. The free screenings are open to the public and held at 7 p.m. at the Clark County Library, located at 1401 E. Flamingo Road.
"4th and Life," which is about the championship football game between two of the largest and most dangerous penitentiaries in the South, will be screened on Thursday, Feb. 5. On Thursday, March 5, the series will feature "The Living Wake," which is a dark comedy chronicling the final day of K. Roth Binew, a quixotic character, who attempts to probe life's great mysteries before his final hour.
The 11th Annual CineVegas Film Festival will be held in June at the Palms.
STRIP HOUSE UNVEILS NEW BURGER
The steak restaurant Strip House located in Planet Hollywood

has unveiled the Strip House burger, which is served exclusively at the bar and in the lounge for $16.50 with a choice of cheese, toppings and side dish. Strip House was recently recognized as the home of the "best steak" by Citysearch, the only steak house awarded four stars in Forbes Magazine's "All Star Eateries 2008," a "celebrity hot spot" by People.com, and one of the top 10 new restaurants in Las Vegas by Zagat's "Best of Las Vegas 2008."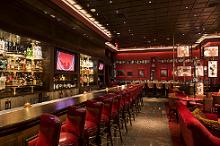 TERRIBLE'S PROMOTES 'WORLDS COLLIDE' MMA TOURNAMENT
Terrible's Primm Valley Casino Resorts in association with Roy Englebrecht Events will present "Worlds Collide," a boxing and mixed martial arts (MMA) tournament with bouts sharing the same ring on the same night. The six-show series set for Saturday nights in 2009 will debut at 7 p.m. on Saturday, Feb. 14 in the Star of the Desert Arena at Buffalo Bill's Resort located in Primm, Nev., which is about a 35 minute drive from Las Vegas.
Tickets are $20, $35 and $45, call 800-FUN-STOP. As part of Terrible's Primm Valley Casino Resorts complimentary ticket, 500 free tickets will be available for the event at www.primmconcerts.com.
Quarterfinals are set for Feb. 14, April 18, June 20 and will feature four boxing and four MMA quarterfinal bouts on each of the dates. Winners will advance to the semi finals on Aug. 22 and Oct. 17, with the finals set for Dec. 5.
QUICK CLIPS
This week, Madame Tussauds at The Venetian unveiled its newest wax figure, our 44th President Barack Obama, in the Spirit of America room.
Ann Wilson and her younger sister, Nancy, first showed the world that women can rock when their band, Heart, stormed the charts in the '70s and continued their success on charts through the '80s and into the '90s. Heart will perform at the Las Vegas Hilton Feb. 6 and 7.
"PEEPSHOW" starring pop superstar and television personality Mel B and television siren Kelly Monaco will be a highly-stylized modern burlesque show that will open at Planet Hollywood on March 30. From March 30 - April 17, preview performance ticket prices will range from $59 - $91. After that, prices will range from $65 - $100 plus and the show's dark night will be Wednesday.
MonteLago Village at Lake Las Vegas will hold its Inaugural Chili Cook Off fundraiser on Jan. 24 and draw competitors from around the country. Sanctioned by the International Chili Society, the cooks will compete to produce the best Red Chili, Chili Verde and Salsa, and a People's Choice Award will allow the public to vote for their favorites. There will be free admission aside from food and beverages, a raffle for prizes, entertainment, and a 25 percent discount at all MonteLago Village restaurants and shops. For information, call 702-533-2100 or e-mail at chanthywalsh@yahoo.com.
The Eastside Cannery on Boulder Highway will use The Ballroom on Feb. 14 for "The Temptations Review featuring Dennis Edwards." Tickets range from $19.95 to $39.95.
Barry Manilow, who is headlining at the Las Vegas Hilton this weekend Jan. 16-18, recently received a Grammy nomination for Best Traditional Pop Vocal Album for his holiday album, "In The Swing of Christmas." The Grammys will be televised on Monday, Feb. 9, on CBS. Manilow has been headlining at the Hilton since 2005.
The next Rock 'n' Roll Wine event will be held on Friday, Jan. 23 from 7 to 10 p.m. at the LAX Nightclub in the Luxor and feature more than 30 wines and an indie band from LA called The Tender Box. Tickets are $35 in advance and $40 at the door, call 702-240-3066.
For Valentine's Day, ethel'sr Chocolate in Henderson along with its other romantic selections is introducing The Romance Revival Collection presented in keepsake heart-shaped boxes. One heart holds 19 pieces of chocolate for $28, coupled with a larger heart, which holds 32 pieces of chocolate for $38. To order by phone, call 800-471-0352.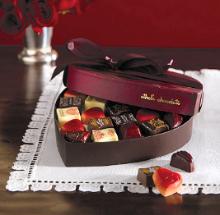 The Mirage is celebrating its 20th anniversary by offering vino-loving guests the chance to purchase bottles of wine at 50 percent off the regular price. Every Tuesday and Wednesday, half-priced bottles of wine are available for purchase at Onda Wine Lounge, kokomo's steak and seafood, Samba Brazilian Steakhouse, Caribe Caf' and Cravings.
The Hilton's new "Coffee Corner" is in the former Le Montrachet restaurant location next to the convention area and offers Seattle's Best coffee, fresh pastries and artisan sandwiches.


CONTINUE ON TO...:
>THIS WEEK'S LAUGHLIN SEGMENT
>LAST WEEK'S LAS VEGAS SEGMENT
>VEGAS VIEW FULL ARCHIVES
>Return to "Heard Around Town"
>Return to Las Vegas Leisure Guide