COUNTRY SUPERSTAR ALAN JACKSON VISITS LAUGHLIN!
A giant in country music, Alan Jackson will headline the Laughlin Event Center, an outdoor concert venue the whole town shares, on Saturday, Feb. 25 at 8 p.m. Tickets range from $40 to $200.
The singer-songwriter from rural Newnan, Ga., has sold nearly 60-million albums worldwide, ranks as one of the 10 best-selling male vocalists of all-time in all genres, and was listed as one of the Top 10 Country Artists of All-Time by Billboard. Jackson is in the elite company of Paul McCartney and John Lennon among songwriters who've written more than 20 songs that they've recorded and taken to the top of the charts. Jackson's 20th studio album, "Angels and Alcohol," released in mid-2015 topped the country album charts with seven of the 10 tracks written by him.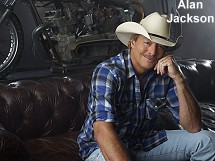 Jackson has released more than 60 singles - registering 50 Top Ten hits and 35 No. 1s. He has earned more than 150 music industry awards - including 18 Academy of Country Music Awards, 16 Country Music Association Awards, a pair of Grammys and ASCAP's Founders and Golden Note Awards. Jackson received the first-ever ASCAP Heritage Award in 2014 having earned the title of most-performed country music songwriter-artist of ASCAP's first 100 years. He is a member of the Nashville Songwriters Hall of Fame and the Grand Ole Opry.
TRAVEL NOTE
American Airlines will begin nonstop service between Phoenix Sky Harbor International Airport and Laughlin-Bullhead International Airport on Feb. 16, 2017.
IT'LL BE 'DEAL MAKING' TIME AT THE EDGEWATER
Based on the Daytime Emmy Award-nominated hit CBS TV show, "Let's Make A Deal Live!" is an interactive on-stage experience giving audiences the chance to play the game and make deals for cash and prizes just like on TV. "Let's Make A Deal Live!" with "Antiques Roadshow" celebrity host Mark L. Walberg, will take over the Edgewater E Center Friday-Sunday, Feb. 10-12 with 7 p.m. shows. Tickets range from $25 to $65.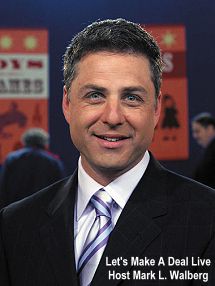 The game show is travelling across the United States, giving everyone a shot at winning big by making the right choices between the curtain or the box. The decision is the player's to choose wisely or to possibly end up with a "Zonk." Cash and prizes are given out at each and every show, including "Quickie" deals, where audience members are called upon to produce random items or answer questions. And just like on TV, each show culminates with one lucky "Trader" having a chance at the "Big Deal of the Day," worth more than $15,000.
Contestants are randomly selected from the audience. In the spirit of the hit TV show, everyone's encouraged to get wild, crazy and creative with their chosen attire, although costumes aren't required.
SHOOTER JENNINGS HEADLINES AT THE RIVERSIDE
Shooter Jennings with Waymore's Outlaws will perform in Don's Celebrity Theatre at the Riverside Resort Feb. 2-4 at 7 p.m. Tickets are $30.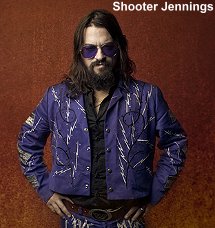 Jennings, the only son of country legends Waylon Jennings and Jessi Colter, literally spent his childhood on a tour bus. Jennings was playing drums by the time he was 5 years old and discovered guitar at age 14. By age 16 he embraced Rock 'n' Roll particularly Southern rock and the loose-limbed hard rock of Guns N' Roses. In early 2014, Jennings teamed up with Waymore's Outlaws, his father's original recording and touring band, and began touring performing country classics, plus both his dad's and his own material. The tour became an instant success and even landed a headlining spot at the 2014 CMA Fest. Jennings continues to tour with his father's band while also producing material through his own record label, Black Country Rock.
LAUGHS CONTINUE AT EDGEWATER COMEDY CLUB
At the Edgewater every Friday, Saturday and Sunday, the "Comedy on the Edge" shows provide audiences with laughter in the recently renovated Inferno Showroom. Two stand-up comedians are featured at 7 p.m. Tickets are $15 with a $2 discount on Sundays for U.S. veterans with an ID.
Comedians providing jokes in the future include: Jan. 27-29 Robert Duchaine with Pete Hall; Feb. 3-5 Johnny Beehner with Nola J; Feb. 10-12 Luis Villasenor with Daniel Storrow; Feb. 17-19 Tim Gaither with Tony Vinh; and Feb. 24-26 Spencer Dobson with Akeem Woods.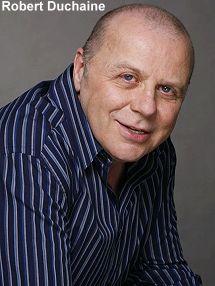 Robert Duchaine will appear with Pete Hall Jan. 27-29. Duchaine, a surly misanthrope, makes fun of everyday events, pokes holes in regular beliefs and common sense. His sarcastic social commentary makes fun at a myriad of topics including race, religion, and relationships. The 22-year comedy veteran has been kicked out of every organization he was ever forced to join, from the Cub Scouts to the U.S. Army, and fired from every job he ever finagled. He finally found refuge with the stand-up comedy stage and has performed with many major comedians in the country including David Spade, Damon Wayans, Robin Williams, Lewis Black and Bobby Slayton in clubs across the country. Duchaine's unique perspective fuels his act and pushes the envelope.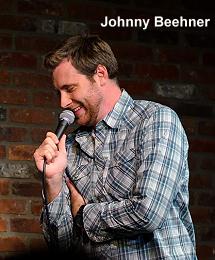 Johnny Beehner is paired with Nola J Feb. 3-5. Beehner is silly, likeable, and fun. He's been on the comedy circuit since 2002, telling self-deprecating jokes about being married and a new dad. He has a background in improvisational theater including training at Chicago's prestigious Second City and Upright Citizens Brigade in Los Angeles. Beehner's network television debut was in January 2015 as one of the last comedians to appear on the "Late Show with David Letterman." He has made numerous appearances on FOX's "Laughs" television show, has appeared on AXS TV's "Gotham Comedy Live," and regularly appears on the nationally syndicated "Bob & Tom Show." Beehner won first place in Comcast's 2014 season of "Trial By Laughter" and was named one of Ricky Gervais' Top 5 picks in the "Just Sayin'" stand-up contest.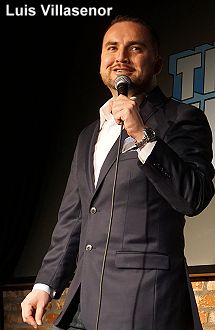 Luis Villasenor will be on stage with Daniel Storrow Feb. 10-12. A 12-year veteran of comedy, Villasenor tells family jokes, personal anecdotes, and his observations of daily events in his own smart ass way. In 2010, he started headlining his own shows. In 2011, he was named Pechanga's Top Grossing Latin Performer of the Year at the Comedy Club and regained the honor in 2012. He's even unleashed his humor in a comedy album.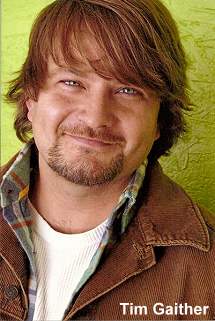 Tim Gaither will share the spotlight with Tony Vinh Feb. 17-19. Gaither's edgy stand-up comedy has been keeping audiences in stitches for 18 years. The Midwest native, now living in Hollywood, got hooked to comedy at age 5 when in church his response to a question from the preacher made everyone laugh. The seasoned comedy veteran has performed in almost every state in the United States as well as in Canada and Korea for the U.S. troops. He is a regular Vegas headliner and recently filmed an hour special at the Tropicana. All ages and ethnicities are Gaither's audience and he is a heckler's nightmare. Great material, quick wit, and a wide range of original characters and stories, all spun together with Midwestern charm make his show a must-see.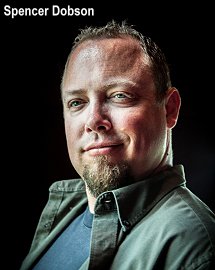 Spencer Dobson will team with Akeem Woods Feb. 24-26. Dobson also a Midwestern comic has entertained audiences for more than 20 years with his jokes, covering all the bases - current events, family, love, technology…the works. He has performed in clubs with Chris Rock, Brian Regan, Daniel Tosh, Doug Stanhope and Nick Swardson. Also a multimedia comic, Dobson created an animated web series called "Cartoons." The episode "My Friends Are Having Kids" was accepted into the WideScreen Film Festival in Miami, Fla.
TOP OF NEXT COLUMN
RICK THOMAS WILL BRING MAGIC TO HARRAH'S
Illusionist Rick Thomas will bring his magic show to the Fiesta Showroom at Harrah's Tuesday-Sunday, Feb.14-19. Tickets are $35.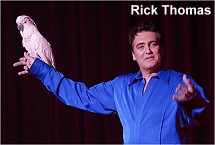 Among Thomas' high honors are the coveted "Magician of the Year" by the Academy of Magical Arts and "Stage Magician of the Year" by the Worlds Magic Awards. Thomas as a premier illusionist has completed five world tours covering more than 50 countries. He performed for more than a decade headlining his own show in Las Vegas and been featured on numerous national television specials including the NBC specials "The World's Greatest Magic" and his own special on ABC that aired throughout Asia. Thomas' illusions involve exotic birds and motorcycles in addition to jungle cats.
THE OAK RIDGE BOYS MAKE TOUR STOP AT THE RIVERSIDE
The Oak Ridge Boys with their recognizable four-part harmonies and upbeat songs will visit the Riverside Resort Feb. 6-12 at 7 p.m. plus with 3 p.m. matinees on Feb. 7-9 and 11. Tickets are $38.50.
The Oak Ridge Boys have spawned dozens of country hits and a No. 1 Pop smash tune "Elvira," which earned them Grammy, Dove, CMA, and ACM awards. The vocal quartet brings four decades of charted singles, and 50 years of tradition, to a stage show each time. The group is known for singing about love - not cheating or drinking - because their songs are meant to last.
CRYSTAL GAYLE WILL SING AT THE RIVERSIDE
Award-winning American Country music singer Crystal Gayle will appear in concert at the Riverside Resort Feb.16-19 with 7 p.m. performances. Tickets are $30.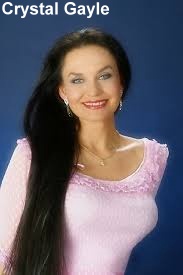 Over the years, Gayle has accumulated 20 No. 1 country hits with six certified Gold records. She was the first female country artist in history to reach Platinum sales with her album "We Must Believe in Magic," which included her most recognizable smash hit "Don't It Make My Brown Eyes Blue."
Actually born Brenda Gail Webb, it was her older sister, Loretta Lynn, who suggested the name "Crystal" at a time when Brenda Lee was already a big music industry star. In the late 70s, Gayle was the star of her own hour prime time specials on CBS television.
Gayle's list of platinum and gold records was matched only by her awards and accolades. She was CMA's "Female Vocalist of the Year," and for two consecutive years became a Grammy Award Winner for "Best Female Vocal Performance." Gayle is the recipient of three "American Music Awards," voted by the nation as America's "Favorite Female Artist." She also received a star on the fabled Hollywood Walk of Fame in October 2009.
LITTLE RIVER BAND WILL PAY A VISIT TO THE AVI
Little River Band considered one of Australia's most significant bands will perform at the Avi on Saturday, Feb. 11 at 8 p.m. Tickets are $30 to $50.
Little River Band was formed in Melbourne in 1975 and was originally a blend of musicians who had enjoyed success in other Australian rock acts. Their new focus was to get airplay on American radio, and they achieved that goal with good songwriting, powerful vocals, and guitar harmonies. Their worldwide album and CD sales now top 30 million. The band also set a record for having Top 10 hits for six consecutive years... the first band to achieve that mark. LRB was inducted into the Australian Recording Industry Association (ARIA) Hall of Fame in 2004.
TROPICANA HOSTS NOSTALGIA SHOWS
At the Pavilion Theater inside the Tropicana, two upcoming shows will be trips down memory lane. Shows are at 8 p.m. and tickets are $15.
"The Pack - Tribute to Frank, Dean and Sammy" will envelop the stage on Saturday, Jan. 28. This musical tribute will present Frank Sinatra, Dean Martin and Sammy Davis, Jr. as The Pack and explore their familiar hit tunes.
On Feb. 11, it will be "Dames of the Past" with music from the 40s, 50s, and 60s. Audiences will listen to the harmonies of favorite hits of the three decades by past lady singers with dynamic vocals, stylish choreography, sophisticated costumes, and witty repartee.
RIVERSIDE HOSTS JOHNNY CASH TRIBUTE SHOW
"Man in Black-A Tribute to Johnny Cash" starring Shawn Barker will appear at the Riverside Resort Feb. 22-26 at 7 p.m. Tickets are $30.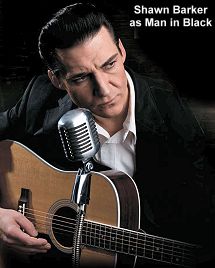 Barker from St. Louis, Mo., started his musical career as an Elvis tribute artist and was very successful in spite of there being an over-saturated Elvis market. When he auditioned for a Hollywood production of "The Million Dollar Quarter" about SUN Records recording artists Elvis, Cash, Carl Perkins and Jerry Lee Lewis, the director requested he also try another artist. Barker took on Cash and again was so successful convincing and the producer was so impressed he created the "Man in Black" show. Barker has been touring the show since 2005. He is considered the pre-eminent Johnny Cash tribute artist with an uncanny resemblance to the younger Cash and stunningly accurate and remarkably authentic portrayal. Barker is also an accomplished musician and singer-songwriter.
AT THE AVI, TRAVIS LEDOYT PAYS TRIBUTE TO ELVIS
"Travis LeDoyt - A Tribute to the King" will be held in the Avi Grand Ballroom on Saturday, Jan. 28 at 8 p.m. He is considered one of the "world's best" at portraying young Elvis Presley and recreating a 1950s concert by the "King of Rock and Roll." Tickets are $15.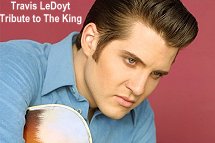 LeDoyt, who is based in Nashville, grew up being exposed to a broad variety of musical styles, from country to swing, to Rock 'n' Roll, as well as classical. He began piano lessons at the age of 9 and before long was writing his own songs. LeDoyt has built quite a reputation for himself, not only because he naturally looks like Elvis Presley, but his performances are spot-on with the voice, movements on stage, wit and personality of Elvis Presley. LeDoyt makes his way into the audience to sing and mingle with his sell-out crowds.
FUTURE LAUGHLIN EVENTS
The 26th Annual "Bids for Kids Auction" fundraiser for the Boys & Girls Clubs of the Colorado River sponsored by Horizon Community Bank will be held in the Aquarius Ballroom on Saturday, Jan. 28. The event features a live and silent auction and includes a meal. Items up for bid include sports memorabilia, kids art, home and garden, travel, entertainment packages, personal and fitness services, pet supplies, automotive, jewelry, etc. Tickets are $25 advance/$30 at the door.
The 23rd Annual Avi Kwa Ame Pow Wow will be held Friday and Saturday, Feb. 17-18 at the Mojave Crossing Event Center in Arizona across the river from the Avi. Native American tribes from across the country converge for ceremonial dances, songs, drums and more. The public is invited to view some of the events on Friday at 6 p.m. and Saturday at 6 p.m. (both Arizona time). Cost is $5 per day or $8 for a two-day pass; check out the Avi's website for information.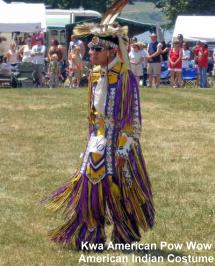 The Mardi Gras Festival On The Riverwalk is set for Feb.17-19 featuring southern style food and free live zydeco and Cajun entertainment by the Mark St. Mary Band and the Vegas Strip Kings on the Loading Dock stage at the Colorado Belle.
The following weekend, Feb. 24-26, will feature Country Hoedown On The Riverwalk at the Loading Dock with country entertainment by Guitar & Cadillacs and Chris Johnson & The Hollywood Hillbillies plus country cookin' and plenty of beer.
The Bullhead Area Chamber Ambassadors will present Taste of Bullhead - "Puttin' on the Ritz" on Saturday, Feb. 25 from 5-10 p.m. Arizona time. Tickets are $40 single and $75 for a couple, call 928-754-4121 to reserve tickets.
The 6th Annual Smokey Hayes BBQ "Porkin' on the River" competition will be held in the Front Parking Lot at the Pioneer on Friday and Saturday, March 3-4. The event will be a two-category BBQ competition of pork ribs and pork shoulder and also a "One Bite Beef Challenge" on Friday. There will be vendors, food available and a beer garden both days.
On Saturday, March 4 at 9 a.m., The Connie Davis 5K Walk for Cancer will be held at Pyramid Canyon Day Use Area in Greenway Park and Trails. This is a fundraiser walk sponsored by the Laughlin Chamber of Commerce in the area on the river across from Davis Dam. There will be an "After Event Party" with food/drinks at the finish line catered by Chef Paul Terry, music by Billy Kay, and raffles. Registration is $20, which includes T-shirt and goodie bag (while supplies last); call the Laughlin Chamber of Commerce at 702-298-2214, ext. 0.
The Shamrocks & Shenanigans On The Riverwalk event will be held March 17-19 with authentic Irish entertainment on the Loading Dock Stage for the Irish festival along with beer and Irish food.
Amateur Athletic Union (AAU) North American Weightlifting, Powerlifting, Feats of Strength/Strongman & MAS event will be held at Harrah's Ballroom and Rio Vista Amphitheater Friday-Sunday, April 7-9. Drug free athletes compete in both indoor and outdoor events in men's/women's/youth divisions.
The Riverside was named the official host hotel for the 2017 Polaris RZR UTV World Championship taking place April 13-15. This event will feature two world championship UTV races, including a Best In The Desert Championship point race and a sort course UTV Championship race. A youth RZR 170 championship race is also planned for the third year in a row. The three-day UTV World Championship event format will feature one day of racing, contingency and tech in front of the hotel, and a day of demo and enthusiast rides and more.
CONTINUE ON TO...:

THIS WEEK'S >LAS VEGAS NEWS
LAST MONTH'S >LAUGHLIN NEWS
>VEGAS VIEW FULL ARCHIVES
Return to >"Heard Around Town"
Return to >Las Vegas Leisure Guide