SKY DINING NEW VEGAS EXPERIENCE



The "uplifting" Dinner in the Sky adventure that has been available in other countries is now being offered in Las Vegas through www.lasvegas event planner.com. Dinner in the Sky is an experience where you're seated at a rectangular table that can accommodate up to 22 people and hosted 180 feet in the air by a crane. The table remains suspended while you dine. The three-to-five member wait staff serves from the middle of the rectangle on a platform and naturally everyone is strapped securely in their chair by a four-point seat belt.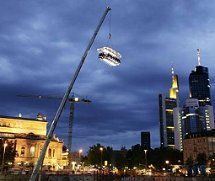 The flexibility of Diner in the Sky is the crane, given permission, can be taken to different locations. The views are extraordinary especially with the seats rotating up to 180 degrees and the height even for the timid is really not an issue. The empty table weighs five tons so the lifting movement is very uneventful, smooth and fun.

Column Continues Below Advertisement


An option is to have a second crane with a platform for music, a photographer, presentations, etc.
It seems everyone's question is what happens if you have to go to the restroom. Well, like in a normal restaurant, you ask where it is and the entire table will be lowered to accommodate your needs. Also, it is a weather permitting experience.
Many industry folks got to experience Dinner in the Sky firsthand and it is totally exhilarating and highly recommended. Dinner in the Sky can be rented for special events and we'll let you know if it opens up for the public.
BELLAGIO's CONSERVATORY WILL CELEBRATE CHINESE NEW YEAR
Beginning Jan. 14, Bellagio's Conservatory & Botanical Gardens will celebrate the 2009 Chinese New Year, the Year of the Ox, which runs from Jan. 26, 2009 to Feb. 12, 2010, with a display guided by the ancient practice of Feng Shui.
The dramatic centerpiece will be a botanical 15-foot-long ox cooling off in a tranquil pond. His full coat will be comprised of more than 10,000 living Alternanthera, a low-growing herb, while his gleaming horns will be made with a golden-hued metal.
Legend has it that Buddha asked all the animals to meet him on Chinese New Year. Twelve came. The second animal in the Asian zodiac, the ox serves as a symbol of prosperity. Steps away from the robust ambassador, an 18-foot-tall Chinese God of Wealth and Fortune will be found amidst I-Ching coins, a traditional Chinese money symbol and he will be flanked by two Ming Dynasty-styled dings, ancestral vessels that protect against bad luck. Nearby, a trio of 6-foot-tall giant pandas, made of more than 9,000 living plants, will frolic in a towering bamboo filled garden.
There will also be a zigzag bridge leading to a wing-tipped gazebo painted a deep red lacquer with shimmering gold trim and green-tiled roofs. A majestic mountain, seen as a pillar between heaven and earth, will serve as a dramatic backdrop. This new free exhibit will run from Jan. 14-Feb. 28.
THREE SHOWS CLOSED ON JAN. 4
Had the privilege of attending the last show of "MAMMA MIA!" at Mandalay Bay and the cast party in the Foundation Room. The cast poured their hearts to a full audience of ardent fans.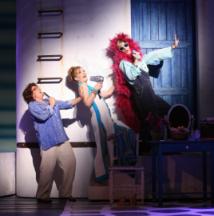 On the same night, "Stomp Out Loud" after a successful 22-month run closed at the custom-built, 1,500-seat Planet Hollywood. Since opening, the cast of "Stomp Out Loud" has performed at special Las Vegas events such as the NBA All-Star Game, Latin Grammy Awards and Professional Bull Riders World Finals. The cast has been seen on NBC's "America's Got Talent," ABC's "Extreme Makeover: Home Edition" and Planet Green's "Battleground Earth."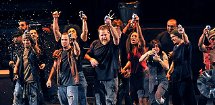 The third show to close was "Fuego Raw Talent" at the Sahara.
RHYTHM AND ROMANCE WILL PREVAIL WITH KENNY G AT THE ORLEANS
Kenny G, the world's most renowned saxophonist, has established himself as the biggest-selling instrumental musician of the modern era with global sales totaling more than 75 million albums, will perform at the 825-seat Orleans Showroom, Jan. 23-25. Tickets are priced from $74.95, call 702-365-7075.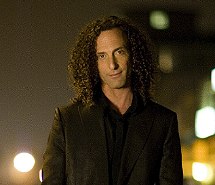 Kenny G began his career as a musician at age 17. He played with the funk band Cold, Bold & Together before becoming a credited member of The Jeff Lorber Fusion and also played with Barry White's Love Unlimited Orchestra for years. He signed with Arista Records in 1982 and three critically-acclaimed jazz albums later, "Kenny G," "G -Force" and "Gravity," he was poised to hit the stratosphere. Kenny G's latest album entitled "Rhythm & Romance" is his foray into the Latin music world blending Samba, Salsa and Bossa Nova.
Kenny G's big moment came in 1988 on "The Tonight Show" with Johnny Carson when contrary to what a producer wanted, which was a track accompanied by a vocalist, Kenny G minutes before show time launched into "Songbird," the landmark recording from his fourth album "Duotones," and a star was born.
His album "Breathless" became the biggest selling instrumental record in U.S. history with more than 12 million records sold. The album featured the Grammy award winning single "Forever in Love."
In 1997, Kenny G earned a place in the Guinness Book of World Records for playing the longest note ever recorded on a saxophone. He held an e-flat for 45 minutes and 12 seconds.
LV TENORS BACK AT SUNCOAST
The Las Vegas Tenors have become one of the top-rated entertainment acts in Las Vegas. Their show is profoundly enjoyable with the three men singing together and separately, and covering every kind of music. They will appear at the intimate 504-seat Suncoast Showroom, Jan. 30-Feb. 1, at 7:30 p.m. Tickets are priced from $19.95, call 702-636-7075.
The group's founder is Bill Fayne, who has been musical director to more than 50 musical theater productions, operas, and television shows. As an arranger, Bill has worked with goof friend Clint Holmes, Suzanne Somers, Ann Jillian, Hal Linden, and Mickey Rooney. In the past few years, Fayne has written theme songs for television shows, including the NBC series "Jennifer Slept Here." He is a classically trained singer who loves Opera and Broadway.
Internationally acclaimed vocalist Bobby Black at age 3 consumed himself with music by singing solos at his local church. He also taught himself how to play the trombone and joined the high school marching band. The Zion Brothers, a national touring Southern Gospel Quartet, hired Black to be their lead soloist, which he was for five years. A solo career followed with performances at Paramount's King's Island Theme Park and Opryland USA Theme Park.
Teddy Davey began singing solos at age 4 and spent his early years performing in plays and musicals. He moved on to study classical voice and theater and received a B.F.A (acting/performing) from the University of Texas. Davey has worked all over the world. In Las Vegas, he was the resident singer at Maggiano's Little Italy restaurant on the Strip, and lead player in the interactive dinner show "Ba Da Bing" for several years at the Stardust, Aladdin and Orleans. He also fronted the "Kokomo Show" for 18 months at Harrah's.
CINEVEGAS ANNOUNCES DATES FOR 11TH ANNUAL FESTIVAL
The 11th Annual CineVegas Film Festival will be held June 11 - 20, at the Palms; visit www.withoutabox.com. Cash prizes totaling $14,000 will be awarded to select films in the categories of feature film, documentary, short film and Nevada filmmaking short. Legendary actor, filmmaker and artist Dennis Hopper will continue to serve as Chairman of the Creative Advisory Board this year.
BUFFALO BILL's SCHEDULES LOTS OF HEADLINERS
The Star of the Desert Arena at Buffalo Bill's Resort in Primm, Nev., off I-15 at the Nevada/California border has booked great acts all the way into September. The best part is the shows are affordable and the drive is only 25 minutes from the Strip.
The upcoming acts for January and February are: Natalie Cole - Jan. 16; Boyz II Men and Malina Moye - Jan. 17; Michael McDonald - Jan. 22; Willie Nelson, Billy Bob Thornton & The Boxmasters - Jan. 24; The Little River Band - Feb. 3 and 4; LeAnn Rimes - Feb. 7; LL Cool - Feb. 11; Worlds Collide MMA - Feb. 14; Brooks & Dunn - Feb 21; Blondie - Feb. 24; and Mariachi Sol De Mexico - Feb. 28.
CONSTRUCTION NEWS
The master-planned community of Summerlin opened a non-gaming extended-stay hotel, Element by Westin, last month. The $25 million, 123-suite hotel with kitchenettes is near the Nevada Cancer Institute and is ideal for patients and families traveling from out of market to visit. It is the third hotel in Summerlin and since it is a Westin, it has the famous Heavenly beds. The intimate resort also has a multi-functional lobby, 24-hour fitness center, pool and outdoor barbecue area.
The Las Vegas Sands, Inc., the parent company of the Venetian and new Palazzo resorts suspended work on the $600 million St. Regis condominium project at the Venetian. That and the Boyd Group's Echelon Place are both on hold while City Center's construction marches ahead.
LAS VEGAS SPORTING CLAYS CLASSIC SET FOR FEBRUARY
The Boy Scouts of America, Las Vegas Area Council, will hold its second Las Vegas Sporting Clays Classic Feb. 6 and 7 at Land Rover Las Vegas and the Desert Lakes Shooting Club. The main event of the two-day fundraiser challenges four-person teams to earn the highest shooting score in three classes, allowing beginners and experts an equal chance to win. More than $30,000 in prizes will be given away with 24 players winning Smith & Wesson firearms, and one player drawn at random winning a two-year lease on a Land Rover Las Vegas Range Rover Sport.
Other events include the Las Vegas SWAT helicopter air-show and live-fire demonstration, live sporting auction, luxury Smith & Wesson firearms test shooting and a Range Rover off-road Fun Course. New this year is the Diana Division for all-female teams.
The event is limited to 75 teams of four with three sponsorship levels; $5,000, $10,000 and $25,000 per team. For information, call Jim Schmidt at 702-968-8153 or e-mail Joanne Ruyle at jruyle@bsamail.org.
QUICK CLIPS
The smash hit "Jersey Boys" about Frankie Valli and The Four Seasons at the Palazzo has been named the No. 1 show of the year by the Las Vegas Review-Journal, Nevada's largest newspaper. Must say it's a well deserved honor because the show is awesome. The show opened in Las Vegas on May 3, 2008, as the exclusive west coast permanent company.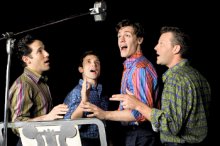 Turns out "Legends in Concert" at the Imperial Palace has delayed its move next door to Harrah's. Maybe it will happen in February.
The RA Sushi Bar Restaurant at the Fashion Show Mall will celebrate four years in Las Vegas with a prom-themed anniversary party on Saturday, Jan. 24 from 9 p.m. until closing time. The event will feature live entertainment from Last Pop Nation, Justin Carder and RA's own DJ G-Raw. Ladies are encouraged to don gaudy dresses and men to wear crazy tuxes for the prom-themed event. Happy Hour drink specials will be featured all evening ranging from $1-$5. RA Sushi an upbeat, unconventional sushi bar, opened its first location in Old Town Scottsdale in October 1997.
PT's with 32 locations in the valley now offers customers a late night getaway during Moonlight Madness every Monday through Friday from midnight to 4 a.m. Guests can enjoy all drinks for 50 percent off.
The fourth annual Las Vegas Pro Stock Showdown, NHRA Pacific National Open Series will take place Jan. 29-Feb. 1 at The Strip at Las Vegas Motor Speedway.


CONTINUE ON TO...:
>THIS WEEK'S LAUGHLIN SEGMENT
>LAST WEEK'S LAS VEGAS SEGMENT
>VEGAS VIEW FULL ARCHIVES
>Return to "Heard Around Town"
>Return to Las Vegas Leisure Guide