BARRY MANILOW PREPARES TO OPEN AT PARIS LAS VEGAS
Legendary singer-songwriter Barry Manilow has ended his run at the Las Vegas Hilton and will open his new resident show at the 1,500-seat Paris Théâtre at Paris Las Vegas on March 5, where he'll perform 78 shows each year for two years. The shows are produced by AEG Live in conjunction with the resort. Tickets for performances March 5 through July 18 are on sale. Tickets are $250, $175, $125, and $95, call 800-745-3000.
Column Continues Below Advertisement
With worldwide record sales exceeding 80 million, Manilow is ranked as the top Adult Contemporary chart artist of all time, according to R&R (Radio & Records); with no less than 25 consecutive top 40 hits to his credit between 1975 and 1983 on the Billboard Hot 100. As a singer, songwriter, arranger and producer, Manilow has worked on more than 40 albums over the course of his career. He recently released "In the Swing of Christmas" his third collection of holiday songs and will release "The Greatest Love Songs of All Time," a new album chronicling the most touching love songs ever written, on Jan. 26, 2010.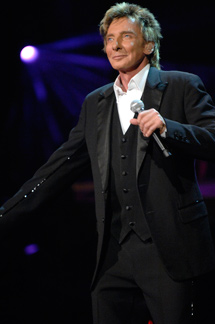 Las Vegas middle school and high school music programs will benefit from Manilow's new contract with Paris by sharing in the proceeds from a special weekly Platinum Experience Tickets, which include a front row seat, pre-show champagne reception, meet and greet and photo with Barry Manilow, and an autographed show program, visit www.ManilowParis.com or call 310-957-5788. Proceeds will go directly to the Manilow Music Project, which is part of Manilow's non-profit, The Manilow Fund for Health and Hope, and will provide instruments for Las Vegas students.
JON STEWART WILL HEADLINE AT THE MIRAGE
Television star and stand-up comic Jon Stewart will appear at The Terry Fator Theatre at The Mirage on Feb. 5 and 6 at 10 p.m. Stewart is considered one of America's top social and comedic voices. Over the past 10 years, Stewart has redefined political satire in American culture from his perch as the anchor chair on Comedy Central's "The Daily Show with Jon Stewart." Tickets are $119, $99 and $89, call 800-627-6667.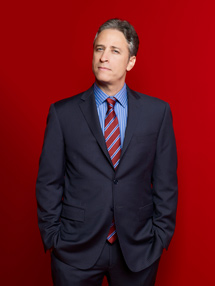 To date, Stewart and "The Daily Show" have received 28 Emmy Award nominations and won 13. In 2001 and again in 2002, Stewart served as host of the Grammy Awards and in 2006 and 2008 served as host for the 78th and 80th Academy Awards.
THE EDWARDS TWINS OPEN A DINNER SHOW AT HENNESSSEY's
The Edwards Twins have opened a new dinner show downtown at Hennessey's Tavern on Fremont Street in a newly converted showroom. Identical twin bothers - Anthony Edwards and Eddie Edwards - impersonate male singers Elton John, Sonny Bono, Neil Diamond, Billy Joel, Stevie Wonder, Andrea Bocelli and female stars Bette Midler, Barbra Streisand, Cher and others. The cost is $45 with the show and a steak, seafood or chicken and pasta dinner included. Dinner seating is at 6:30 and shows are at 8, call 702-205-5313.
LAS VEGAS ROCKS CAFÉ FEATURES SUNDAY JAZZ BRUNCH
Tony Sacca's new Las Vegas Rocks Café (LVRC) downtown at Neonopolis on Fremont Street features Sunday Champagne Jazz Brunch in the Marquee Room from 11 a.m. to 3 p.m. with Grammy Award winner Gary Anderson and Friends providing the entertainment and jazz beat. Cost is $19.95 plus tax, which includes a special menu brunch, a glass of champagne and entertainment, call 702-227-5872 (LVRC).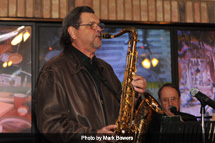 American musician Anderson spent five years, beginning in 1973, touring with Woody Herman's Thundering Herd as music director, playing saxophone and arranging. He is credited on seven albums. After leaving Herman's band, Anderson settled in New York City where he composed, arranged, and orchestrated for television, films, and stage. He recently re-located to Las Vegas.
LOCAL PIANIST DAVID OSBORNE TAPPED AGAIN BY THE WHITE HOUSE
David Osborne, a full-time pianist at the Bellagio's Petrossian Bar and Baccarat Bar, performed at the White House last month. Osborne has performed for the last five presidents in the White House and played at former President Jimmy Carter's birthday parties for the past 20 years, including his 85th birthday party last year.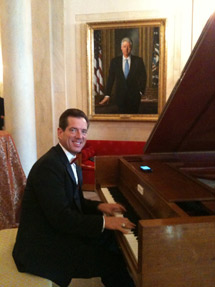 At the White House, Osborne played on the famous Steinway grand piano with gilt American eagle supports designed by Eric Gugler with help from President Franklin Roosevelt. The piano was given to the White House in 1938 by Steinway & Sons.
Osborne is a Steinway & Sons "Signature Steinway International Artist," having met the respected company's stringent criteria. He has sold millions of recordings with the help of the Northstar Music label. Next year, Hallmark Cards will release two new Osborne CDs, "What a Wonderful World" and "These Dreams," bringing the total number of his recordings to 25.
THE CUPCAKERY OPENS OUTLET AT MONTE CARLO
The Cupcakery, Las Vegas' cupcake-only bakery, opened its third Las Vegas location and first Strip outlet last month on the Street of Dreams at Monte Carlo.
The Cupcakery has become popular with signature flavors including Kir Royale, a raspberry cake with champagne frosting; Tickle Me Pink, a classic white cake with pink buttercream frosting; and the award-winning Southern Belle, a moist red velvet cake smothered in cream cheese frosting. The bakery also offers frosting shots for a quick dose of sugar. The Monte Carlo Travel Special includes one cupcake and a large coffee for $6.
Baked fresh daily, The Cupcakery features a signature lineup of 12 to 20 distinctive flavors each day as well as seasonal specials. Hours of operation are Sunday through Thursday from 7 a.m. to 10 p.m. and until 11 p.m. on weekend.
SUNCOAST ADDS TWO MUSIC ACTS TO ITS 2010 ROSTER
The Suncoast in North Las Vegas has two new additions to its 2010 entertainment schedule: popular classic rock band Yellow Brick Road and the edgy and modern music act Envy. Admission is free.
Classic rock tribute band Yellow Brick Road performs hits from the '70s and '80s and has an established presence and fan base in the local music scene. The five-member band is playing in the Suncoast Showroom on Wednesday evenings from 9 to 11 p.m.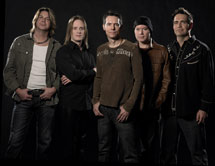 Envy, a group of energetic performers originally hailing from Scottsdale, Ariz., bring their seamless fusion of modern and classic medleys to the Suncoast Lounge on Friday and Saturday evenings at 10 p.m. beginning Jan. 15.
TOP OF NEXT COLUMN
QUICK CLIPS
Before hitting the red carpet opening of the new Vanity nightclub at Hard Rock to host the opening celebration, Sean "Diddy" Combs spent the evening shooting a music video with indie rock band Chester French for their song "Ciroc Star."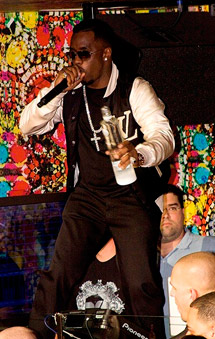 Bette Midler will wind up her show "The Showgirl Must Go On" on Jan. 31 at The Colosseum at Caesars Palace.
Last month when Tony Orlando was appearing at the South Point, he took time out to visit the new Las Vegas Rocks Café and its founder Tony Sacca. He tried out his namesake meal on the menu "Tony Orlando Opah!," which is lamb shank with linguini accompanied by Gambler's Garlic Bread.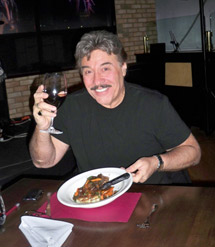 Donn Arden's "Jubilee!" at Bally's will celebrate its 17,000th performance during the 7:30 p.m. show on Jan. 16 and offer locals a $17 ticket. The specially priced tickets are available for section D with a $20 upgraded ticket deal for both the early and 10:30 p.m. show, call 702-967-4567.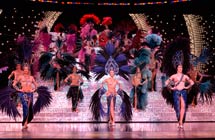 Society of Seven and "American Idol" star Jasmine Trias are continuing their high-energy variety show at the Gold Coast. The group performs two shows at 3:30 and 7 p.m. every Friday, Saturday and Sunday. Tickets start at $29.95.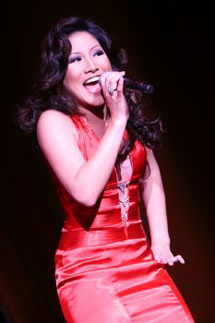 Phoenix will be returning to the states this winter and making a stop at The Joint at the Hard Rock on Jan. 28. Last year the band released their critically acclaimed album "Wolfgang Amadeus Phoenix." Tickets start at $50, call Ticketmaster at 800-745-3000.
Jerry Mitchell's "Peepshow" at Planet Hollywood will remain dark until Feb. 28. During this period, undoubtedly changes will be made.
The Thirsty Third Thursday Pub Crawl is being held monthly at Fremont Street downtown. The six-stop crawl begins at Hennessey's Tavern, 425 Fremont Street, at 7 p.m. and also stops at visiting Mickie Finnz, Brass Saloon, Hogs & Heifers, Beauty Bar, Brass the Lounge, and the Side Bar. Everyone gets six drinks and half-price food for $20, call 702-382-4421 to RSVP for Jan. 21.
Mon Ami Gabi at Paris will be hosting cooking classes throughout the year featuring specialties directly from the French bistro's menu. The cooking demonstrations will feature Executive Chef Terry Lynch along with Mon Ami Gabi's wine connoisseur. Classes will be held on select Saturdays beginning Jan. 23. For information, contact Nicole Gebhart, Lettuce Entertain You Enterprises, ngebhart@leye.com.
Last week, Pete's Dueling Piano Bar in Town Square revised its hours of operation to 6 p.m. – 2 a.m. Tuesday – Sunday with the dueling pianos beginning at 8 p.m. Every Sunday half-priced drinks are being featured all night long.
"The Vampire Diaries" lead actress Nina Dobrev will celebrate her 21st birthday at Studio 54 at the MGM Grand on Saturday, Jan. 16. She'll be joined by many or the attractive ensemble cast.
On weekends, Big Band music can be found at two local restaurants. Songstress Michaelina Bellamy hosts the WNFA Big Band at Bugsy's Speakeasy, 6145 W. Sahara from 2 to 5 p.m. A $10 fee is requested ($5 for college students), with monies going to the band members. For information, call 702-834-6829. Singer Marsha K Ross features different bands, at the E-String Grill, 2031 W. Sunset, from 2 to 5 p.m. on Saturdays. Again, there is a $10 donation for the band. For information, call 702-437-8764.
Disney's landmark musical event, "The Lion King," has broken its own Mandalay Bay Theater box office record with a gross of $1,314,161 during the eight-performance week of Dec. 21-27, 2009. The previous Mandalay Bay Theater record held by "The Lion King" was a gross of $1,200,128 set during the week ending July 26, 2009.
Imagine Dragons is a Las Vegas-based, indie pop band with young members generating considerable industry buzz. The band consists of front man Dan Reynolds on vocals and keys, Wayne Sermon on guitar, Ben McKee on bass, Andrew Tolman on drums and Brittany Robinson on keys. They were at the Hard Rock on Jan. 9, and will be performing a free show on Jan. 28 at 9:30 p.m. at Feelgood's Rock Bar & Grill at 6750 W. Sahara Ave.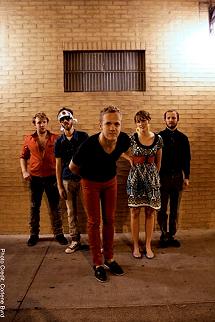 The 28th Annual Dr. Martin Luther King Jr. Parade will be held downtown on Monday, Jan. 18, at 10 a.m.
DAY DREAMIN' EXOTIC TOURS INTRODUCES NEW SPORTS CAR EXPERIENCE
Day Dreamin' Exotic Tours has introduced a new experience for sports car enthusiasts. Beginning and ending at the Flamingo, participants drive five exotic sports cars on a three-hour tour, "Euro-caravan"-style on open roads through Red Rock Canyon and Spring Mountain Peak. The tour finishes up with a cruise down the Las Vegas Strip. The tour host leads the way in a pace car for approximately 90 miles with pit stops every 20-30 minutes to change vehicles and drivers. At the end of the tour, customers receive a disk with photos of their experience, and a Day Dreamin' Exotics gift pack. For information, contact Bob Grove, Wild West PR & Marketing, bob@wildwestalliance.com.
LOCAL SHOW PRESENTS 'UNSUNG CHARACTERS FROM NEVADA's PAST'
The Rainbow Company Youth Theatre will present "Unsung Characters from Nevada's Past" Feb. 5-14 at the Reed Whipple Cultural Center, 821 Las Vegas Blvd. North. The 50-minute original new musical, appropriate for all ages, tells stories from the early years of Las Vegas, focusing on the characters of Walter Bracken, Pop Squires, Helen J. Stewart, Roy Martin and Mary Nettles, who were important in the city's development. Show times are 7 p.m. Feb. 5, 7, 11, 12 and 13; and 2 p.m. Feb. 8, 13 and 14.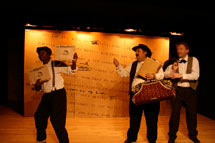 Column Continues Below Advertisement
CONTINUE ON TO...:
>THIS WEEK'S LAUGHLIN NEWS
>LAST WEEK'S LAS VEGAS NEWS
>VEGAS VIEWS FULL NEWS ARCHIVES
>Return to "Heard Around Town"
>Return to Las Vegas Leisure Guide