OFF-ROAD RACING COMES TO LAUGHLIN

The SCORE: "Laughlin Desert Challenge" will take over Laughlin, Jan. 14-16. This will be the 17th straight year for this classic off-road racing event with top off-road racers in the world competing. It's also the first major motorsports event of the year in the United States launching the five-race 2011 SCORE Desert Series, the world's foremost desert racing series. More than 100 expected entries will compete in 20 classes for cars and trucks for more than $300,000 in prize money and contingency postings during the three-day event. Spectator tickets are on sale atwww.visitlaughlin.com or www.racelaughlin.com or by calling 877-840-0457.

One of the event's most popular features, the SCORE Laughlin Leap, gets the weekend started. Moved to a new day, the SCORE Laughlin Leap will be held at 7 p.m. on Friday, Jan. 14 and will start with a fireworks display.

On Jan. 15 from 7 – 8 p.m., there will be a SCORE Red Bull Meet-and-Greet Photo/Autograph Party with the Menzie Racing Team at Harrah's Baja Blue Outdoor Patio. This event will have a drawing for a chance to win Pit Row seats for Sunday's SCORE races or tickets to the Lit concert and have free Red Bull samples. Admission will be free.

HARRAH'S WILL HIGHLIGHT THE ROCK BAND LIT

The alternative rock band, Lit, will make its first appearance at the Fiesta Showroom at Harrah's on Saturday, Jan. 15.The band hit the music scene in the late 90s with hits such as "My Own Worst Enemy," "Miserable," and "Ziplock" followed by "Tripping the Light Fantastic," "The Best is Yet to Come Undone" and "Looks Like They Were Right." The band's appearance coincides with the 17th Annual Laughlin Desert Challenge. Tickets start at $25, call 702-298-8510.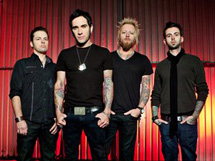 TROPICANA STARS CREEDENCE CLEARWATER TRIBUTE
For Creedence Clearwater Revival fans, their music is being carried on by tribute band Fortunate Son Band, which will headline The Pavilion Theater at the Tropicana on Jan. 15. For nearly two decades, Fortunate Son's lead singer Stan Adams has been performing an awesome tribute to C.C.R. Headlining across America and Canada, Fortunate Son has opened for major acts including Randy Bachman of B.T.O., The Outlaws, Jimmy Van Zant, and recently Charlie Daniels, Southern Rock Allstars, Buddy Miles, and .38 Special. Tickets are $10, call 800-431-1935.
AQUARIUS FEATURES 'WHOSE LINE IS IT ANYWAY?'
The Aquarius will feature the live production of "Whose Line Is It Anyway?" on Friday, Jan. 28 at 8 p.m. with Ryan Stiles, Greg Proops, Chip Esten and Jeff Davis.The team will perform many of the improv games made famous by the Emmy nominated TV show "Whose Line Is It Anyway." Audience members will offer suggestions and some may even be asked to join the cast onstage. Tickets start at $30,call 800-435-8469.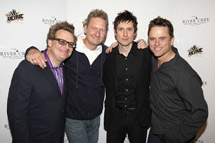 EDGEWATER FEATURES LEAD SINGER BRIAN HOWE

Brian Howe former lead singer of Bad Company will headline at the Edgewater Event Tent on Saturday, Jan. 15 at 8 p.m. Tickets are $15.

Long regarded as one of rock's legendary voices,Howestarted his career in 1983 as lead vocalist for Ted Nugent, recording Nugent's "Penetrator" album and fronting its subsequent world tour.

In 1984, the two existing members of Bad Company - drummer Simon Kirke and guitarist Mick Ralphs courted Howe to replace Paul Rodgers as the lead singer. Howe created, wrote, recorded and toured for the next 10 years, headlining every major venue around the globe.Now he's back with a new solo album "I'm Back."

TOP OF NEXT COLUMN
BELLE AND EDG EWATER HOST 'TASTE OF LAUGHLIN'
The "Taste of Laughlin" featuring a chef's cooking expo and dishes created by the Colorado Belle and Edgewater chefs, who were the winners of "Best Food" category at the "Laughlin Chefs' Food Fest," will be held on the Riverwalk between the two resorts, Jan. 28-30. The event is free and there will be music by rocker Neil Morrow. Hours will be 3-8 p.m. on Friday and noon – 8 p.m. on Saturday and Sunday. Food and beverages will be sold separately.
HURLEY AND ROBERTSON PROVIDE LAUGHTER AT RIVERSIDE
Carl Hurley and Jeanne Robertson team up at the Riverside in Don's Celebrity Theatre, Jan. 11-16. Tickets are $32.
Hurley is 5'-6" standing on tiptoe. Robertson is 6'-2" with her hair "mashed down." He grew up swapping homespun stories in the hills of Eastern Kentucky. She's a former Miss North Carolina who finds comic inspiration in everyday life. He's rotund and jolly, with a mischievous twinkle in his eye, a sublime sense of the ridiculous and an ever-ready punch line. She's willowy and elegant, with a flair for weaving a tapestry of humor as colorful and lovingly constructed as a country quilt. Together, they bring audiences an abundance of laughter.
EDGEWATER STICKS WITH COMEDY
The Edgewater is continuing its ongoing "Comedy on the Edge" in the showroom every Friday, Saturday and Sunday at 7 p.m. Each show features two stand-up comedians. Upcoming acts are: Jan 14-16—Greg Vaccariello and Curtis Fortier; Jan 21-23—Jeff Capri and Jeremy Greenberg; Jan 28-30—Collin Moulton and Laura Park; and Feb 4-6—Leif Skyving and Manny Llanez. Tickets are $10 at the Edgewater Casino Cage or the door.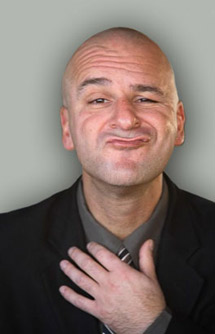 Greg Vaccariello realized that he was funny in third grade when he appeared in a school play and made the entire audience laugh without saying a word. After graduating from college, he worked in the corporate world and got his teaching degree. Vaccariello took acting classes with John Monteleone and starting doing stand up in 1989. He has appeared on such hit TV shows as"ED," "Law and Order: SUV," "Law and Order: Criminal Intent;" "The King of Queens,"and"Hope and Faith." Vaccariello has also appeared in the independent movies"Hung Up,""No Money Down" and"Under Budget."
RIVER PALMS FEATURES TRIBUTE SHOWS
The River Palms has lined up tribute shows. Iron Maidens will pay tribute to Iron Maiden, Jan. 14 and 15. Joshua Tree will follow on Jan. 22 with a show honoring U2 and The Long Run will highlight The Eagles on Jan. 29. All the shows are at 9 p.m. and tickets are $10.
AVI WELCOMES ARMY BAND AND COUNTRY DANCING
The 108th Army Band will perform a free concert at the Avi Convention Center Ballroom on Saturday, Jan. 22 from 2-3:30 p.m.
On Saturday, Jan. 29 from 7 – 10 p.m., it will be "Cowboy Up Country Dance" featuring the band Stetzen, plus $1,000 Xtra Bucks Bonus for best dressed cowboys and cowgirls. Tickets are $16.
AQUARIUS COUPLE BOTH WIN
A husband and wife duo, Christopher and Jane Berry from Fort McMurray, Alberta, Canada, struck the jackpot twice on Dec. 22, 2010, playing Pharaohs Fortune. Their respective jackpots were $8,200 and $5,780.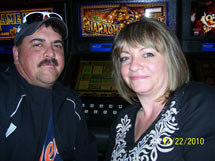 CONTINUE ON TO...:

>THIS WEEK'S LAS VEGAS NEWS
>LAST WEEK'S LAUGHLIN NEWS
>VEGAS VIEW FULL ARCHIVES
>Return to "Heard Around Town"
>Return to Las Vegas Leisure Guide