BEE GEES TRIBUTE SHOW OPENS AT EXCALIBUR
"The Australian Bee Gees Show - A Tribute to the Bee Gees" will make its debut at the Excalibur on Tuesday, Feb. 1 when the tribute band brings the music of the famous Gibb brothers to the Las Vegas Strip. Tickets for the 75-minute multi-media concert event are $44.95 and $54.95, call 702-597-7600.
Column Continues Below Advertisement
Since 1996, "The Australian Bee Gees Show - A Tribute to the Bee Gees" has performed to more than one million people in more than 40 countries. The group's resemblance and sound has garnered international kudos.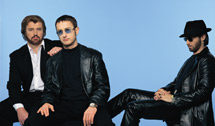 ANGEL PORRINO WILL PLAY BO PEEP IN 'PEEPSHOW'
Angel Porrino, Las Vegas local and co-star on the new TV series, "Holly's World" on E!, has signed on to take over the role of "Bo Peep," a modern woman who discovers her sexuality, in "Peepshow" at Planet Hollywood during Holly Madison's vacation dates throughout 2011. Porrino will perform alongside male lead singer Josh Strickland, who isalso a "Holly's World" co-star. Porrino will be in the show Jan. 17 –23, and 31, Feb. 6, March 21 - 27, and 28, and April 3, with more dates to follow. The second season of "Holly's World" premieres Jan. 23.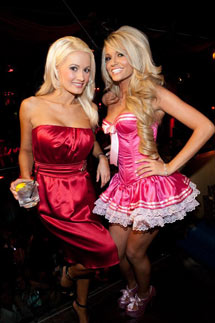 "Peepshow" is conceived and created by Tony Award-winning director/choreographer Jerry Mitchell ("Legally Blonde," "Hairspray") and produced by Las Vegas entertainment pacesetter BASE Entertainment ("PHANTOM – The Las Vegas Spectacular"and"JERSEY BOYS").
'ACES OF COMEDY' LINEUP AT MIRAGE
The early "Aces of Comedy" lineup at the Terry Fator Theatre at The Mirage includes: Jay Leno – Jan. 22, Feb. 18-19 and March 18-19; "Blue Collar Comedy Tour" headliner Ron White – Feb. 11-12; Ray Romano and Kevin James – Feb. 25-26; Ray Romano – March 25-26; and actor/comedian Kevin Hart April 8-9. Tickets prices range from $59.99 for White and Hart to a high of $99.99 to $119.99 for Romano and James, call 702-792-7777.
BOBBY SLAYTON RETURNS TO HOOTERS
Comedian Bobby Slayton, who is an audience attack humorist with the tag "The Pit Bull of Comedy," will return to the Night Owl Showroom at Hooters for a limited engagement, Jan. 27-April 2. He is known for his acid-tongued style and signature politically incorrectmanner. Slayton was the showroom's first headliner and he's returning in honor of the property's five-year anniversary. Tickets for his 8:30 p.m. shows with comedian Robert Duchaine as an opening act are $39.95, call 866-LVHoots.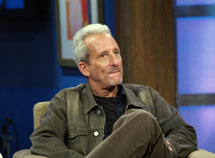 Slayton has appeared in movies such as "Get Shorty," "Ed Wood," "Bandits" and "Dreamgirls." Most recently, Slayton appeared in his own stand-up Showtime special titled "Born to be Bobby."
GOLDEN NUGGET SELLS GOLD FROM ATM
The Golden Nugget downtown will be the first resort in Las Vegas to sell real gold from an ATM and the second location in America to feature the Gold ATM.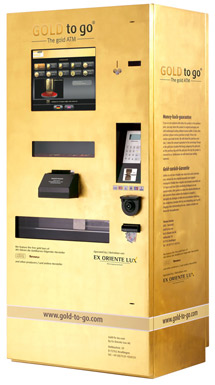 THE SCINTAS PERFORM AT SUNCOAST
Las Vegas entertainment family, The Scintas, New York-raised brothers Joey and Frankie, baby sister Chrissi and "Irish Scinta" Peter O'Donnell, will return to the Suncoast Showroom over Valentine's weekend, Feb. 11-13. Tickets start from $29.95, call 702-636-7075.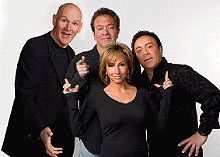 The longtime foursome fills their show with music, comedy and impersonations. Individually, each member has stunning credibility. Frankie, recognized as a musical prodigy, appeared on "The Merv Griffin Show" at age 11. He played the keyboard on the show and is also a master guitar, mandolin, banjo, drum and bass player. Joey, who was going to be a music teacher, developed and mastered comedy and impressions. Petite Chrissi is known for her big ballads. Although not related, O'Donnell has been a member of the close-knit clan since 1988 and has played gigs with more than 700 bands.
CANNERY HONORS NEIL DIAMOND's 70th BIRTHDAY
In honor of Neil Diamond's 70th birthday, The Club at the Cannery will feature Rob Garrett the "King of Diamonds," a Neil Diamond Tribute artist on Saturday, Jan. 22 at 8 p.m. Admission is $10 at the door.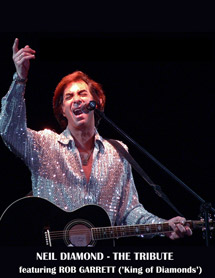 Garrett played a Neil Diamond impersonator in the "Legends in Concert" show in Honolulu, Hawaii. Since that gig, he has traveled the world appearing as Diamond and developed the name "King of Diamonds." In 2008, Garrett received the "Male Musical Tribute Artist Award" by the Entertainment Network at the Celebrity Impersonator Convention in Las Vegas, making him the only Neil Diamond tribute artist to win that award.
"ART & WINE: A PERFECT PAIRING" AT BELLAGIO
The next "Art & Wine: A Perfect Pairing," featured on the second Wednesday of each month, will be held at the Bellagio Gallery of Fine Art on Wednesday, Jan. 12 from 5-7 p.m. The event, which includes interactive conversation with experts, pairs wines from Bellagio's cellar with artworks featured in the gallery's current exhibition, "Figuratively Speaking: A Survey of the Human Form." Tickets are $33 and $25 for BGFA members, call calling 702-693-7871.
TOP OF NEXT COLUMN
PALMS LAUNCHES ONLINE FANTASY BLACKJACK
The Palms has launched Palms Casino Fantasy Blackjack, a new game for the iPhone, iPad and iPod Touch that borrows elements from Fantasy Football and applies them to the table game blackjack.Palms Casino Fantasy Blackjack is available for a free download online in the Apple App Store.
The objective of the socially-interactive Fantasy Blackjack is to win the most virtual dollars from other players in your league and be crowned the winner at the end of the season.A Palms Casino Fantasy Blackjack player establishes oneself as "commissioner" and invites friends to join a league.Visit Palms Casino Fantasy Blackjack for more information.
SILVERTON ADDS SEVEN NEW SUITES
The Silverton, which offers 300 deluxe rooms and suites, has added a new look and warmer feel to seven luxury king suites, increasing the suite count at the property to a total of 19. The new suites offer a number of design and amenity extras, 42-inch flat screens, and greenery throughout.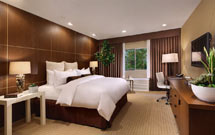 LAS VEGAS HAS 15 AAA FIVE DIAMOND AWARDS
Las Vegas is now home to 15 AAA Five Diamond resorts and restaurants, more than any other city in the country. In its debut year, CityCenter has received the AAA Five Diamond Award for both ARIA Resort and Mandarin Oriental. Repeat winners include Bellagio (10 consecutive years), Encore, Four Seasons (12 consecutive years), Skylofts at MGM Grand, The Palazzo, Wynn Las Vegas, The Venetian and the former Ritz-Carlton Lake Las Vegas.
Five Diamond award-winning restaurants in Las Vegas are repeat recipients and include Alex at Wynn Las Vegas, Guy Savoy at Caesars Palace, Joel Robuchon at MGM Grand, and Picasso and Le Cirque at Bellagio. Representing the upper echelon of the hospitality industry, AAA Five Diamond Award winners make up less than one-half percent of more than 31,000 AAA Approved properties throughout the United States, Canada, Mexico and the Caribbean.
QUICK CLIPS
The 2011 Miss America Pageant with 52 finalists competing will return to Planet Hollywood on Jan. 15 for a live broadcast on the ABC network. The Miss America Organization is one of the nation's leading achievement programs and the world's largest provider of scholarship assistance for young women. Last year, the Miss America Organization and its state and local organizations made available more than $45 million in cash and scholarship assistance.The annual pageant returns to Las Vegas for the sixth consecutive year. Celebrity judges will include: Joy Behar, Miss America 1990 Dr. Debbye Turner Bell, Marc Cherry, Tony Dovolani, Marilu Henner, Taryn Rose and Mark Willis.
Dolce Hotels and Resorts' property, Ravella at Lake Las Vegas, is challenging meeting planners to name their ideal price for meetings and group events with the aptly named promotion "Make Us an Offer…Anything Goes!" Located on the site of the former Ritz-Carlton®, the re-branded 349-room-and-suite resort will open under new management in the first quarter of 2011.
H&M, Hennes & Mauritz, the international fashion retailer known for offering fashion-forward apparel and quality basics, has continued its expansion in the Las Vegas area by opening the largest H&M location in The Forum Shops at Caesars Palace.
Aaron Radatz, headlining magician at the Clarion has added a 4 p.m. afternoon show on Mondays to his Thursday-Sunday 2:30 p.m. schedule. Tickets are $19.95.
Mesquite located 80 miles north of Las Vegas will hold the Smokin' Big Chili Challenge and Classic Car Show at the CasaBlanca, Jan. 14-16.
Cabo Wabo at Planet Hollywood now offers bachelorette party specials. The bride-to-be and her closest friends can party the night away at Sammy Hagar's Vegas cantina with an all-inclusive VIP experience starting at $25 per person.
Micro Analytical Systems, Inc. (MASI) is partnering with Supreme Lobster and Seafood Company, one of the top 10 seafood distributors in the United States, in launching a highly sophisticated and independent seafood testing program in Las Vegas with the goal of making Las Vegas the safest city on the planet for seafood. MASI has expanded its Safe Harbor Certification program of seafood to include real-time, low cost screening for select pathogens and histamines in addition to its established mercury testing certification program. MASI plans to expand Safe Harbor Certification nationwide in the coming months.
NEW YEAR's POSTMARKS
For New Year's, Golden Nugget owner Tilman Fertitta received a special call from friend and fellow Houstonian, Scott J. Kelly, commander of the International Space Station, Expedition 26. Kelly, who was at the time traveling 17,000 mph over Hawaii, wished everyone in the Golden Nugget's Rush Lounge a Happy New Year over speakerphone during Frankie Moreno's set. His shot of Las Vegas from space puts things in perspective.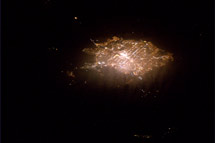 Grammy Award-winning singer Estelle celebrated her New Year's Eve as the master of ceremonies at Tryst Nightclub. The songstress performed her latest single "Freak" and closed with "Our Love."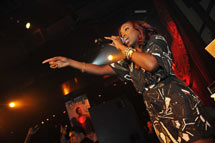 Pop diva Rihanna rang in 2011 at PURE Nightclub inside Caesars Palace. She really started partying when the DJ played her hit single "Rude Boy."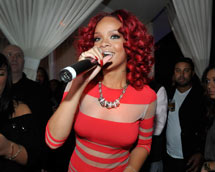 Actress Loretta Divine, a five-time NAACP Image Award winner best known for her roles on "Boston Public," "Grey's Anatomy," and "Eli Stone," and her husband, Glenn Marshall, dined at Eva Longoria's Beso steakhouse in Crystals at CityCenter on Sunday, Jan. 2.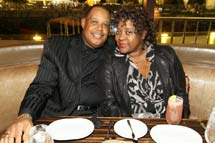 UPCOMING FUNDRAISERS
The nonprofit Nevada Arts Advocates (NAA) will hold its 12th annual Nevada Arts Advocates Gala fundraiser on Saturday, Jan. 22, at the Aria in City Center. NAA will present its Arts Advocacy Award as a "Celebration of the Art in City Center" and its Arts Legend Award to Tony Curtis, Posthumous. Tickets are $150, call 702-362-8885.
Celebrated actor, producer and author Priscilla Presley will be honored as the 2011 Woman of the Year at Nevada Ballet Theatre's Black & White Ball fundraiser sponsored by Cartier on Saturday, Jan. 29 at Aria in CityCenter Las Vegas. Past honorees include Debbie Reynolds, Chita Rivera, Celine Dion, Bette Midler and Marie Osmond among others. For information, call 702-243-2623 x222.
Column Continues Below Advertisement


CONTINUE ON TO...:
>THIS WEEK'S LAUGHLIN NEWS
>LAST WEEK'S LAS VEGAS NEWS
>VEGAS VIEWS FULL NEWS ARCHIVES
>Return to "Heard Around Town"
>Return to Las Vegas Leisure Guide