GOLD COAST INTRODUCES 'VEGAS MAGIC THEATRE' EXPERIENCE!

For the new "Vegas Magic Theatre" show at the Gold Coast, the showroom has been separated into two rooms with a very homey cocktail Magic Lounge in front of the Intimate Vegas Magic Theatre.

One hour prior to show time, audiences are invited into the Magic Lounge to enjoy superb close-up magic performed by personable sleight-of-hand artists such as Adam Flowers, who used my ring for a trick.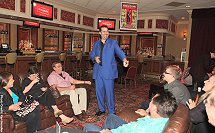 For the 70-minute show hosted weekly by talented singer and magician Ben Stone, a new lineup of three to four award-winning magicians, illusionists and outstanding variety and specialty acts from around the world changes every week in the new Paul Stone Production. In the preview night audience, the cast was cheered on by famous magicians Siegfried and Lance Burton.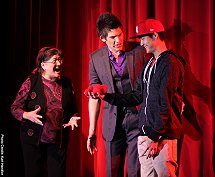 "Vegas Magic Theatre" is at 7 p.m. every Thursday, Friday and Sunday, and at 5 and 7:30 on Saturday. Most unbelievable, tickets are $14.95.
Column Continues Below Advertisement
BOW WOW TO HOST NEW RECORD RELEASE PARTY
Bow Wow will debut his seventh album "Underrated" and host a party at Chateau Nightclub & Gardens at Paris to celebrate on Saturday, Jan. 14.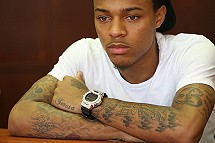 At just 24 years old, Bow Wow is an accomplished artist with nearly 15 years of industry experience and seven albums to his credit. He released his first album, "Beware of Dog," when he was 13 years old. His new album features collaborations with Nelly, Nicki Minaj, Snoop Dogg, Lil Wayne, Sean Kingston and more.
Bow Wow catapulted his career into film and television with such shows and movies as "Like Mike," "The Fast and the Furious: Tokyo Drift," and most recently several episodes of "Entourage."
SCALE THE STRAT FUNDRAISER FOR LUNG ASSOCIATION
The fourth annual Scale the Strat, an extreme stair climb event and fundraiser will be held at the Stratosphere Tower on Saturday and Sunday, March 3 and 4. Participants will scale 108 floors, 1,455 steps, inside The Stratosphere Tower, the highest building west of the Mississippi River, to raise money for the American Lung Association. Teams and individuals will race for the fastest times and fundraising dollars.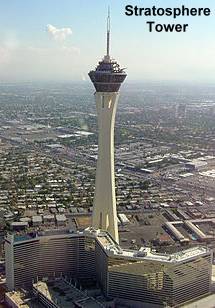 Last year, about 300 people participated in this extreme climbing event and raised a record $110,000. The winning time was seven minutes and 26 seconds. The event is limited to the first 400 participants who are 21 years of age or older. There will be a qualifying event on March 3 and the top 50 climbers with the fastest times will compete again on March 4 for a "Climb-Off."
Registration is $50 and climbers are also asked to make a minimum $150 fundraising pledge; www.ScaleTheStrat.com.
MUSICIAN RAMON AYALA OPENS THEME RESTAURANT IN PRIMM
Primm Valley Casino Resorts is partnering with Hispanic superstar Ramon Ayala to debut the first Ramon Ayala Cocina & Cantina in the United States. The authentic Mexican eatery with live music, Ayala memorabilia and merchandise is slated to open later this month at Buffalo Bill's at the I-15 Nevada-California state line 25-minutes outside of Las Vegas.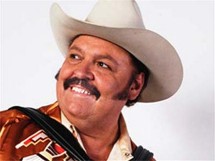 Known as the "King of the Accordion," Ayala is a Mexican-American musician who has recorded more than 105 albums for which he has received four Grammy and Latin Grammy Awards. He has also starred in 13 feature films. As part of his partnership with Primm Valley, Ayala will establish a residency and perform two concerts a year with his first on Feb. 19 at Buffalo Bill's Star of the Desert Arena.
CAFÉ OPENS AT THE LOU RUVO CENTER
The Keep Memory Alive Café brought to you by Red Velvet Café Chef Aneesha, alumna of Chef Thomas Keller's kitchen, serving casual food has opened in the Cleveland Clinic Lou Ruvo Center for Brain Health in Symphony Park. Desserts are surprisingly low in calories, ranging from 120 to 200 calories and three to six grams of fat per item. A portion of the proceeds will support the center. Hours are Monday through Friday, 7:30 a.m. to 3:30 p.m. Patrons can place orders at the window or order in advance via email: redvelvetcafe@gmail.com.
COMEDIAN STEVEN WRIGHT HEADLINES AT THE ORLEANS
Billed as the "Confucius of Comedy" by the "New York Post," Academy Award®-winner and Grammy® Award nominee Steven Wright will return with his trademark wit, absurdist one-liners and monotone voice to The Orleans Showroom, Jan. 20 and 21.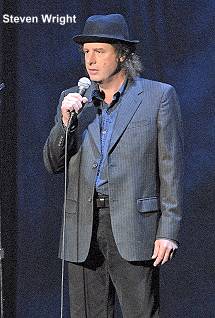 Wright's first big break and career launch at age 23 was getting booked on "The Tonight Show with Johnny Carson" and being invited to return the following week for a rare back-to-back performance. His career expanded to include comedy albums, television specials, acting roles and writing for the silver screen. He was the first inductee into The Boston Comedy Hall of Fame.
LAS VEGAS CELEBRATES CHINESE NEW YEAR
There will be lion dances all over Las Vegas at the end of January to ring in the Chinese New Year – the Year of the Dragon. The Dragon is unique to the Asian Zodiac as it is not recognized as a real animal. It is viewed as a powerful almighty king made up of multiple parts of animals such as the tiger, fish, snake and eagle. Individuals born in the Year of the Dragon tend to be powerful and often own a sharp tongue. Proceed to the right-hand column for a detailed list!
TOP OF NEXT COLUMN
MGM Resorts
MGM Resorts International will celebrate Chinese New Year 2012 with lion dances, spectacular displays at Crystals at CityCenter and Bellagio's Conservatory & Botanical Gardens, as well as authentic cuisine at a variety of resort restaurants: ARIA –Blossom and Lemongrass; Bellagio – Jasmine and Noodles; MGM Grand – Pearl; Mandalay Bay – Noodle Shop and Buffet; The Mirage – Fin; Monte Carlo - Dragon Noodle Co. & Sushi Bar; and Luxor – Rice & Co.
Lion dances will to be held at the following places: ARIA – Tuesday, Jan. 24 at 1 p.m.; Crystals – Tuesday, Jan. 24 at 1:30 p.m.; The Mirage – Tuesday, Jan. 24 at 4 p.m.; MGM Grand – Wednesday, Jan. 25 at 1 p.m.; and Bellagio – Wednesday, Jan. 25 at 6:30 p.m.
Yau Kung Moon, considered one of the most-respected martial arts, dragon and lion dance organizations in the world, will perform traditional Chinese lion dances for most of the above. Yau Kung Moon is known for its trademark gold uniforms and innovative routines and has been recognized internationally for being the first U.S. team to compete in the 1990 Invitational World Lion Dance Festival in Malaysia. The group also has finished as the nine-time undefeated Chinese National Lion Dance Champions.
The Flower Carpet on the first floor of Crystals at CityCenter is currently decorated with a 43-foot long and 12-foot high authentic ceremonial dragon surrounded by more than 4,000 flowers and plants.
Bellagio's Conservatory & Botanical Gardens has a complimentary display running Jan. 9 – March 4. This year's serene sanctuary is guided by the ancient practice of Feng Shui with the majestic centerpiece of this year's exhibit consisting of two animated 25-foot Chinese Dragons wrapped around a cylinder of water.
For the first time during Bellagio's Chinese New Year display, the Conservatory will host Chinese musicians performing live traditional folk and pop music with authentic Chinese instruments daily from 5 p.m. to 6 p.m.
Palazzo
Monday, Jan. 23 at 1 p.m., a ceremonial dragon dance complete with firecrackers and an eye painting ceremony will begin at The Venetian porte cochere and make its way through The Palazzo.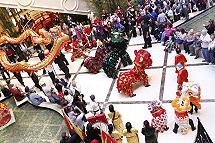 The Waterfall & Atrium Gardens of The Palazzo will host a Chinese New Year attraction with a 128-foot, 8,000-pound, hand-crafted, fire-breathing dragon suspended above in the 65-foot-high space from Jan. 23 through Feb. 5. The larger-than-life dragon took more than 60 designers, conceptualists, welders and painters from across the globe more than a year to create and took nearly 10 days to construct onsite.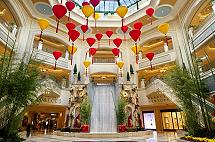 At The Palazzo's Zine Noodles Dim Sum, ranked as one of the top 10 Chinese restaurants in the United States by "Chinese Restaurant News," will have Chinese New Year décor and specialty food and beverage offerings available through the end of February.
Forum Shops at Caesars
For the 16th year, students from The Meadows School in Las Vegas will perform the traditional dragon parade throughout The Forum Shops at Caesars at 10 a.m. on Monday, Jan. 23 – the first day of the Chinese New Year. The event will include special guest and school founder Mayor Carolyn Goodman.
Fremont Street Experience
The Fremont Street Experience will hold its first Chinese New Year celebration. "Chinese New Year - Dragon in the Desert" will celebrate the Year of the Dragon from Jan. 24 - 28 with a five-day festival featuring many of the traditional and symbolic elements needed to wish good fortune to all. Opening ceremonies will take place Tuesday, Jan. 24 at 6 p.m. with a live authentic dragon dance, virtual firecrackers on Viva Vision, an eye painting ceremony, and a parade of performers dressed in elaborate costumes.
QUICKIE TIDBITS
Grammy nominated Jordin Sparks and Season Six winner of "American Idol" celebrated her 22nd birthday at RPM Nightclub at the Tropicana this weekend with resident DJ sourMILK™ from LA's Power 106 FM.
Beginning Friday, Jan. 13, the Silverton is holding a free Friday night party featuring a variety of old school bands from 7 to 10 p.m. in the Veil Pavilion. Hosted by 105.7 The Oasis, the lineup this month is Mocca on Jan. 13, Block Party on Jan. 20, and Phil Flowers on Jan. 27.
The Spa at The Mirage is now offering a new Yoga Among the Dolphins class in a serene, underwater viewing area within Siegfried & Roy's Secret Garden and Dolphin Habitat. The hour class is Friday through Sunday at 8:30 a.m. Cost is $50, which includes use of a yoga mat, post-class smoothie and day pass for the fitness center, spa vanity, wet areas and lockers.
Beginning this month and for the first time in six years, the Fountains at Bellagio is introducing new songs "Lucy in the Sky with Diamonds" by The Beatles, "Billie Jean" by Michael Jackson, and "In the Mood" by Glenn Miller into the rotation.
"The Miss America Pageant" is returning for the seventh consecutive year to the Theatre for the Performing Arts at Planet Hollywood with a live telecast airing on ABC on Saturday, Jan. 14. Celebrity judges include: Mark Ballas, ABC's "Dancing with the Stars;" Raúl de Molina, Univision's "El Gordo y La Flaca;" Mike Fleiss, Executive Producer of ABC's "The Bachelor;" Kris Jenner, E!'s "Keeping Up With The Kardashians;" Teri Polo, ABC's "Man Up;" Chris Powell, ABC's "Extreme Makeover: Weight Loss Edition;" and Lara Spencer, ABC's "Good Morning America."
The El Cortez downtown recently celebrated 70 years of operation in Las Vegas, securing the title for the oldest continuously operating hotel-casino in the city. The property opened in 1941 and was owned by notorious mobsters Bugsy Siegel, Meyer Lansky, Gus Greenbaum and Mo Sedway.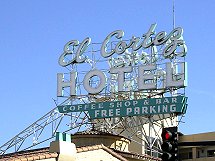 The Riviera has added "Confessions of a Rock Star" starring Pat DiNizio to its dinner and show package options. For $25, it's the show and dinner at The Riv Buffet. For the Comedy Club, the deal is $22.
Joe's Seafood, Prime Steaks & Stone Crab located at the Forum Shops at Caesars and St. Louis Rams running back Steven Jackson will host a fundraiser evening of cocktails and conversation on Tuesday, Jan. 17, from 6:30 p.m. – 9 p.m. Tickets are $125 for the fundraiser for The Steven Jackson Foundation.
The Peace Week 2012 "Living the Dream" Young Choreographer's Showcase featuring members of the city of Las Vegas Youth Council and Trinity Dance Academy honoring Dr. Martin Luther King Jr. will be held on Sunday, Jan. 15, at 3 p.m. at the West Las Vegas Library Theatre, 951 W. Lake Mead Blvd. Admission is free.
CANON U.S.A. HOLDS ANNUAL FUNDRAISER AT BELLAGIO
Canon U.S.A., Inc. is holding its 13th annual fundraising reception for the National Center for Missing & Exploited Children (NCMEC) at Bellagio on Wednesday, Jan. 11, with a celebrity golf tournament the next day.
The evening's master of ceremonies will be Emmy winning actor and Golden Globe Nominee Bryan Cranston along with Mark Steines from "Entertainment Tonight" and special guest John Walsh, host of "America's Most Wanted" and co-founder of NCMEC. In addition, there will be more than 25 other celebrities including Jeffrey Donovan, Burn Notice; Chris Rich, Reba; and many more.
Column Continues Below Advertisement
CONTINUE ON TO...:
>THIS WEEK'S LAUGHLIN NEWS
>LAST WEEK'S LAS VEGAS NEWS
>VEGAS VIEWS FULL NEWS ARCHIVES
>Return to "Heard Around Town"
>Return to Las Vegas Leisure Guide