<!A-- Left Column -->

The Temptations Revue featuring Dennis Edwards will perform at the Tropicana Express at 8 p.m. on Jan. 19. Tickets are $25 and $39.95 for VIP guests. Players Club members can get $2 off all tickets.
Edwards is an American soul and R&B singer most noted for being one of Motown act The Temptations' lead singers. He replaced David Ruffin as lead singer of The Temptations in 1968 and led the group through its psychedelic, funk, and disco periods. Two of The Temptations songs he appears on Cloud Nine and Papa Was a Rollin' Stone won Grammy Awards.
Edwards remained with The Temptations until 1977 just before the group's departure from Motown to Atlantic Records and rejoined the group in 1980 when they returned to Motown. Later Motown launched Edwards' solo career, and he had a hit with the 1984 single Don't Look Any Further, a duet with Siedah Garrett. He rejoined The Tempataitons one more time from 1987-89.
During the 1990s, Edwards began touring under the name Dennis Edwards & the Temptation, prompting a legal battle between him and Otis Williams. It was decided that Edwards' group would be called The Temptations Revue featuring Dennis Edwards, the name that Edwards tours under to this day.
The Comedy Shop at the River Palms is continuing its lineup of rotating three stand-up comics weekly. Tickets for the 8 p.m. shows, Monday through Saturday, are $14.95 and $19.95. From Jan. 7-12, the River Palms will feature Mike Reynolds, Mick Lazinski and Quinn Dahle.
Todd Luxton: The Ultimate Elvis Tribute will be a show remembering one of music's greatest legends, Elvis Presley. Luxton will perform in the Harrah's Laughlin Fiesta Showroom Jan 19-31. His tribute act has taken him across the country delighting audiences for more than 17 years. Wearing the trademark Elvis jumpsuit, Luxton transforms into Elvis performing his legendary hits. Tickets are $17.95, $22.95 and $27.95.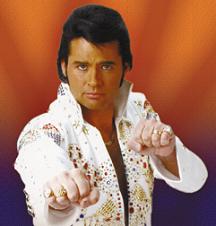 Luxton has all the shakes and moves. He hands out scarves and kisses the ladies in the audience and has been imitating Elvis since he was five years old. On Halloween night in 1976, he went out trick-or-treating dressed as Elvis Presley and to this day is still wearing Elvis costumes. This time; however, his costumes are made by the same man who made Presley's jumpsuits and cost in the range of $2,500 each.
Luxton grew up in Michigan and graduated from Western Michigan University in 1994 with a degree in political science and business management. Ironically, he has won every Elvis competition he ever entered including a contest at Harrah's where he beat out more 30 other contestants, and a contest at Apacheland Movie Ranch, the filming location for the Elvis movie Charro, where he got the top spot in a field of 40.

TOP OF NEXT COLUMN
The Laughlin-Bullhead International Airport currently has two major projects taking place. There's the $3 million remodeling and construction to the terminal building expected to be completed by the end of this month and a $7.5 million runway rehabilitation. The 5,000-square-foot terminal addition will increase the size by 50 percent and the existing terminal is also being remodeled.
The car rental companies will get new office space and some queuing space that doesn't conflict with airline check-in.
The Edgewater and Colorado Belle resorts are starting their rollout of more added value dining programs for ACCESS Players Club Members.
The Colorado Belle has brought back one of its "sweetest" offers, the Sweet 16 Special, consisting of a 16-ounce T-bone steak and 16-ounce beer for $11.95 with an ACCESS Players Club card. The popular combination is now being served in the Paddlewheel Café, which is also home to the $3.99 giant ham steak and eggs special, now available all day, everyday to ACCESS members.
Over at the Edgewater, Coco's Restaurant and Bakery is now open, offering their signature home-style cooking and bakery items. The Hickory Pit Steakhouse features Sunset Dining Specials each Sunday through Friday from 4 p.m. ACCESS Club Members may choose from three main entrees including pecan crusted salmon, petit top sirloin steak or shrimp scampi jardiniére, each served with soup or salad, fresh bread and a vegetable tray, all for $12.95.
These recent dining specials are the latest food and beverage offering for ACCESS Players Club members. On-going specials include half-price pizza on Tuesdays, 25-cent wings on Wednesdays and 75-cent beers on Thursdays in the Boiler Room at the Colorado Belle. Mark Twain's diners continue to enjoy all-you-can-eat chicken and ribs each Tuesday night for $10.99. The Grand Buffet at the Edgewater drives in ACCESS diners with $1.99 breakfast, $3.99 lunch and $7.99 dinner, Monday through Thursday.
Ozark Jubilee featuring the comedy of Doofus Doolittle will take over Don's Celebrity Theatre at the Riverside, Jan. 29 - Feb. 2. Tickets are $22 for the 7 p.m. shows, call 800-227-3849, ext. 616.
Ozark Jubilee features Branson's funniest comedian and world-class fiddler - Doofus Doolittle and his interesting style of "Hillbilly Humor." Doofus, alias Randy Newman, has established himself not only in Branson but across the United States. He's performed with such acts as Ronnie Milsap, Jimmie Rogers, Johnny Rodrigues, Mel Tillis and many, others. Newman is not only the star of the show, but the producer as well.
The 7th Annual Cloud's Jamboree will be held, Jan. 11-27, at the Avi Convention Center, RV Park and River Garden Pavilion. The event will feature booths at all three sites with gems, precious and semi-precious stones, jewelry, lapidary equipment, metal detectors, arts, crafts, etc., daily from 10 a.m. to 6 p.m. It's free to browse.
The "jamboree" is an annual gathering that showcasing all sorts of things. People visit from all over the world for this show and vendors come from Indonesia, Brazil, Munich, Japan and all across the United States.
Cloud's Jamboree actually began a generation ago in Quartzite, Ariz., which became a collector's destination in the process. It made the move to Laughlin to avoid being trampled by the Arizona Department of Transportation's highway renovations that were looping the highway through the show grounds.
CONTINUE ON TO...:
>THIS WEEK'S LAS VEGAS NEWS
>LAST WEEK'S LAUGHLIN NEWS
>VEGAS VIEW FULL ARCHIVES
>Return to "Heard Around Town"
>Return to Las Vegas Leisure Guide