LAUGHLIN HOSTS 7TH ANNUAL WINTER BREAK - KICKS OFF 'HOPE 2009'

Winter Break, a week-long celebration of living life to the fullest for those 50 and older, will be held in Laughlin, Jan. 9-15. This event will consist of numerous and varied activities for the 50+ age group to enhance health, optimism, preservation of the environment, and enrichment of everyday life. It will also officially kick off the national "HOPE 2009" project.
Current challenges, including the economy, environmental concerns, the war, and other issues can seem overwhelming to any age group. HOPE 2009 concentrates on the "silver lining beneath every cloud" theory, which will be revealed by educating, motivating, and inspiring others to take responsibility and make a difference in this world - one person and one small action at a time.
Winter Break is sponsored by the Laughlin Tourism Committee and eight Laughlin casinos. For Laughlin's Winter Break package information, visit www.winterbreak.us or call 480-926-5547
On Jan. 9, there's a Car Rally from 10 a.m. to 6 p.m. at the Tropicana Express parking lot. Celebrating the car club culture, any year, make and model are welcome and will be separated into categories and directed to three parking lots including the Edgewater and Colorado Belle.
On Jan. 10 and 11, the International Chili Society and Golden Nugget will host the Laughlin Regional Chili Cook-Off from 9 a.m. to 3 p.m. There will be music, food and beverage vendors, raffles, chili tasting, and more. The competition will include Salsa, Red Chili, and Chili Verde with more than 70 cooks expected. The winners will advance to the World Finals in Reno to compete for a $25,000 purse.
Another activity on Jan. 10 and 11 from 9 a.m. to 6 p.m. will be the Winter Break Car Rally highlighting both antique cars and hot rods. Public viewing and judging will be ongoing and winners will be announced at the Sock Hop.
At 11 a.m., there will be the River Dance Contest Preliminaries at the Riverside Dance Club. At 1 p.m., the River Dance Contest Finals will feature six couples competing for the title of Winter Break River Dance Champion. The Sock Hop will be held from 7 to 9 p.m. at the River Palms Ballroom.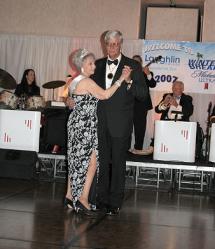 A DJ will be on hand to play musical favorites from the 50s and 60s. Prizes for the winners of crazy contests and the best costumes will be awarded.
On Jan. 11 at 11 a.m., there will be a Winter Break Car Cruise to Oatman, Ariz., for Rally Participants.
Welcome Festivities at the River Palms Ballroom will take place on Jan. 12 from 10 a.m. to 3 p.m. Entertainment will be ongoing with contests taking place and numerous prizes being awarded. The Welcome Happy Hour is set for 3 to 4 p.m.
The Homecoming King and Queen Contest will happen is from 7 to 9 p.m. at the River Palms Ballroom. Contestants must be over 50 and will be judged on appearance, talent, and community service.
On Jan. 13 from 9 to 10 a.m., there will be a Fun and Fitness Class featuring yoga at the Aquarius Ballroom. The Theater Workshop that follows from 10 a.m. to noon at Harrah's Showroom is for dancers. Expert Mary Ann Arcadipane will teach some Broadway techniques.
Overlapping from 10 a.m. to 2 p.m. in the River Palms Ballroom is the Gal-Eventing Pavilion with Red Hat vendors, seminars, wine tasting with three Temecula wineries featured, and more.

TOP OF NEXT COLUMN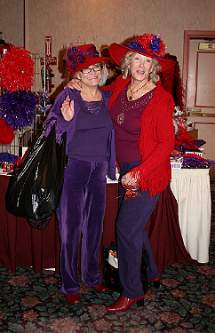 Slot enthusiasts will get to partake in a Slot Tournament held daily from Jan. 13-15 from 10 a.m. to 4 p.m.
From noon to 1 p.m. at Tarzan's in the Golden Nugget, will be Earth-Friendly Living teaching things you can do to make a difference and save the environment.
A Theater Workshop in Harrah's showroom will be for comedy actors and actresses with expert Mary Ann Arcadipane again instructing from 2 to 4 p.m.
There will be a Variety Show at the Tropicana Express Pavilion from 2 to 4 p.m. This performance will feature the Mesquite Toe Dancers from Mesquite, Nev., and the Sizzlin' Seniors in Motion from California.
More Jan. 13 activities will include Country Dance Lessons from 2 to 3 p.m. in the Riverside Dance Club. Dance instructor David Fish will teach all levels of dancers from beginners to experts.
At the Tropicana Express Pavilion from 7 to 9 p.m., will be the Variety Show - Broadway Your Way III. A variety of dancers, vocalists, and comedians will entertain.
Jan. 14 will begin with a Fitness Class from 8 to 9 a.m. in the Aquarius Ballroom. SilverSneaker's instructors will lead a seated exercise class. From 9:30 to 11:30 a.m., the Fun and Fitness Walk and Fair at the mall will record the laps people walk and a $1donation per lap will go to Tourism Cares.
From 10 a.m. to 1 p.m., you will be able to learn how to give back in a Volunteering Opportunities class being held at the Golden Nugget in Tarzan's.
Another Theater Workshop will be held from 10 a.m. to noon and focus on vocalists.
From 11 a.m. to noon, it will be the Winter Breakettes Chorus Line challenge. Talented dancers from Arizona, Nevada and California, all over 50, will line Casino Drive and perform at the Tropicana Express Victory Square.
The Polar Bear dip will take place at Harrah's private beach from 11 a.m. to noon.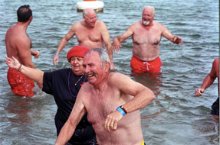 There's another Variety Show from 12:30 to 2:30 p.m. in the Tropicana Express Pavilion. It will be lead by Bobbi Leahy with entertainers over 50 again performing.
For a change of pace from 1 to 3 p.m., the Winter Break Rock 'n Bowl Tournament will happen at the Riverside Bowling Center. There is a $10 per person entry fee.
More dance lessons from 2 to 3 p.m. at the Riverside Dance Club with dance instructor David Fish teaching ballroom dancing.
From 3 to 4 p.m., there will be a fashion show at the aerial Preferred Mall highlighting its stores.
The Farwell Happy Hour is from 5 to 6 p.m. at the River Palms Ballroom. There will be a free beverage and drawing for a cruise for two. The Senior Prom will follow from 7 to 9 p.m. It will feature John Noxon's Big Band at the River Palms Ballroom.
Ongoing will be free bingo at the Riverside. There will be side tours to Oatman, Lake Havasu and Hoover Dam, as well as events including Igor's Jazz Cowboys Performance on Jan. 14 from 7 to 9 p.m. at the Tropicana Express Pavilion. All Winter Breakers will be given two-for-one admission and the regular price is $15. Igor sings in a four-octave range and plays an upright "slap bass," guitar, banjo, and just about any instrument with strings. Igor sang worldwide with the New Christy Minstrels, played with Benny Goodman and John Denver, and was a three-time winner on NBC's "Gong Show."
CONTINUE ON TO...:
>THIS WEEK'S LAS VEGAS NEWS
>LAST WEEK'S LAUGHLIN NEWS
>VEGAS VIEW FULL ARCHIVES
>Return to "Heard Around Town"
>Return to Las Vegas Leisure Guide