HARD ROCK HOTEL & CASINO OPENS ALL-SUITE HRH TOWER
The Hard Rock Hotel & Casino has opened its new all-suite hotel HRH Tower featuring a VIP entrance, 359 "standard" suites, 40,000 square feet of new casino space, eight spa villas, seven penthouse suites, the luxurious Reliquary Spa and Vanity nightclub. The HRH Tower is part of the Hard Rock's widely-publicized $750 million expansion that broke ground in 2007.
Column Continues Below Advertisement
The centerpiece overlooking the dance floor of the new Vanity nightclub is a multi-million dollar chandelier lit from within by LED lights that can change color and even broadcast images. The 14,000-square-foot venue features two marble bars, a sunken dance floor, 50 intimate VIP booths, an outdoor terrace including five cabanas with direct access to a sky bar and a ladies' lounge.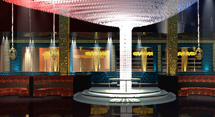 The centerpiece of the 25,000-square-foot foot Reliquary Spa is the Roman Bath with private cabana-type alcoves and lounge space. The Bath House has capabilities to turn the space into an entertainment area for small parties and group functions. It has 21 treatment rooms, a private studio for pole dancing lessons, a fitness center and of course the property's famous and expanded Brannon Salon.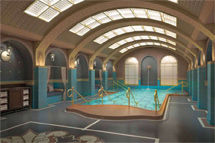 PLANET HOLLYWOOD OPENS PH TOWERS
The 1,201-room PH Towers at the Planet Hollywood Resort are open. The 52-story blue-and-red tower's rooms are marketed for travelers who want to stay in Las Vegas for an extended time. Rooms come with full kitchens, washers and dryers, and state-of-the-art electronics and bedroom features.
The tower with a lobby bar is a joint venture between Planet Hollywood Resort and Florida-based time share company Westgate. About 200 units are being sold as time shares and the rest are being used for hotel rooms. The top four floors will be 16 condominium units ranging from 6,000 to 18,000 square feet.
The new tower will open a pool next summer and plans are being developed for two restaurants off the lobby.
UPDATE ON TROPICANA's ONGOING RENOVATION
The historic Tropicana property is currently transforming itself into a vibrant, South Beach, Miami themed escape. The Tropicana's more than 100,000 square feet of meeting and convention is nearing completion and should reopen with a new look for 2010. Legends Steak and Seafood is currently undergoing renovations and work continues on the Tropicana pool area. The Island Tower walkway is undergoing a top-to-bottom revamp with imported Grecian marble. The Paradise Tower will begin undergoing renovation in early January. On the main casino floor, a new snack shop is Havana Go Go.
The Tropicana is offering a room special for $69 per night for two nights if you book through Jan. 30, you can get a free two-night stay in the new rooms May through September 2010. Call 888-381-8767 and mention Code RREBB09.
JON STEWART WILL PERFORM AT THE MIRAGE
Television star and stand-up comic Jon Stewart will headline at The Terry Fator Theatre at The Mirage on Feb. 5 and 6 at 10 p.m. Stewart, who anchors Comedy Central's "The Daily Show with Jon Stewart" is considered one of America's top social and comedic voices. Tickets are $119, $99 and $89, call 800-627-6667.
To date, Stewart and "The Daily Show" have received 28 Emmy Award nominations and won 13. Stewart was honored as "New York Entertainer of the Year" by "Variety" and named to the inaugural Time 100 list of the world's most influential people. In 2001 and again in 2002, Stewart served as host of the Grammy Awards, and in 2006 and 2008, he served as host for the 78th and 80th Academy Awards.
HARLEM GLOBETROTTERS VISIT ORLEANS ARENA
In their 84th consecutive season touring the world, the Harlem Globetrotters will bring their basketball hi-jinks as part of the "2010 Magical Memories World Tour" to the Orleans Arena on Feb. 10 at 7 p.m. Also known as the Magicians of Basketball® and the Ambassadors of Goodwill®, the Harlem Globetrotters entertain with a dose of slapstick comedy and a unique mix of trick shots, high-flying dunks and basketball handling wizardry. Tickets are $21, $29, $36, $56, $76 and $114, call 702-284-7777.
The legendary athletic organization has played more than 25,000 games in their nearly 85-year history. They have played in 120 countries, on six continents and for more than 130 million fans—including everyone from Presidents of the United States to the Pope. For their 2010 tour, the team will play nearly 270 games in more than 215 cities in 44 states, five Canadian provinces and Puerto Rico.
TODD PAUL ADDS FRIDAY TO HIS HOOTER's SCHEDULE
Starting this month, comedian Todd Paul, who opened his show in July 2009, is adding performing in the Night Owl Showroom at Hooters on Friday nights making his schedule Wednesday through Monday. During January, tickets are $8.95 and include one free drink, call 702-739-9000.
Paul has been dubbed the "Master of Mayhem" because he is always coming up with new ways to keep the audience on their toes. He excels at making useless skills humorous. For instance, riding on a unicycle and stabbing cards onto a sword.
Paul began his entertainment career at age 13 performing on the streets of San Francisco. He learned to perform everything from slight of hand magic to juggling chain saws. Todd's quick wit landed him on the stages of bay area comedy clubs where he began incorporating his many talents into his comedy routine.
'NASHVILLE UNPLUGGED' SCHEDULED JAN. 15 AT GREEN VALLEY RANCH
"Nashville Unplugged," based on the concept of getting to know what's behind the song, each month features a songwriter who goes through the process of what went into writing a particular song and then performs it at the show. On Jan. 15 at 8 p.m., the featured songwriters will be David Lee Murphy and Rob Crosby. The free show will be hosted by singer/songwriters Brian McComas, who wrote and sang "99.9% Sure (I've Never Been Here Before)," and Aaron Benward of Blue County, who wrote and sang "Good Little Girls." A fun aspect of "Nashville Unplugged" is "Songs from a Hat" where guests that arrive between 7:15 p.m. to 7:30 p.m. can make up a title to a song and place the suggestion in a hat. The songwriters will pick one title from that hat and then pen a song throughout the course of the evening, to be performed at the end.
TOP OF NEXT COLUMN
THE TEMPTATIONS RETURN TO THE ORLEANS
The Temptations - Otis Williams, Bruce Williamson, Terry Weeks, Ron Tyson and Joe Herndon will bring classic Motown music back to The Orleans Showroom Jan. 22, 23 and 24. Tickets are priced from $34.95, 702-365.-7075.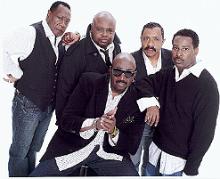 The Temptations are an essential component of the original Motown machine invented by Berry Gordy. The Temptations began their musical career in Detroit in the early ?60s. In 1964, Smokey Robinson wrote and produced "The Way You Do the Things You Do," the group's first major hit and an avalanche of hits followed.
RICARDO's WILL ATTEMPT 'WORLD's LARGEST MARGARITA'
Ricardo's Mexican Restaurant will commemorate 30 years in 2010 with a weekend celebration that will include a Guinness World Record attempt for the "World's Largest Margarita" sponsored by ROSANGEL™ tequila. The event will consist of a three-day celebration, May 21-23, with proceeds benefiting Susan G. Komen for the Cure of Southern Nevada.
During the 30th Anniversary celebration, patrons will be able to purchase samplings of the "World's Largest Margarita" throughout the weekend. Product for the "World's Largest Margarita" will be donated by Gran Centenario's new hibiscus-infused tequila, ROSANGEL™. This new hibiscus-infused tequila will give the margarita a pink hue in the spirit of breast cancer awareness.
The event will also include food and drink specials, live outdoor entertainment, celebrity appearances and prize giveaways. For more information, visit www.RicardosofLasVegas.com.
Ricardo's first restaurant opened in the Meadows Mall in 1979. Bob Ansara has co-owned the Ricardo's brand and operation since its inception three decades ago, and has operated numerous locations across the Las Vegas Valley. The current eatery is located at the northwest corner of Flamingo and Decatur.
RICK FAUGNO WILL REPRISE HIS SONG AND DANCE SHOW AT SOUTH POINT
Rick Faugno, who currently stars as Frankie Valli in "Jersey Boys" at the Palazzo, will reprise his one-man song and dance show with a seven-piece band and release his first CD, "Songs My Idols Sang (And Danced!)" on Sunday, Jan. 24, at 3 p.m. in the 400-seat South Point Casino Showroom. Faugno premiered his solo show last August and sold out two performances in 48 hours. The show is based on Faugno's life story in show business. Tickets are $20, $25 and $30, call 866-796-7111.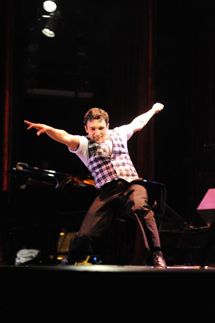 Faugno's CD presents some of his favorite music from the Great American songbook in a new light.
Faugno, who holds a Bachelor of Fine Arts Degree in Acting and Theatre from New York University, first appeared on Broadway at age 12 in "The Will Rogers Follies." He came to the Las Vegas Strip in 2008 to appear as the original Frankie Valli in "Jersey Boy." His Web site is http://web.mac.com/rickfaugno.
QUICK CLIPS
Actor and former star of the hit series, "That ?70s Show," Wilmer Valderrama will celebrate his 30th birthday at Eve, Eva Longoria Parker's nightclub in Crystals at CityCenter on Jan. 30.
The classic television game show "Let's Make A Deal" hosted by Wayne Brady with audience members dressing in outlandish costumes will continue taping through February at the Tropicana. Tickets are free and reservations can be made at cbs.com.
Comedian and impressionist Frank Caliendo has added a new day of laughs to his weekly lineup at the Monte Carlo Theater. For the month of January, Caliendo will add a Thursday night show to his usual Monday, Tuesday, Friday and Saturday 9:30 p.m. schedule.
Carly's Taco Cart will debut on Jan. 6 at Tacos & Tequila (T&T) inside the Luxor and spice up Mischieve Wednesdays by featuring a taco stand with $3 tacos, served fresh and hot by tequila temptress Carly.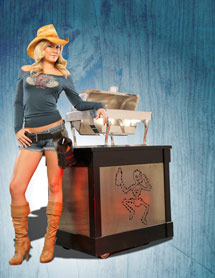 At the Santa Fe Station on Jan. 9, Dennis Wise will perform an Elvis Tribute show in the Chrome Showroom at 7 p.m. Wise turned professional one year after the King's death. Cost is $10.
Outdoor ice skating is continuing at the MonteLago Village floating rink at Lake Las Vegas through Feb. 15 from 3 to 9 p.m. Monday-Friday and noon to 9 p.m. on weekends. Cost is $12 for children 12 and under and $15 for adults.
The fundraising Annual Women's Philanthropy United Luncheon and fashion show featuring guest speaker Fran Drescher, best known for playing Fran Fine on the hit television series "The Nanny," will be held on Thursday, Feb. 4, 2010, at Wynn Las Vegas. For information, call 702-732-0556.
The Strip at Las Vegas Motor Speedway will host its annual awards banquet in the superspeedway infield on Saturday, Feb. 6. Due to demand, the banquet has been moved from the Blackjack Club to the larger drivers' meeting room. Champions in the 2009 Wicked HP Championship Bracket Series and Short Line Express Markets Jr. Dragster Series will be honored. Tickets are $35 with dinner included.
Column Continues Below Advertisement
CONTINUE ON TO...:
>THIS WEEK'S LAUGHLIN NEWS
>LAST WEEK'S LAS VEGAS NEWS
>VEGAS VIEWS FULL NEWS ARCHIVES
>Return to "Heard Around Town"
>Return to Las Vegas Leisure Guide