SAVILE ROW DEBUTS AT LUXOR
Over New Year's Eve weekend, Angel Management Group opened Savile Row, an intimate 2,000-square-foot haven at the Luxor where the former Noir Bar closed its doors in November to make room for the new venue that is reminiscent of the infamous street in London. One hitch, only members and invited guests are granted access.
Column Continues Below Advertisement
There are two distinct entrances, one doorway for members and one for invited guests at the end of the garden. Members enter through the exclusive Parlor, which also serves as a consulting chamber with a personal concierge to assist in creating their desired experience. After that, members proceed down a long brick covered alleyway with vintage gas lanterns guiding the way.
Savile Row was envisioned by famed New York-based designers Steve Lewis and Marc Dizon, who also designed Marquee NY, Butter and The Darby. This private lounge that embodies old English charm is daubed in rich hues of amber and burgundy, accompanied by romantic candlelight. It resembles a 19th century manor with distinct areas offering a personalized nightlife experience.
'SINATRA DANCE WITH ME' PLAYS AT THE WYNN
The show "SINATRA Dance With Me" debuted at the Encore Theater at Wynn on Dec. 12, which would have been Frank Sinatra's 95th birthday, and will run through Jan. 29. The musical is all about Sinatra's extraordinary music and dance choreographed by the astoundingly talented Twyla Tharp. The storyline all in dance follows four couples as they fall in and out of love at a swinging nightclub. The show seamlessly blends the legendary vocals of Sinatra with a 17-piece big band and 14 of the world's finest dancers. Tickets are $69 and $89.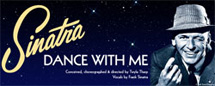 This show is by special arrangement with Frank Sinatra Enterprises and The Sinatra Family, with some members in attendance at the special opening performance.
Tharp also conceived and directed this dance masterpiece. Tharp has choreographed more than 135 dances and five Hollywood movies; directed and/or choreographed four Broadway shows; written three books; and received one Tony Award, two Emmy Awards, 19 honorary doctorates, and many more honors. Like Sinatra, Tharp's credits are in a class all her own.
The show highlights 29 Sinatra tunes starting with "Stardust" and concluding with "Luck Be A Lady." An interesting note: As of May 2008, with the release of "Nothing But The Best," Sinatra is the only artist to have an album/CD in the Billboard Top 10 in seven consecutive decades.
PAULY SHORE's VARIETY SPECIAL FILMS AT THE PALMS
The Palms and pop culture and comedic icon Pauly Shore teamed up for an online video contest, "Warm Up For Pauly,"a sweepstakes for comics to win the chance to warm up the crowd – live and on stage – before the "Pauly Shore's Vegas Is My Oyster" variety show at the Pearl on Sunday, Jan. 9. Comics uploaded a one-minute video to the Palms Facebook page of their best comedic material.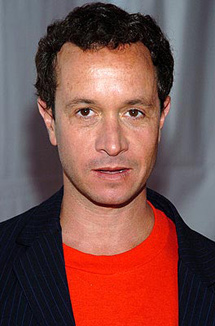 "Pauly Shore's Vegas Is My Oyster" variety show is being filmed for a cable TV special. However, the contest winner will not be filmed as part of the TV special. Featured comedians performing throughout the show include: the stunning Amber Lancaster (MTV's "The Hard Times of RJ Berger") musician Dave Navarro; adult actress Bree Olson; Playboy Radio host Andrea Lowell; and everyone's favorite tattooed home wrecker, Michelle Bombshell McGee.Other performers include: Charlyne Yi ("Semi-Pro" and "Knocked Up"); Faizon Love ("Couples Retreat," "Def Comedy Jam"); Andy Dick (television personality); Maz Jobrani ("Axis of Evil Tour," "Friday After Next"); April Macie (voted Hottest Female Comic on Howard Stern); and a never-before seen, R-rated Carrot Top (Las Vegas headliner). Pre-taped variety acts and skits featuring comedians Tom Green ("Road Trip," "Charlie's Angels") and Bobby Lee ("MadTV," "Pineapple Express") will be incorporated throughout the special.
Tickets for "Pauly Shore's Vegas Is My Oyster" are $34 and $49, call 702-944-3200 or call 800-745-3000.
PAULA POUNDSTONE BRINGS HER WIT TO THE ORLEANS
Comedienne, writer, actress and author Paula Poundstone will bring her stand-up and audience interaction act to The Orleans Showroom, Jan. 22 and 23. Tickets for her 8 p.m. show start from $19.95, call 702-365-7075.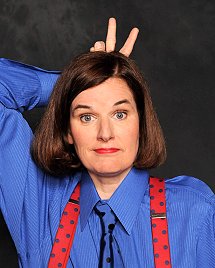 By 1990, Poundstone had moved to Los Angeles and starred in multiple HBO comedy specials and appeared on "Saturday Night Live."She was the first woman to receive a Cable ACE Award for a comedy special for her one-hour HBO special "Cats, Cops, and Stuff," and she is the recipient of an Emmy® Award for her field pieces on the PBS program "Life & Times."
Poundstone is a regular panelist on NPR's weekly quiz program "Wait Wait…Don't Tell Me." She has written several magazine articles, including five years of writing the back page column in "Mother Jones," and authored multiple books including three math text books for children. In 2009, Poundstone released her first comedy CD "I HEART JOKES: Paula Tells Them In Main," now available at www.paulapoundstone.com.
SAMMY SHORE HOLDS COMEDY ANIMAL FUNDRAISER AT PALMS
The Palms and comedian Sammy Shore will hit a funny bone for animals with the second Funny Bones comedy act at 3 p.m. Sunday, Jan. 30, inside the Palms Ballroom. Thecomedy jam hosted by Shore, who was Elvis Presley's opening act, will feature an all-star cast; co-host Bobby Slayton, Vinnie Favorito, George Wallace, Pauly Shore, Dennis Blair, Geechy Guy, James P. Connolly and Doug Starks. The show will also feature soap opera actress and Broadway star Catherine Hickland, DJ Ben Harris of the Terry Fator Show and other special guests. Tickets are $39.95, call 702-944-3200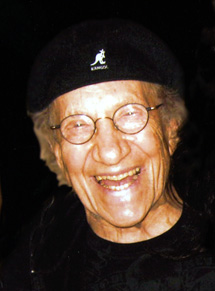 The funds raised from this year's comedy jam will go to the Funny Bones Foundation. The purpose of Funny Bones Foundation is to provide financial support to abandoned animals in need of advanced medical and surgical care.
TOP OF NEXT COLUMN
NEW LAS VEGAS TV SHOW STARS LANI MISALUCHA
The show "It's Vegas with Lani Misalucha" taped the first of a series of 13 celebrity driven talk/variety shows at the Rio in the Crown Theater on Oct. 28. The host Misalucha began her career in the Philipines at age 17 and was dubbed Asia's Nightingale. She arrived in Las Vegas in 2004 and has headlined with Society of Seven and in her own show at the Las Vegas Hilton.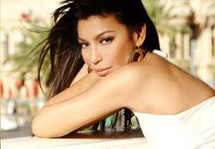 The show is a six camera HD epic with a live audience that is currently signed for one season by the VasianTV Network and will be seen locally on NBC 3.2 and Cox Cable 123 as well as 49 million households in the US and 10 million households in South East Asia. For ticket reservations, go to VegasVipEvents.com or call 702-938-0889. General admission is free. The next series of shows are scheduled for Tuesdays Dec. 21-Feb. 22.
The show features song and dance numbers by Misalucha as she is backed by Lon Bronson and his All Star Band. It is a platform for the great entertainers currently performing on the Strip.
SMOKEY ROBINSON HEADLINES EASTSIDE CANNERY
Legendary singer, songwriter, and producer Smokey Robinson will headline in the Casablanca Event Center at the Eastside Cannery on Friday, Jan. 14 at 8 p.m. Tickets are $64.95, $74.95 and $84.95, call 702-856-5470.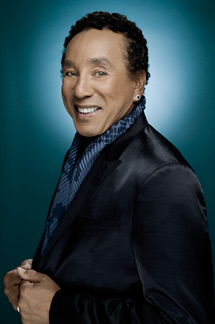 Robinson recently celebrated 50 years in the music industry. Between 1960 and 1987, he had 37 songs reach the Top 40. Robinson was one of the first singers to sign with Motown Records and later served as vice president of the record company for 28 years. His music career began with Motown band The Miracles where he served as their lead singer for more than 10 years before his famous solo career.
Currently, he is working on his next album "Time Flies When You're Having Fun"where he will be collaborating with Carlos Santana, India Arie, and Joss Stone.
KEITH SWEAT PERFORMS AT THE SILVERTON
Producer, writer and R&B icon Keith Sweat will perform at the Silverton on Jan. 14 and 15. Tickets are $30. In 1987, Sweat released his debut album "Make It Last Forever." In addition to being a solo artist, Sweat is credited with forming R&B super group LSG, which included Sweat, Gerald Levert and Johnny Gill. Currently, Sweat is touring music from his latest album and hosting "The Sweat Hotel" radio show, which broadcasts across the country.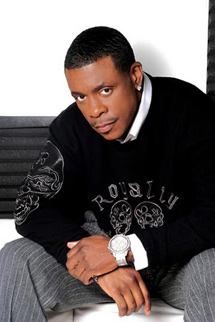 QUICK CLIPS
Steak 'n Shake, a 76-year-old establishment in the Midwest and South, launched its first restaurant west of Texas last month when it opened an outlet in the South Point.
Starting Jan. 8 through the remainder of the NFL post season, the RHUMBAR patio at The Mirage will host playoff tailgates featuring football, food and drink specials.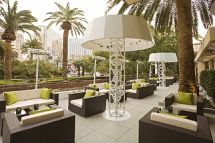 Bellagio Gallery of Fine Art (BGFA) is extending its current exhibition that opened last May, "Figuratively Speaking: A Survey of the Human Form," through March 27, 2011. Organized in partnership with the Museum of Contemporary Art San Diego (MCASD) and the Museum of Fine Arts, Boston (MFA), the exhibition showcases a wide range of figurative styles in a variety of media by artists whose unique perspectives have defined the genre.
While Wes Winters' 88 Key Club closed at Sam's Town, you can still enjoy his piano playing and music during Sunday brunch at the ENVY Steakhouse from 11:30 a.m. to 2:30 p.m. at the Renaissance.
For nearly three decades, the "AVN Awards Show" has been the adult industry's biggest night to bestow the highest honors in a variety of categories. The 2011 "AVN Awards Show" will return to the Pearl inside the Palms at 9 p.m. on Saturday, Jan. 8. The event will be co-hosted by 2010 AVN Female Performer of the Year, Tori Black, Digital Playground contract girl, Riley Steele, and Lisa Lampanelli, Comedy's Lovable Queen of Mean. Other stars attending the show will include Dave Navarro, Jesse Jane ("Middle Men"), Jenna Haze ("Superbad"), Ron Jeremy, Tommy Gunn ("Entourage"), Kirsten Price ("Weeds"), Kayden Kross and more.
Treasure Island took first place at Opportunity Village's 18th annual Magical Forest Gingerbread House Village competition last month. The ship made of gingerbread with Santa Claus waving from the deck weighs around 50 pounds and took more than 30 hours to build.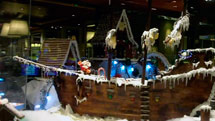 On Dec. 21, Planet Hollywood guest Dorothy Reynolds won $2,948.494.50 on the progressive WMS Gaming penny slot machine, "Wizard of Oz." Reynolds joked that her win on the "Wizard of Oz" machine and her name, Dorothy, "must have been meant to be."
Mr. Lucky's 24/7 inside the Hard Rock has extended the two new graveyard specials introduced last month. From midnight to noon daily, the New York Steak & Egg is $4.99 and the Burger Basket Special is $3.99.
LOCAL ARTISTS EVENT WITH AFFORDABLE ARTWORK
New Vista Community has partnered with Emergency Arts Downtown to put on the first art event specializing in all local artisans selling artwork priced at $100 or less. The public event will be from 11 a.m. to 2 p.m. on Sunday, Jan. 16 at the Emergency Arts building located at 6th Street and Fremont and will extend outside to the El Cortez square. The event will also feature a local cuisine and drink sampling for a$10 donation and a silent auction. For artisans wanting a booth, call 702-457-4677 ext. 33 or e-mail events@newvistacommunity.org .
Column Continues Below Advertisement
CONTINUE ON TO...:
>THIS WEEK'S LAUGHLIN NEWS
>LAST WEEK'S LAS VEGAS NEWS
>VEGAS VIEWS FULL NEWS ARCHIVES
>Return to "Heard Around Town"
>Return to Las Vegas Leisure Guide