RIVERSIDE PROVIDES A COUNTRY FIX WITH TY HERNDON!

Grammy-nominated and Dove award-winning recording artist Ty Herndon will bring his music to the Riverside in Don's Celebrity Theatre Jan. 31-Feb.3 at 7 p.m. Tickets are $30.

Alabama native Herndon's career spanning two decades has earned him 20 Billboard charted singles and more than five million albums sold. At age 17, he performed at Opryland USA as a cast member of "Today's Country Roads." He went on to be a finalist in the first season of the television series, "Star Search" and was a winner in the male-vocalist category. Herndon has a passion and commitment to his music which continues to play out in his lyrics. He says, "If I haven't lived it, I haven't sung it."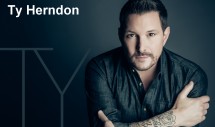 His humanity had him become the first major country artist to publicity come out as gay in November 2014. He then made history hosting the first-of- its-kind country music event, "The Concert for Love and Acceptance," designed to bring attention and support to at-risk youth and acceptance.
TERRY FATOR WITH PALS WILL APPEAR AT THE E CENTER
Las Vegas headliner Terry Fator and the Season 2 winner of "Americas Got Talent" will bring his cast of characters to the Edgewater's E Center on Saturday, Jan. 27 at 8 p.m. Tickets range from $45 to $285.
Fator, "The Voice of Entertainment," is never really alone on stage. His friends appearing with him have become pretty famous too including: Winston, the Impersonating Turtle; Emma Taylor, the little girl with the big voice; Maynard Thompkins, the Elvis Impersonator; Duggie Scott Walker, the annoying neighbor, and many others.
After 25 years of honing his skills at county fairs and venues across the country, the Dallas-bred entertainer got his big break by winning AGT at age 42. It catapulted him into the upper echelon of entertainers, landing him at No. 3 on Forbes list of the top earning comics in 2015. Now he's a household name known for his brand of entertainment, which combines singing, comedy and unparalleled celebrity impressions.
RIGHTEOUS BROTHERS WILL ROCK AT THE RIVERSIDE
The Righteous Brothers will visit the Riverside appearing in Don's Celebrity Theatre Jan.11-14 at 7 p.m. Tickets are $40.
For four decades, the Rock and Roll Hall of Fame duo of Bill Medley and Bobby Hatfield topped the charts. Since Hatfield's passing, Medley has joined forces with one of the most versatile vocalists in America, Bucky Heard, to bring The Righteous Brothers back to the stage. Their concert experience features a string of the famous duo's biggest No. 1 hits, including "You've Lost That Lovin' Feelin'," "Soul & Inspiration," "Unchained Melody," "Rock and Roll Heaven," Medley's Grammy-winning "Dirty Dancing" theme song "The Time of My Life," and much more.
THE EDGEWATER FEATURES COMEDIANS ON WEEKENDS
Every weekend, Friday-Sunday, two different weekly comedians take center stage at "Comedy on the Edge" at the Edgewater in the Edge Lounge at 7 p.m. Tickets are $15 with a $2 discount available on Sundays for U.S. veterans.
The upcoming lineup will feature: Jan. 5-7 Kirk Smith - Mona Shaikh; Jan. 12-14 Steve Gillespie - Sandra Risser; Jan. 19-21 Spencer James - Crystal Powell; Jan. 26-28 Norm Stulz - Adrian Cosby; Feb. 2-4 David Nickerson - Gali Kroup; and Feb. 9-11 Chris Cope - Sean Green.
Kirk Smith along with Mona Shay will headline Jan. 5-7. Smith talks about family including his life as the father of an autistic son and personal experiences. He wrote a book about his experience, "Rice Krispies with Ketchup: A Comedian's Journey with an Autistic Child." As a 10-year veteran of the comedy circuit, he has performed with many major comedians including Chris Rock, Bill Burr, Russell Peters and many others, at major comedy clubs across the country.
Steve Gillespie is paired with Sandra Risser Jan.12-14. Gillespie specializes in absurd and personal comedy. His act is a slaphappy balance of aggression and absurdity, coupled with a delightful pushy persona and effective word choice. He's worked in stand-up for a decade performing with many great comedians including Kyle Kinnane, Jim Bruer, Dave Attel, Tom Green, Gilbert Gottfried and more. His start was at the Acme Comedy Company in Minneapolis. He was a finalist in CMT's "Next Big Comic" and a runner up for Best of the Midwest at Gilda's Laughfest. His critically acclaimed debut album was "Stever Fever from Rooftop Comedy" was followed by his second release "Alive on State."
Spencer James will share the stage with Crystal Powell Jan. 19-21. James was the winner of the "World Series of Comedy" in Las Vegas in 2014 and is now a regular at comedy clubs on the Strip including the Laugh Factory at the Tropicana and Brad Garrett's Comedy Club at the MGM Grand. A 10-year comedy veteran, James delivers plenty of family jokes, including about being a former fat kid.
Norm Stulz and Adrian Cosby will provide the laughs Jan. 26-28. Stulz has been headlining internationally since 1986. He's toured with Tim Allen and Sinbad, and three well known comedians have opened for him, Ralphie May, John Heffron, and Dave Landeau. Stulz is the consummate storyteller using family and life situations for his material. He has performed for our troops, at comedy clubs nationwide, on television comedy special and commercials, and for hundreds of corporations.
TOP OF NEXT COLUMN
PAM TILLIS MAKES A STOP AT THE RIVERSIDE
It will be "An Acoustic Evening with Pam Tillis" at the Riverside Jan.18-20 at 7 p.m. Tickets are $30.
Tillis was a child of Music City royalty and a former rebel. She was determined to find her own way as a singer and songwriter. As a CMA Female Vocalist of the Year, she has written songs for some of the top singers in and beyond Nashville. Some of the tunes include more than a few of her own hits such as "Land of the Living," "Mi Vida Loca (My Crazy Life)," and "All the Good Ones Are Gone." Tillis has never lost her connection to country music insisting on writing and cutting songs that speak from the soul. With total creative control, she lets her heart lead the way toward material that she can perform honestly and emotionally.
MOTOWN WILL BE REVISITED AT THE TROPICANA
"Stone Soul Motown Revisited" will bring spot-on renditions of timeless hits from legendary artists to the Pavilion Theater at the Tropicana on Saturday, Jan. 27 at 8 p.m. Tickets are $20.
Stone Soul, one of the best classic soul and Motown bands working today entertaining thousands at clubs and special events, plays the very best of classic soul and Motown music. Their talents have been called upon to support Stevie Wonder, The O'Jays, Diana Ross, and the late B.B. King.
DOUG KERSHAW WILL FIDDLE AT THE RIVERSIDE
Doug Kershaw, affectionately known as the "Ragin' Cajun," as he performs an energetic mix of rock, blues, jazz, country, and Cajun music, will headline Don's Celebrity Theatre at 7 p.m. Jan.23-28. Tickets are $25.
Kershaw is an American fiddle players, singer and songwriter from Louisiana. He began his career as part of the duo Rusty and Doug with his brother. His extensive 15-album solo career also includes signature hits "Diggy Diggy Lo," "Hello Woman," and "Cajun Baby."
After fulfilling their military obligation, the two brothers recorded "Louisiana Man," an autobiographical song that Kershaw wrote while in the Army. The song not only sold millions of copies but was eventually covered by more than 800 artists. In 2009, he was inducted into the Louisiana Music Hall of Fame.
ELIOT CHANG WILL VISIT THE AVI
Comedian Eliot Chang will make an appearance at the Avi Grand Ballroom on Friday, Jan. 12 at 7 p.m. Tickets are $10.
Sharp biting opinions combined with his trademark polished wardrobe make his live performances memorable. Every year, Chang tours America for eight months and performs at more than 400 colleges. He was born and raised in New York, moved to Los Angeles in 2007, and travels between both coasts regularly for projects.
Chang's "Comedy Central Presents" half-hour special was voted No. 2 in Comedy Central's Stand-Up Showdown in 2011. His other television appearances include Showtime's "Chris Spencer's Minority Report," E!'s "Chelsea Lately," and Comedy Central's "Premium Blend."
WILLIE NELSON BRINGS HIS MUSIC TO THE E CENTER
Willie Nelson and Family will headline at the E Center at the Edgewater on Sunday, Jan. 14 at 8 p.m. Ticket range is $55 to $300.
With a remarkable six-decade career, this Texan has produced more than 200 albums. He is the creative power behind such recordings as "Stardust," "Crazy" and "Red Headed Stranger." He has earned every conceivable award as a musician.
In the last five years, Nelson presented nine new album releases with one earning a Grammy Award, released a Top 10 New York Times' bestselling book, headlined Farm Aid which he co-founded in 1985, received his 5th degree black belt in Gong Kwon Yu Sul, and appeared on the cover of "Rolling Stone" magazine.
JOHNNY ACE PALMER WILL BRING COMEDY AND MAGIC TO THE AVI
Johnny Ace Palmer will headline the Avi Grand Ballroom on Friday, Jan. 26 at 7 p.m. He is an American close-up comedy magician, who is famous in the global magic community for his prodigious sleight-of-hand abilities. Tickets are $20.
Palmer was voted Best Close-Up Magician at the Magic Castle™ in Hollywood by the Academy of Magical Arts two years in a row. He is the only magician to have received both the International Brotherhood of Magicians' Gold Cups Award of Excellence and the Society of American Magicians' Gold Medal Award of Honor.
QUICK CLIPS
The Shows of Integrity Gem, Mineral, Jewelry & Bead Show will take place at the Pavilion Theater inside the Tropicana Jan. 12-21 from 10 a.m. to 5 p.m. daily. The show features gold, silver, fine jewelry, pearls, mineral specimens, handmade items, carvings, rough cutting materials and more. Admission is free.
The Cruizin' on the River Classic Car Show will take place in the Riverside Resort South Parking Lot Wednesday-Saturday, Jan. 18-21 with car viewing throughout the day and early evening.
Headliners to look forward to in February on Saturdays include: Alabama Feb. 24 at the Laughlin Event Center; Paul Anka at the Edgewater Feb. 10; The Everly Brothers Experience at the Tropicana Feb. 10; and Williams & Ree at the Avi Feb. 10. At the Riverside, shows will include: The Oak Ridge Boys Feb. 5-11; Crystal Gayle Feb. 15-18; and Man In Black tribute show Feb. 21-25.
CONTINUE ON TO...:

THIS WEEK'S >LAS VEGAS NEWS
LAST MONTH'S >LAUGHLIN NEWS
>VEGAS VIEW FULL ARCHIVES
Return to >"Heard Around Town"
Return to >Las Vegas Leisure Guide