CEE LO GREEN IS ON THE MOVE

Hip-hop artist Cee Lo Green is planning a modern Liberace-type show for a headlining gig at Planet Hollywood. In addition, the singer-songwriter recently signed a contract with TV producer Mark Burnett for a British reality television series, "Cee Lo Takes the U.K.," with the Goodie Mob, his old group, recording a reunion album in London.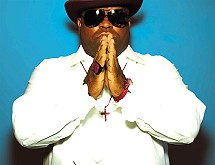 Column Continues Below Advertisement
SAD DAY Ė MGM GRAND WILL CLOSE LION HABITAT
The MGM Grand will close its Lion Habitat, a $9 million, 5,000-square-foot, glass-encased attraction, permanently on Jan. 31 as part of the overall property-wide renovation. The lion habitat, which opened in 1999, rotates 20 lions rotate in and out of the exhibit, where they nap, wrestle and play. The free attraction is open daily from 11 a.m. to 7 p.m.
In February, the lions totaling 40 will all return to The Cat House, an 8.5-acre ranch outside Las Vegas where they live with trainer and habitat designer Keith Evans, who plans to open The Cat House to the public or to private tour groups.
Last October the company began a $160 million, year-long remodel of the MGM Grand with plans for each of the main tower's 3,570 hotel rooms and 642 suites to receive a makeover along with an overhaul to the property's casino floor, restaurants, clubs and showrooms.
COMEDIAN BOB SAGET BRINGS LAUGHS TO THE ORLEANS
Comedian Bob Saget, known nationally from his two long-running series on ABC -- "Full House" and "America's Funniest Home Videos," will appear at The Orleans Showroom on Jan. 27 and 28. Tickets start from $39.95.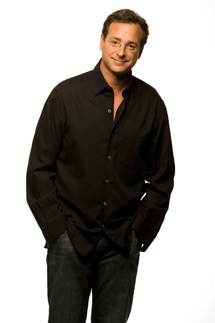 Saget's calling card is his adult-themed brand of comedy, dealing with life as a single dad, dating and divorce. In 2007, he filmed the HBO comedy special "Bob Saget: That Ainít Right" and wrote, directed, produced and voiced-over the film "Farce of the Penguins," which also starred the voices of 50 of comedy's biggest names.
From 2006 to 2008, Saget hosted the NBC quiz show "1 vs. 100," and in 2009, he appeared in his own sitcom "Surviving Suburbia." Saget also had a recurring role in the HBO series "Entourage."
MMA's RANDY COUTURE HOSTS CHARITY POKER TOURNAMENT
Mixed Martial Arts legend Randy "The Natural" Couture will host his fourth annual "Operation All In" poker tournament and charity auction benefiting the Xtreme Couture G.I. Foundation at the Golden Nugget on Saturday, Jan. 14 at 2 p.m.
This event, held in The Grand events center, is open to the public and will feature a celebrity charity poker tournament, live and silent auctions, autograph sessions with photo opportunities and raffle prizes.
There will be professional celebrity poker players and stars from the MMA world and Hollywood playing alongside the public. Several prizes will be awarded along with the grand prize of $10,000 cash. The buy-in is $220 with $100 multi re-buys. To reserve your spot, call 800-777-4658, ext. 8164 or email: poker@goldennugget.com to pre-register. Otherwise you can register at the event.
BOTTLE & BURGERS OPENS IN TIVOLI VILLAGE
Bottle & Burgers by Double Helix has opened in Tivoli Village at 450 S. Rampart Blvd. and boasts gourmet comfort food with a focus on the craft of savory burgers. Adult beverage options include 30 selections of half bottles of wine and Double Helix private label wines by the glass. This eatery offers two pet-friendly covered patio spaces and a third separate outdoor patio designated for cigar smoking. Bottles & Burgers is open for lunch and dinner; visit tivolivillage.doublehelixwine.com.
CIRQUE DU SOLEIL EMPLOYEES DISPLAY ARTWORK
The Cultural Action team at Cirque du Soleil will unveil its seventh collective art exhibition created by employees on Thursday, Jan. 5. Artists will be on hand to discuss their work during the collection's preview from 6-8 p.m. The exhibition titled "PARADE, The Collective" will run Jan. 5-26 at the Trifecta Gallery inside the Arts Factory downtown.
No limitations were set and all artistic formats of any dimension were accepted. This freedom resulted in an exhibition which ranges from photography to fabric and ceramic sculptures.
FOSTER THE PEOPLE WILL RETURN TO COSMPOLITAN
Foster The People with special guest Mayer Hawthorne & The County will return to Boulevard Pool at The Cosmopolitan on Saturday, July 7 at 9 p.m. The Los Angeles-based trio recently received two Grammy® nominations for "Best Alternative Album" and "Best Pop Duo/Group Performance." They have performed at The Cosmopolitan the past two years and their album "Torches" released last May has gone gold. Tickets are $35, call 800-745-3000.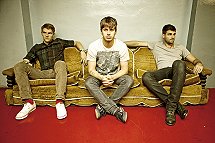 SINGER SONNY GERACI BRINGS ROCK 'n' ROLL TO SUNCOAST
Sonny Geraci, original lead vocalist of The Outsiders and Climax, will feature his versatile voice again at the Suncoast Showroom, Jan. 14 at 7:30 p.m. Tickets are available from $15.95.
Geraci exploded onto the music scene in the 1960s with the rock 'n' roll band The Outsiders releasing four Top 40 hits. Afterwards, he formed the band Climax, best-known for the hit "Precious & Few." Recently, actors Dan Ackroyd and Jim Belushi performed with Geraci, re-recording The Outsiders hit, "Time Wonít Let Me."
LAS VEGAS GAINS ATTENTION WITH RICK's RESTORATIONS
No question "Pawn Stars" on the History Channel featuring the family-owned Gold & Silver Pawn Shop downtown has garnered Las Vegas incredible publicity. It's quite a sight to drive past the store and see the stanchions roping off the line of visitors waiting to get into the small store.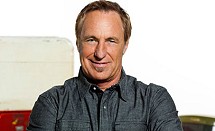 Another History Channel show, "American Restoration" features expert restorer Rick Dale and his crew salvaging the rustiest and most beat-up items and turning them into mint condition. His started as a home-based business but success motivated his relocation to 1112 S. Commerce St., an expansive warehouse that required renovation. With the interior done, the next phase will be to transform the building's exterior into a replica of a 1940s-era main street with trees, building facades and possibly even an actual classic American diner. Rick's Restorations is open for tours Monday through Saturday, from 9 a.m. - 5 p.m. For information, visit www.ricksrestorations.com.
TOP OF NEXT COLUMN
TURTLE ISLAND QUARTET VISIT HISTORIC FIFTH STREET SCHOOL
Tickets are on sale now for the March 2 performance of the Grammy Award-winning Turtle Island Quartet in downtown Las Vegas. Presented by the city of Las Vegas, the 7 p.m. concert will celebrate the music of John Coltrane and Jimi Hendrix in the Historic Fifth Street School located at 401 S. Fourth St. Tickets are $10 in advance and $15 on event day, call 702-229-3515.
These classically trained musicians, David Balakrishnan, Mark Summer, Mads Tolling and Jeremy Kittel, are internationally recognized performers and composers.
FAST TIPS
All guests who dine at the 35 Steaks + Martinis in the Hard Rock Hotel between Jan. 8-14 will be offered a complimentary dessert called "Just Because" in honor of Elvis' birthday and his 1956 hit single, "Just Because." The limited-time dish combines some of Elvis' favorite cravings, including banana, peanut butter and grape jelly. In addition, for one week only, one Elvis outfit that he wore will be displayed inside the restaurant.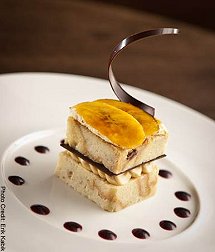 To honor the two millionth breakfast milestone at Arizona Charlie's Sourdough Cafes on Boulder Highway and Decatur, both will serve the famous Steak or Ham and Eggs Breakfast for only $2 on Jan. 9 from 6 a.m. to 11 p.m. The special has been voted "Best Breakfast Special" three years in a row in the Las Vegas Review Journal's Readers' Poll.
The ladies of "FANTASY" from the Luxor will head to Chateau Nightclub at Paris on Friday, Jan. 13, following their week-long CES appearance.
"Playboy" cover girl, Bree Olson, will host a night at Gallery Nightclub inside Planet Hollywood on Saturday, Jan. 21. The bodacious, Las Vegan star will end the bustling Adult Entertainment Expo-AVN Expo week with a bang at the Strip's hot spot.
The Rockhouse Bar & Nightclub on the Strip will embrace the unlucky Friday the 13th with a $13 open bar special drink from 1 to 3 p.m. on that superstitious day.
Crystals at CityCenter has earned Gold sustainable design awards from the International Council of Shopping Centers (ICSC), the global trade association of the shopping center industry. The awards were earned in ICSC's annual U.S. Design and Development Awards competition. Crystals has also been awarded the U.S. Green Building Council's LEED® Gold certification for sustainability, and is currently the largest LEED® Gold certified retail district in the United States.
Sponsored by Heineken USA, the first Roseman University International Beer Tasting & Food Sampling event will be held at Morton's The Steakhouse from 2 to 4 p.m. on Sunday, Feb. For ticket prices, contact bwood@roseman.edu at 702-968-2055.
Donn Arden's "Jubilee!" at Bally's will hold casting auditions for female and male dancers and singers on Jan. 23 from 10:30 a.m. to 3 p.m.
KT SULLIVAN AND MARK NADLER WILL PERFORM LOVE SONGS
"Love is Here to Stay," a celebration of classic love songs, will be performed by KT Sullivan and Mark Nadler on Feb. 4, at 8 p.m. at the Historic Fifth Street School located at 401 S. Fourth Street. Tickets are $10 in advance and $15 at the door, call 702-229-3515.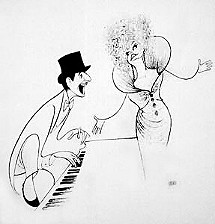 Sullivan and Nadler co-wrote and starred in the Off-Broadway "American Rhapsody." Their show "Always: The Love Story of Irving Berlin" won the 2004 Nightlife and Manhattan Association of Cabarets Awards.
Sullivan's Broadway credits include "The Threepenny Opera" with Sting, the play "Broadway," and the leading role in "Gentlemen Prefer Blondes."
Nadler has received six Manhattan Association of Cabarets Awards; three Backstage Bistro awards; plus a New York Nightlife Award. He has performed at Carnegie Hall, every major cabaret in New York City, and been a soloist with many symphonies.
RAMOS VS. RIGONDEAUX LANDS AT THE PEARL AT THE PALMS
Postponed from New Year's Eve, the World Championship bout featuring World Boxing Association (WBA) super bantamweight champion Rico Ramos defending his title for the first time against the WBA interim champion Guillermo Rigondeaux will be held at the Pearl at the Palms on Friday, Jan. 20 and broadcast on SHOWTIME. Tickets for the event are $54 and $29.
THE IMPROV AT HARRAH's FEATURES THREE COMEDIANS WEEKLY
The Improv at Harrah's showcases three different comedians each week with Don McMillan, John DiResta and Kenny Kane working Jan. 3 - 8. McMillan was the 1993 Grand Champion of "Star Search;" DiResta appeared in "Miss Congeniality" and its sequel and currently co-hosts HGTV's "Hammered with John and Jimmy DiResta;" and Kane draws from his background as a black belt, hip-hop dancer, soccer player and track athlete to create a physical show.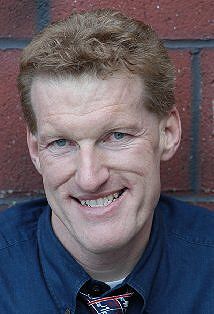 TOM STEVENS HONORS ELVIS AT SUNCOAST
In honor of Elvis Presley's 77th birthday, singer-impressionist and comedian Tom Stevens will bring his all Elvis tribute show to the Suncoast Showroom for two performances on Jan. 7 and 8. While Stevens is well-known for his wide-range of impressions but for this show he will walk, talk and dress like The King and perform many of Elvis' hits. Tickets are available for $13.59, call 702-636-7075.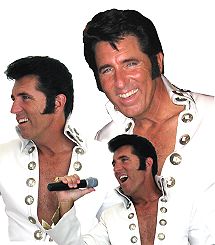 RÍ RÁ AT MANDALAY BAY
Rí Rá located at The Shoppes at Mandalay Place is a genuine Irish pub with authentic Irish music nightly during dinner and evening hours with many of the bands coming directly from Ireland.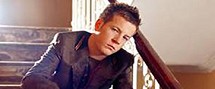 For January the lineup includes: John Windsor; George Murphy, who appeared on "Youíre A Star" - the Irish version of "American Idol;" hip hop band Seanchai lead by Chris Byrne, a former New York City policeman; Blaggards with what they call "Stout Irish Rock;" Smiliní Bob; The McCabes; and Cul an Ti meaning "the back of the house."
Column Continues Below Advertisement
CONTINUE ON TO...:
>THIS WEEK'S LAUGHLIN NEWS
>LAST WEEK'S LAS VEGAS NEWS
>VEGAS VIEWS FULL NEWS ARCHIVES
>Return to "Heard Around Town"
>Return to Las Vegas Leisure Guide