Joan Rivers brings her irreverent humor and astute observations to the Tropicana on Saturday, Jan. 14, for a one night only show in the Tiffany Theatre. Tickets are $49 plus tax and surcharge, call 702-739-2411. Guests must be at least 21 years of age.
Rivers' distinguished career began in the 1960s when she began doing her stand-up routine at small New York City venues and eventually joined Chicago's comedy troupe, "Second City."

Column Continues Below Advertisement


Since then, Rivers has added such titles to her resume as author, actress, playwright, screen-writer, motion picture director, headliner, guest-speaker, Emmy Award-winning talk-show hostess, business woman with her jewelry and cosmetics empire, and mother to occasional on-air partner, daughter Melissa. Also during her illustrious career, River's signature "Can we talk?" was registered as an official Federal Trademark.
Today, joined by daughter Melissa, Rivers is known as the acid-tongued and always witty Queen of the Red Carpet where she gleefully evaluates the fashions of Hollywood's icons as they arrive for all the major awards ceremonies throughout the year.
Susan Anton, who is 5 feet 11 inches tall, is taking on the role of the oh-so-perfect Velma Von Tussle in the Las Vegas production of "Hairspray," opening in February at the Luxor. The show will star Harvey Fierstein and Dick Latessa and open on Feb. 15.
Anton isn't a stranger to Vegas after having headlined in more than 5,000 performances of "The Great Radio City Music Hall Spectacular" at the Flamingo from 1995-2000. The enduring star also spent three seasons on television's "Baywatch." Many may remember her as the Muriel Cigar Girl.
Broadway audiences may recall her work with Keith Carradine in the original Tony Award-winning production of "The Will Rogers Follies."
The Academy of Country Music announced the 41st Annual Academy of Country Music Awards ceremony, honoring country music's top talent as well as the industry's hottest emerging talent, will broadcast live from the MGM Grand Garden Arena on Tuesday, May 23, at 8 p.m. EST/PST on the CBS Television Network. This is the fourth year the awards will take place in Las Vegas and the first year the show will be based at the MGM Grand.
The restaurant news in December included: the opening of Sin City Brewing Co. at the Aladdin, a microbrew bar in the Desert Passage Shopping Mall; The Best Restaurant Guide being acquired by the Las Vegas Restaurant Guide; Conrad's Steakhouse at the Flamingo being renamed Steakhouse46; Vic & Anthony's fine dining restaurant at the Golden Nugget opening where Zax's was previously located; the Fresh Market Buffet at Harrah's reopening after major renovations; and the ZINC Restaurant in the Monte Lago Village at Lake Las Vegas opening with American cuisine with French-Cajun influences.
Andreotti's Italian Restaurant at Harrah's has closed for major renovations and will reopen in May. At the Mirage, the Mikado Restaurant has closed to make way for the upcoming Japonais Restaurant that is expected to open next spring.
The STACK Steakhouse at the Mirage has opened where the old Moon Gate Chinese Restaurant was located.
The High Roller Coaster at the top of the Stratosphere that opened in 1996 closed last Friday. The ride will be removed from the top of the tower to make room for a new thrill ride.
Barry Manilow celebrated his 100th "Manilow: Music and Passion" show at the Las Vegas Hilton on Dec. 17 with a huge birthday cake. Manilow's engagement at the Hilton has been extended into 2007. He will release the tribute album "The Greatest Songs of the Fifties" on Jan. 31, and he taped a PBS television special scheduled to air in March 2006.
The Original Las Vegas Comedy Festival will hold its fourth annual festival, Jan. 24-28.
The festival consisting of showcases by comics, seminars, workshops and a gala awards show and ceremony dedicated to the memory of comedian / actor Richard Pryor will be hosted by the Tropicana and The Comedy Stop at the Tropicana. For information, visit www.lasvegascomedyfestival.com.
The Las Vegas Monorail's prices went up last week. New prices are $5 for a one-way ride, which is a $2 increase over the previous fare. A one-day pass increased from $5 to $15. Ten rides on the train costs $35.
Lance Burton will perform his magic in the 117th Rose Parade on Monday, Jan. 2. Burton will ride on the FTD Float which is entitled "Your Wish is My Command." It will stop cold for a minute at "TV corner" where he will do his magic for 40 million viewers in North America and 89 territories throughout the world including the first time in China with 730 million TV sets. This is the first time that three world class stars on their floats will stop for one minute each and perform in a made-for-TV spectacle. Lance Burton will be the 56th float in line and the last of three entertainment floats.
The Neville Brothers will be headlining downtown at the Golden Nugget, Feb. 17-19, at 9:30 p.m. Tickets are $45 plus tax, call 866-946-5336 or 702-386-8100.
The new show at the Riviera is "Love is a Pain."
The Le Bete Nightclub at Wynn has reopened as TRYST after a complete renovation that added 30 more tables and a new color scheme highlighting copper, reds and browns.
Comedy-juggler Michael Goudeau will appear barbecuing from his backyard in Las Vegas on "BBQ with Bobby Flay" on the Food Network on Friday, Jan. 6. Goudeau performs nightly at the Monte Carlo in "Lance Burton: Master Magician" and also likes to barbecue for his family and friends.
The South Coast opened a couple days before Christmas; however, a dual purpose showroom / nightclub will be delayed until August. The final product will depend on an experiment at a sister property Suncoast in northwest Las Vegas. If the Suncoast is successful in removing some seating and expanding the bar area and dance floor to create a hybrid product, then the South Coast venue will follow. Meanwhile, the South Coast's Grand Ballroom has a built-in stage and can fill in for shows.
The resort's new Century Theatres' multiplex movie house is located on the casino's second floor where it shares an entrance hallway with the bowling center and bingo hall. The main lobby features a vaulted ceiling and central Cafe Cinema snack bar. All 16 auditoriums, which range in size from about 150 to approximately 500 seats, feature digital sound and stadium seating with a plush upholstered rocking chair seat equipped with a cup holder armrest that can be raised to create a "love seat."
The Cultural Affairs Division of the city of Las Vegas Department of Leisure Services will present the Brass Roots Quintet in a free concert downtown on Sunday, Jan. 8, at 3 p.m. in the studio theatre at the Reed Whipple Cultural Center, 821 Las Vegas Boulevard North. The program will include selections from works by J.S. Bach, Johann Strauss, John Philip Sousa, Haydn, and other more contemporary composers of popular music. Call 702-229-6211 for information.
Bob Zany, stand-up comedy star of stage, screen, radio, TV and even CDs, will headline the Riviera Comedy Club starting Monday, Jan. 16, for seven nights. Shows are at 8:30 and 10:30 p.m. Tickets are $17.95 plus tax and fee, call 702-794-9433.
Zany began his career on national television appearing on "The Gong Show" as an overweight 15-year-old stand-up comedian. Half way through his routine he was dragged off the stage by a man dressed as a nun. Eleven years later Zany got even - he was asked to return as a celebrity judge.
Zany's moved to California and he became a regular at the top comedy clubs in Los Angeles and played comedy clubs across the country. His success on the circuit led to appearances on television comedy specials including A&E's "Caroline's Comedy Hour," MTV's "Half Hour Comedy Hour," Showtime's "Comedy Club Network," HBO's "Rodney Dangerfield's Really Big Show," and ABC's "Comedy Club Special with Dudley Moore."
In addition, Zany has appeared as an opening act for major stars such as Rodney Dangerfield, The Oak Ridge Boys, Jay Leno, Gary Shandling and The Turtles.
Eight years ago, Zany took over the airwaves with the weekly "Zany Report," syndicated nationally on "The Bob & Tom Show."
Appearing with Bob Zany are comics Gerry Bednob, known as the "Turban Cowboy" delivering a barrage of improbable Bangladesh jokes, and Eric Deskin, who will make his Riviera Comedy Club debut.
The Discovery Channel's one-hour show "Dirty Jobs" is coming to The Lance Burton Theatre on Saturday, Feb. 11, to cover Randy "Turtle" Williams, who has the job of caring for some 70-plus birds including doves, geese, ducks and Elvis the parakeet. "Turtle" is the cleanup man for the various aviary rooms backstage. The show's second segment will feature RC Farms - the largest hog farm in Nevada based in North Las Vegas.
The next big themed holiday is Valentine's Day and Las Vegas' own Ethel M® Chocolates, now a tradition for more than 24 years, is ready with heart-shaped chocolate candy and boxes. Prices range from $10 for a bag of six-ounce foil-wrapped chocolate hearts to the large two pound heart tower with a candy assortment for $80. There are also small, medium and large heart boxes for $15, $25 and $35, and a bear with and eight-ounce red heart box for $30, plus more offerings.
Ethel M® Chocolates is located at One Sunset Way, Henderson, Nev. The factory and Cactus Garden is open every day of the year except Christmas Day from 8:30 a.m. to 7 p.m. and the self-guided tours are free. Ethel M® Chocolates can also be found at 13 different locations throughout Las Vegas. For information, call 1-800-4ETHELM (800-438-4356).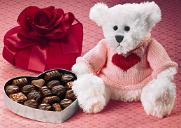 Renowned for their hand-made Lemon Satin Cremes® and ALMOND BUTTER KRISPS®, chefs train studying the art of chocolate and candy making for two-and-a-half years. The results are premium gourmet chocolates with more than 50 varieties to choose from. The factory attracts more than 450,000 visitors each year. Ethel M® Chocolates is owned by Mars, Incorporated, the people that make M&M'S® Chocolate Candies, SNICKERS® bars and other chocolate, candy and snack food products.
Michael Bublé will make his Las Vegas debut at the Las Vegas Hilton, Feb. 10-12 and 14. Reba McEntire has signed a multi-week contract with the hotel and her dates are May 3-7, June 7-18, July 19-30, and Aug. 24-26. Johnny Mathis will be back over May 12-13 and Donna Summer will appear in the Hilton Theater June 23-24.
In the Hilton's Shimmer Cabaret, David Brenner has ended his run there and on Feb. 1, the show "Menopause" will open an indefinite run. For information, call the Las Vegas Hilton Box Office 702-732-5755 or 800-222-5361.
The Cannery in North Las Vegas has a busy schedule for most of 2006. Many highlights are planned for this property beginning next weekend with the Celebration of the King's Life with Johnny Fortuno & Friends of Elvis. Tribute shows are big at the Cannery: Black Diamond - The Ultimate Tribute To KISS, Jan. 12-14; Twist & Shout - Tribute to the Beatles show, Feb. 17-18; and Viva!, Tribute to Santana & Peace Frog, Tribute to The Doors, May 5-6.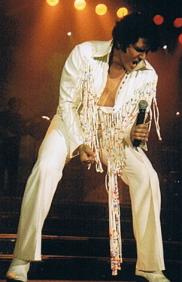 Some of the big name acts booked at the Cannery include: Brett Butler Feb. 25; Lesley Gore April 14; Mel Tillis and Roy Clark April 29; Blood Sweat & Tears with special guest Chuck Negron formerly of Three Dog Night May 13; Triple Threat Country Concert 2006 Restless Heart, Little Texas & Blackhawk June 3; The Guess Who Sept. 16; and Ronnie Milsap Sept. 23. For information, call 617-5550.
Ricky Martin will appear at the Aladdin Theatre on Jan. 27 and Disney's Beauty and the Beast is booked Feb. 1-5.
Smokey Robinson will headline at the Grand Events Center at Green Valley Ranch on Feb. 11.
Comedians will fill in at the Danny Gans Theater when the full time impersonator takes time off. Jay Leno is booked Jan. 6-7, 13-14, 27-28 and March 3-4. Others in the lineup are: Ray Romano Jan. 20-21 and March 24-25, Wayne Brady Feb. 10-11, Brad Garrett Feb. 17-18, David Spade Feb. 24-25, Kevin Jams March 10-11, and Dana Carvey March 17-18.
CONTINUE ON TO...:
>THIS WEEK'S LAUGHLIN SEGMENT
>LAST WEEK'S LAS VEGAS SEGMENT
>VEGAS VIEWS FULL ARCHIVES
>Return to "Heard Around Town"
>Return to Las Vegas Leisure Guide