Las Vegas Shows
Concerts
Headliners
Events
Mr. Big, The Godfather of Las Vegas, has decided to come back home. But what's even better is that he's coming home on his birthday!. So the "Families" are getting together to throw the Big Goomba a Surprise Party. And you are invited to join the fun...

This interactive musical dinner theater will knock your socks off! Complete with variety, entertainment, comedy, mayhem and even murder, each show is fresh and unique because the audience takes am active part.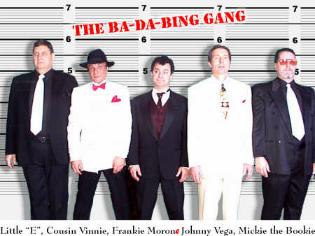 The whole family will enjoy the excitement of figuring out "who done it" while dining on Caesar Salad followed by your choice of Classic Meat Lasagne, Traditional Chicken Marsala, Delicious Rib Eye Steak or Mouth-watering Salmon. Champagne and Homemade Tiramisu top of the evening of fun and frivolity.

Grab the "family" and head on down to the funniest surprise birthday party in Las Vegas, Ba-Da-Bing Interactive Musical Dinner Theater...with a murder!